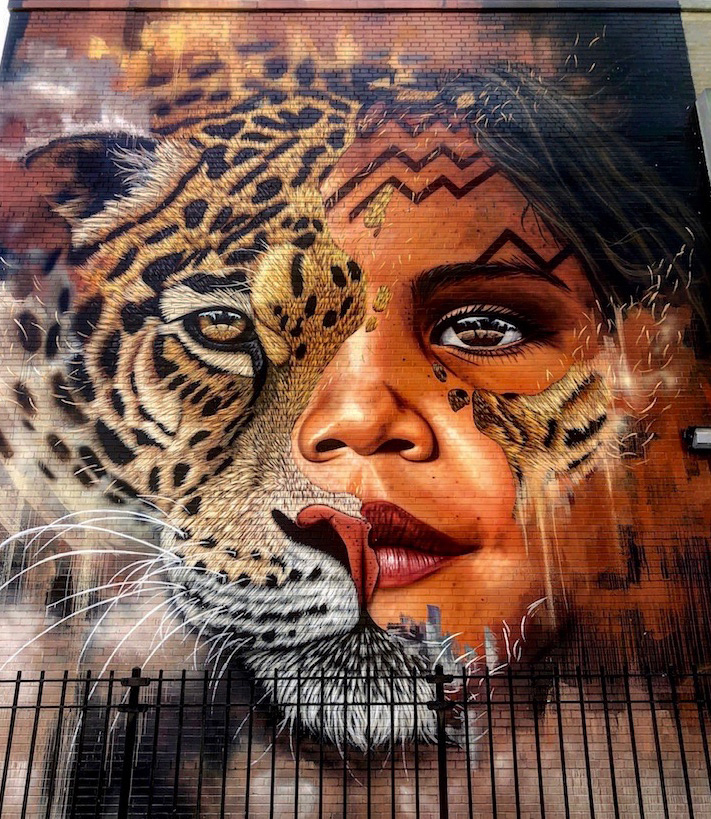 Two brilliantly conceived and beautifully executed murals – one by Sonny Sundancer and the other by ASVP – surfaced last month on the exterior walls of IS 318 in East Williamsburg, Brooklyn. Sonny's mural– at the corner of Lorimer Street and Throop Avenue – depicts a Yawanawa girl from Acre, Brazil, along with a jaguar, representative of a species that is sacred to the indigenous peoples and at risk of extinction. ASVP's black and white tower mural — painted on the opposite wall — features an elephant, bear, tiger and more, all interdependent and threatened or endangered in some capacity.
While visiting the school last week for the murals' dedication and ribbon cutting, I had the opportunity to pose a few questions to Greenpoint Innovations founder Stephen Donofrio, who had organized the The Point NYC project.
These hugely impressive murals are one component of The Point NYC initiative. Just what is The Point NY?
It is a collaborative venture — among Comics Uniting Nations, Greenpoint Innovations, Hypokrit Theatre Company, Rattlestick Playwrights Theater and UNICEF — that brings together artists, producers, educators and local environmentalists for a series of artistic productions and events. Among these are: a comic book, public murals, a theatrical experience, open dialogue and an educational toolkit.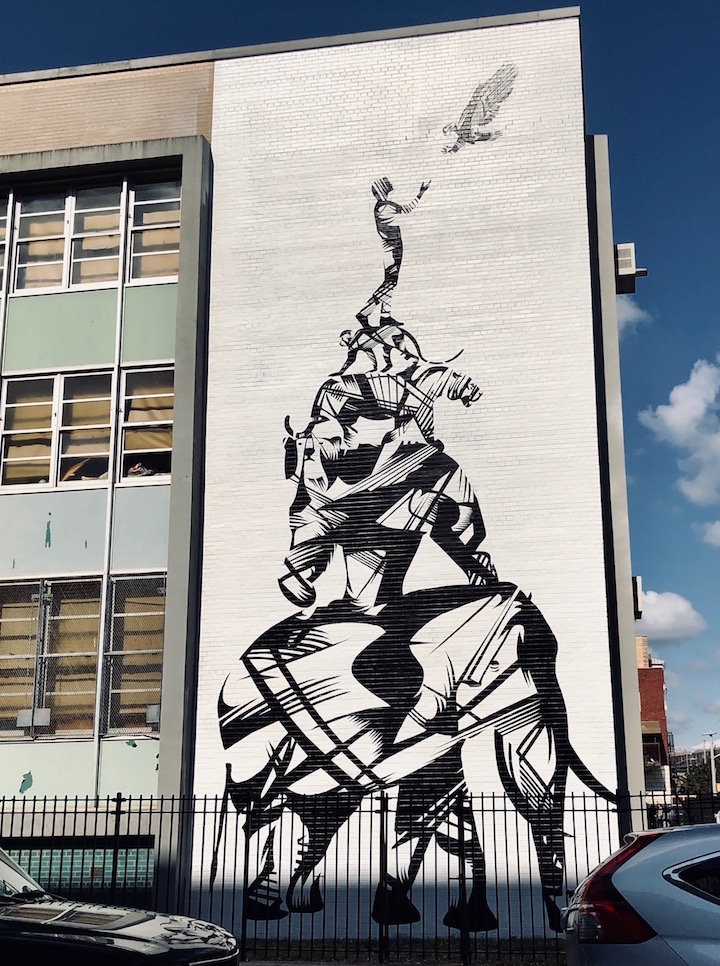 What is its ultimate mission?
Its mission is to respond to the human impact of climate change and to exercise the power we all have, particularly the youth, to take action for a better future.
And what inspired the direction that this project has taken?
It was inspired by a comic book story —Tre, by Sathviga 'Sona' Sridhar — about a climate change superhero. Sona had become passionate about climate change when her town in Chennai, India was flooded and when she heard about the Climate Comic Contest by UNICEF and Comics Uniting Nations, she decided to submit her art.
How did you connect with Sonny Sundancer and ASVP? Their murals are perfect for this project, as they are exquisite and brilliantly reflect environmental issues.
Karin du Maire introduced me to Sonny, and I met ASVP at the Moniker Art Fair in Greenpoint this past spring. Both Sonny and ASVP were ideal to work with, as they are not only wonderful artists, but caring people.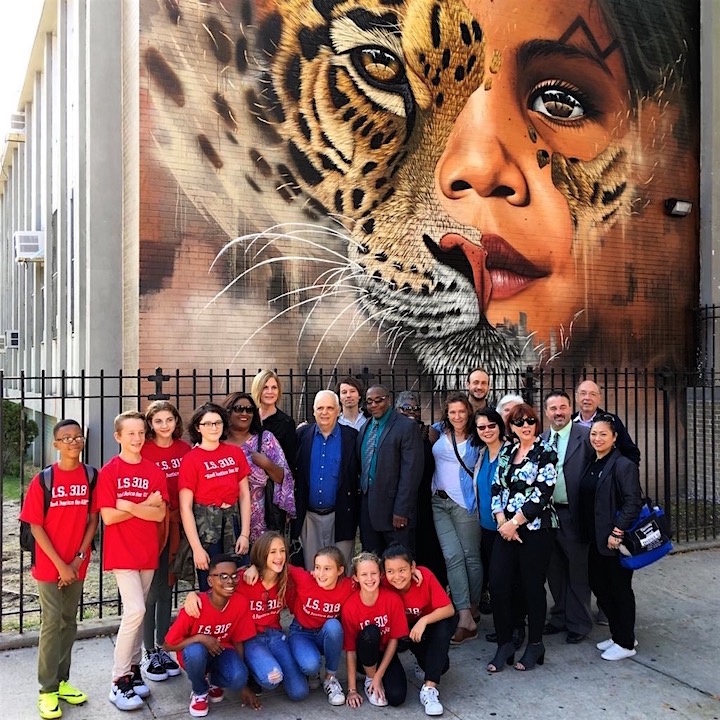 Were you presented with any particular challenges in seeing the project through?
Coordinating with the Department of Education was somewhat of a task. And then discovering that a segment of the wall that Sonny had completed had been coated to protect it from any lasting paint was another challenge. But – with considerable effort — we overcame them both!
How have the members of the local community responded to these two murals?
The response has been overwhelmingly positive. They love them.
And thank you for initiating this project!
Photo credits: 1 & 2 Lois Stavsky; 3 Karin du Maire aka Street Art Nomad; interview conducted and edited by Lois Stavsky;