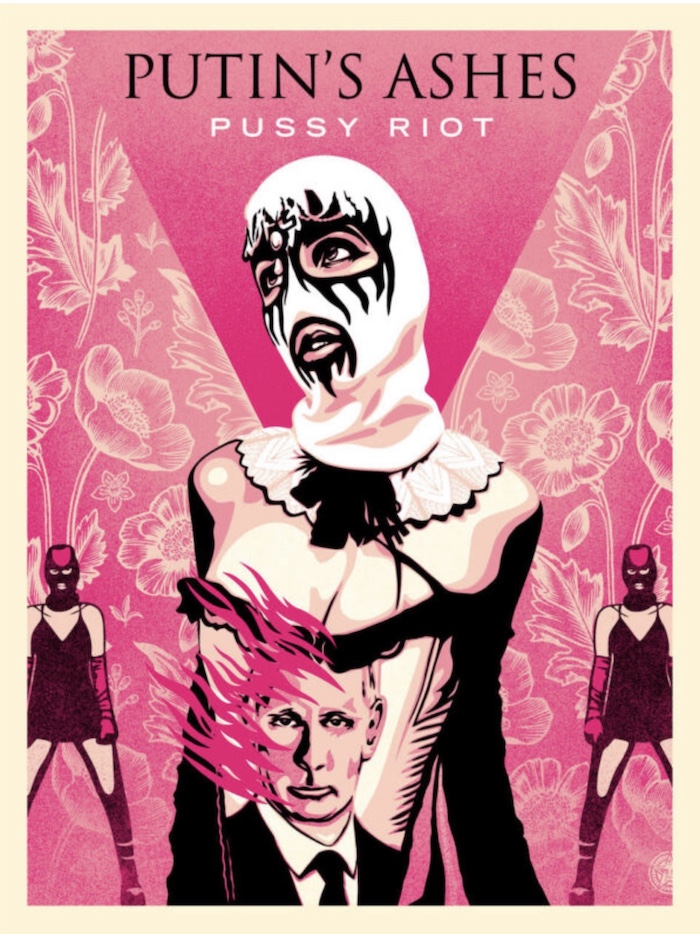 Currently on view at Brooklyn Art Haus, a new home for innovative arts in Williamsburg, Brooklyn, is "ON THE EDGE," a group exhibition featuring a delightfully diverse selection of urban art, graffiti, photography and fine art in a range of media by both emerging and established artists.
On a recent visit to the wonderfully welcoming space, I had the opportunity to pose a few questions to its curators, Koz, founder of SilverTuna Studios, and Laura "Lulu" Reich.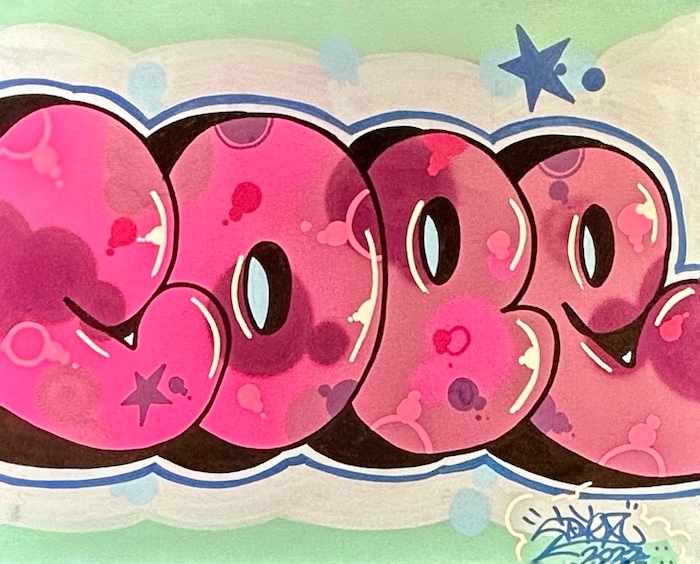 This is your third exhibit here at Brooklyn Art Haus. In what ways does it differ from your previous ones held at this space?
There's a bit of more emphasis on photography, as we are highlighting works by the amazing urban photographer Victor Thomas, known on Instagram as Vic Invades. We are also thrilled to be presenting for the first time four artworks by the legendary Shepard Fairey.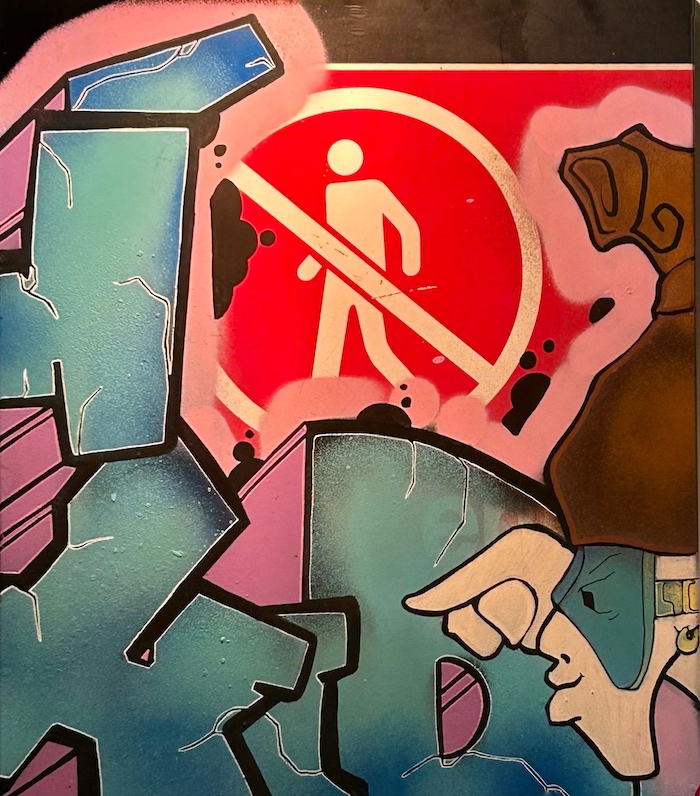 Yes, I love these Obey screen prints, and I love the way he takes a political stance on the critical issues of our time. How did you connect to Shepard Fairey?
I (Koz) was filming Shepard Fairey while he was at work on his Bad Brains mural for the LISA Project. I developed — at the time — a close relationship with his assistant, Rob Zagula aka Eastweed. And then we all met up at midnight and were out on the streets until dawn!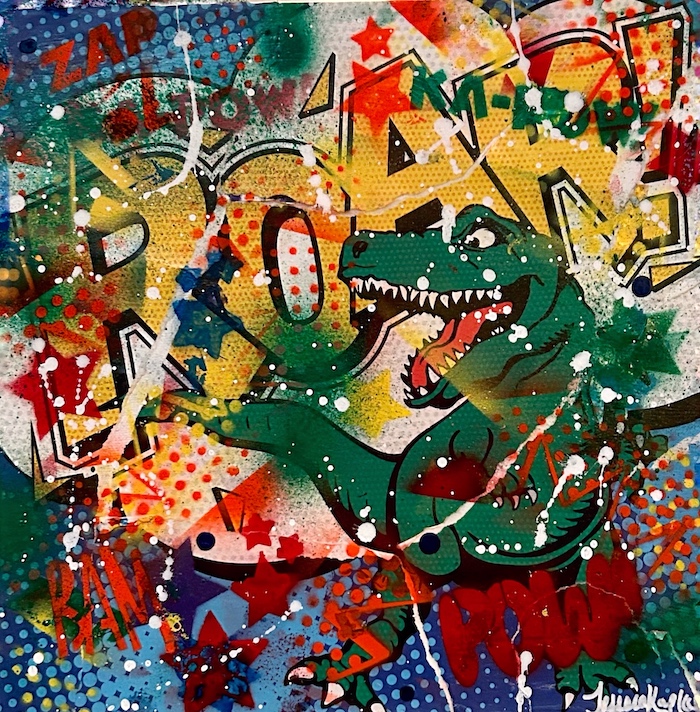 You, two, obviously have a great working relationship. How did you meet? And how do you manage to work so well together?
We are both friends with Easy, and he introduced us to each other. We are both passionate about what we do, and we complement each other in terms of our personal and professional skills. We also tend to share the same friends, who are largely artists and collectors.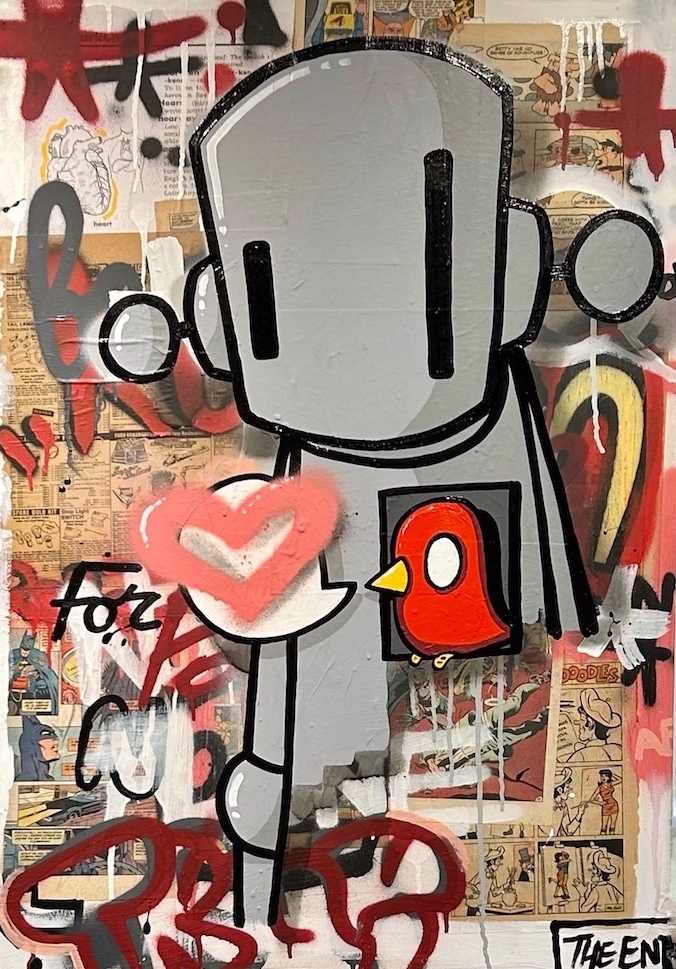 In addition to sharing the artworks on exhibit with collectors and the general public, do the two of you have any other mission?
Yes, we want very much to educate those who view the works about the artists behind them. That is why we have included biographical information, alongside each artist's work.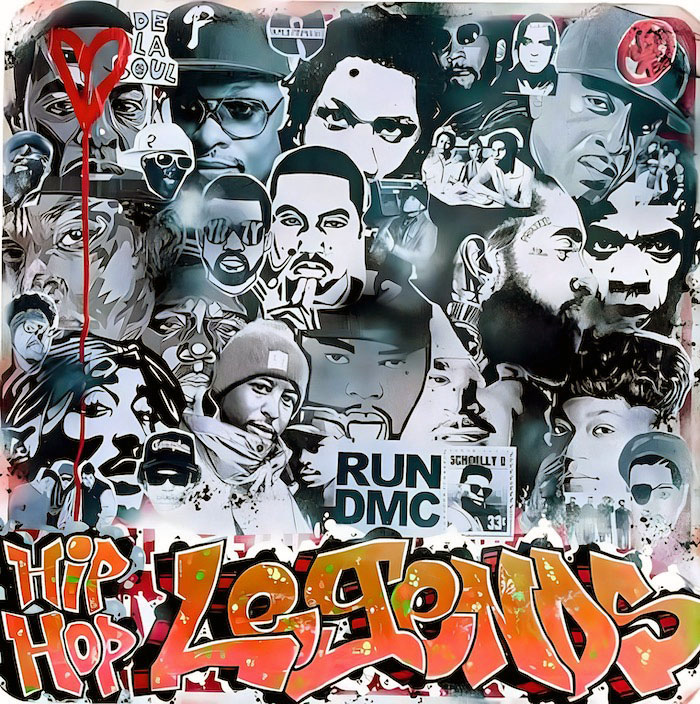 What's ahead?
We are planning ahead for a mural festival to take place in Chicago next June. We are currently in the process of curating an exhibition of new work by Al Diaz scheduled to open next month at Brooklyn Made in Industry City. We are also looking forward to exhibiting artworks at the Tribeca Synagogue and again at City Point BKLYN. And Koz will be releasing a film featuring Cape Cod-based pro-skateboarder and artist Zered Bassett — introduced by skater and artist Eli Reed.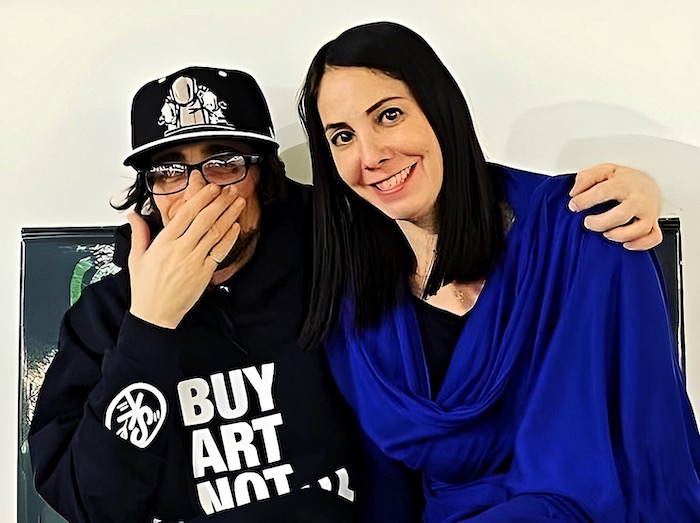 You are certainly productive! Good luck with it all! How can folks see your current exhibit here at Brooklyn Art Haus?
The exhibition can be viewed daily from 10am – 10pm through Sunday, September 3rd.  Private viewings are by appointment via lulu@collectwithlulu.com. Brooklyn Art Haus is located at 24-1 Marcy Avenue in Williamsburg, Brooklyn
Images featured in this post:
1 .Shepard Fairey, "Putin's Ashes (Pussy Riot)," 2023, Screen print on thick cream speckletone paper, 24″ x 18″
2. Cope2, "Cotton Candy Star, " Mixed media on canvas, 16″ x 20″
3.  Tkid, "Do Not Cross," Mixed media on subway sign, 18″ x 16″
4. Jessica Kaplan, "Roar," Mixed media & collage on canvas, 12″ x 12″
5. Chris RWK, "TIL The End." Mixed media on canvas, 36″ x 24″
6.  SNAPKRACKER x RAMBO RAME, "Hip Hop Legends," Paint marker and aerosol on street sign, 29″ x 29″
7. Curators: Koz and Lulu, — with Koz sporting a Chris RWK hat and SNAPKRACKER sweatshirt
Note: Also on view are tantalizing works by Eastweed, FLASH, Eric Orr and Vic Invades
Interview conducted and edited by Lois Stavsky; Photo credits:  1, 6 & 7 courtesy of the curators;  2-5, Lois Stavsky
{ 0 comments }