Rigorously researched and handsomely presented, City of Kings celebrates the rich graffiti culture that began on the mean streets of  NYC in the late 60's and has since evolved into a worldwide phenomenon. Curated by first generation graffiti artist and SAMO© partner Al Diaz, along with graffiti archivist and artist Eric 'DEAL CIA' Felisbret and graphic designer and arts educator Mariah Fox, City of Kings appeals not only to us graffiti aficionados, but to anyone curious about the history of an illicit art form that has not only become legitimized in the "art world," but has impacted just about every aspect of our culture — from advertising to fashion design to education.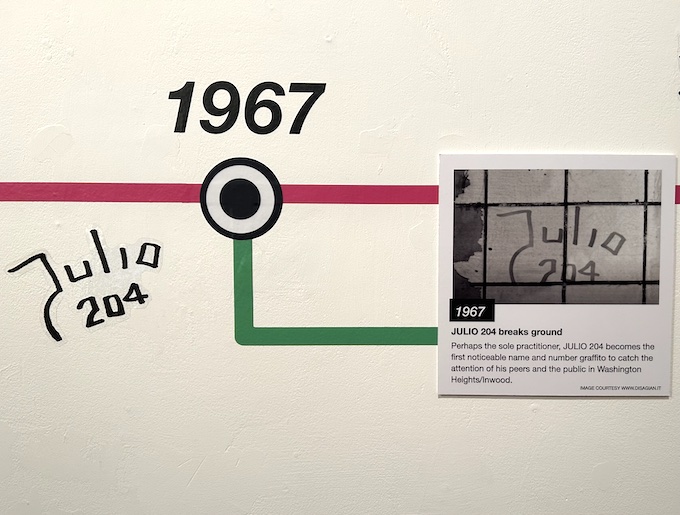 Spanning over six decades, a comprehensive illustrated timeline traces the history of NYC graffiti beginning in 1967 with JULIO 204, whose tag and street number captured the attention of his peers in Washington Heights/Inwood. Four years later, when fellow Washington Heights tagger TAKI 183 was profiled in The New York Times, graffiti went on to gain the attention of a wide, diverse audience.
By the mid-70's, graffiti had evolved into a "firmly established cultural movement with clear principles."  Whole-car train pieces began to roll by and the publication of Norman Mailer's The Faith of Graffiti lent validation to the art form.  But by the early 80's, Mayor Koch waged outright war against graffiti writers, accusing them of "destroying our lifestyle and and making it difficult to enjoy life."
Yet despite the war against graffiti, key talented and passionate photographers, documentarians, filmmakers and curators increasingly began to celebrate the culture which continues to make its way not only onto public space but into galleries and museums worldwide.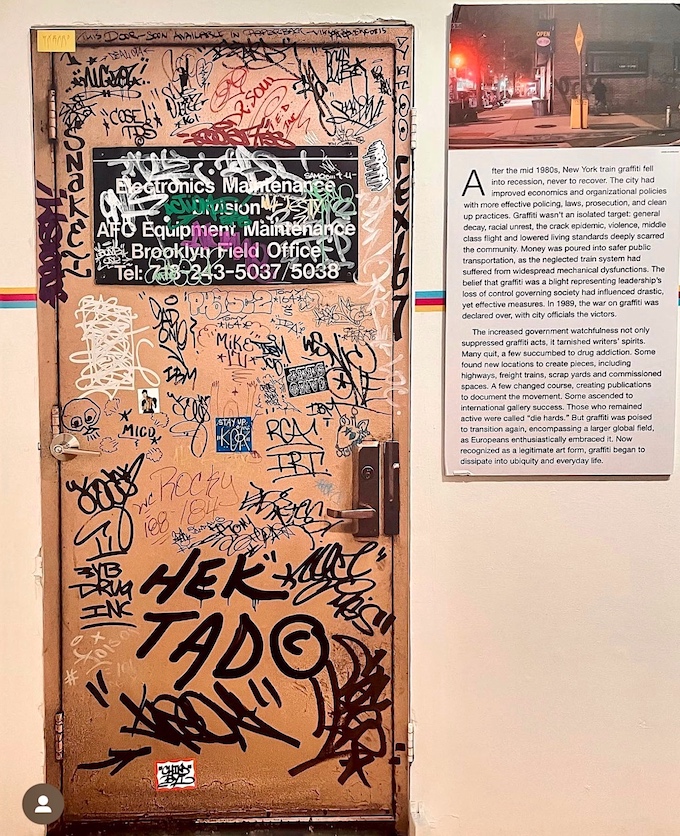 In addition to the exhibition's graffiti timeline,  there is also a timeline of "Key Current Events," such as the assassination of Martin Luther King in 1968, the election of NYC Mayor David Dinkins in 1989 and the outbreak of COVID-19. – all lending socio-political context to the graffiti movement. And homage is given to the many "Fallen but not Forgotten Players in the Game."  Included among those many writers are such noted ones as: A-One,  Don 1, Dondi, Iz the Wiz, Sane 182, and Stay High 140.  On view too are black books, graffiti paraphernalia and varied tools of the trade, along with videos, documentaries, recordings and first-person accounts.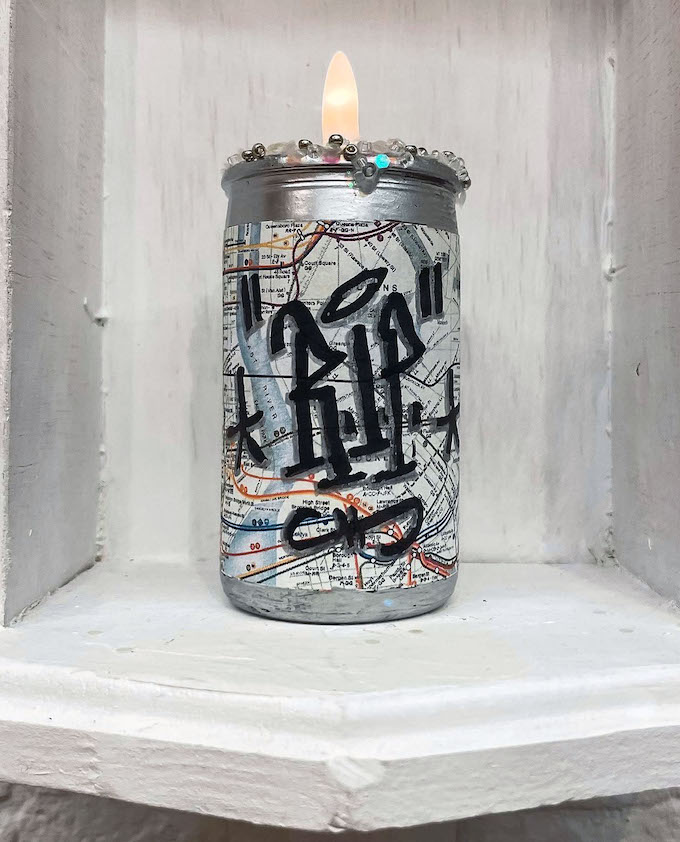 Accompanying Part I of the exhibition is an invaluable catalog — published by Howl Arts — that includes: both the graffiti and the current events timelines; key essays by Al Diaz, Eric Felisbret, Mariah Fox and Chris Pape; a glossary of graffiti terms by Eric Felisbret, and learning tools and resources for educators by Mariah Fox.  The catalog can be purchased at the gallery or by emailing books@al-diaz.com.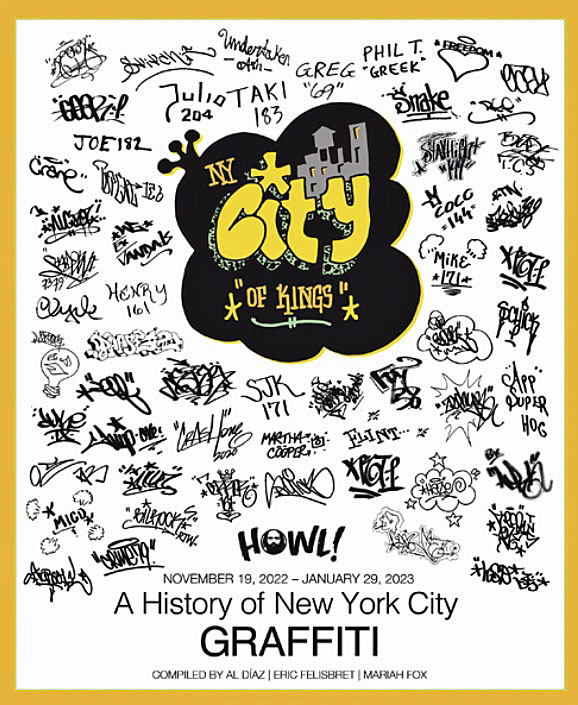 On view in Part II of the exhibition at the nearby Howl! Arts/Howl! Archive are original artworks of largely of graffiti tags by such pioneers as Coco 144, Lava 1 & 2, Noc 167, Snake 1 and Futura, along with photographs by several noted documentarians of the culture including Martha Cooper, Henry Chalfant, Charlie Ahearn, David Gonzalez and Flint Gennari.
Among those on exhibit by the legendary photojournalist Martha Cooper is her 1982 Bronx capture, DUSTER/LIZZIE: 2 top to bottom whole cars in straight letters and wild style.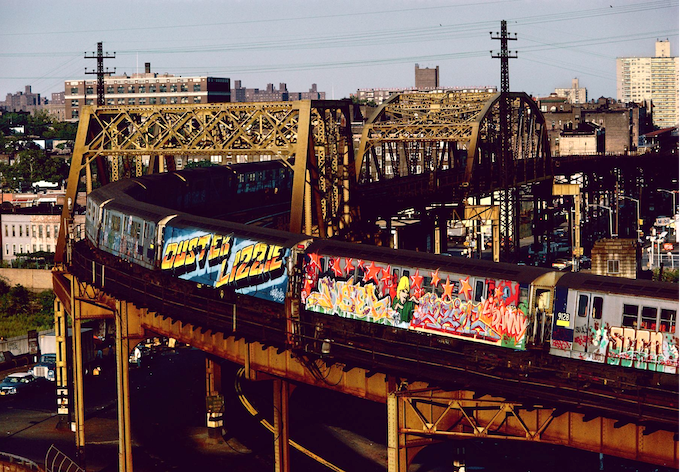 While Part I — located at 6 East 1st Street — closes this coming Sunday, the 15th, Part II of the exhibition continues through January 29 at 250 Bowery. Both spaces are open Wednesday-Sunday, 11am-6pm.
Photo credits:  1 & 2 Lois Stavsky; 3 & 4 Rachel  Fawn Alban, 5 © Howl Arts Inc & 6 © Martha Cooper