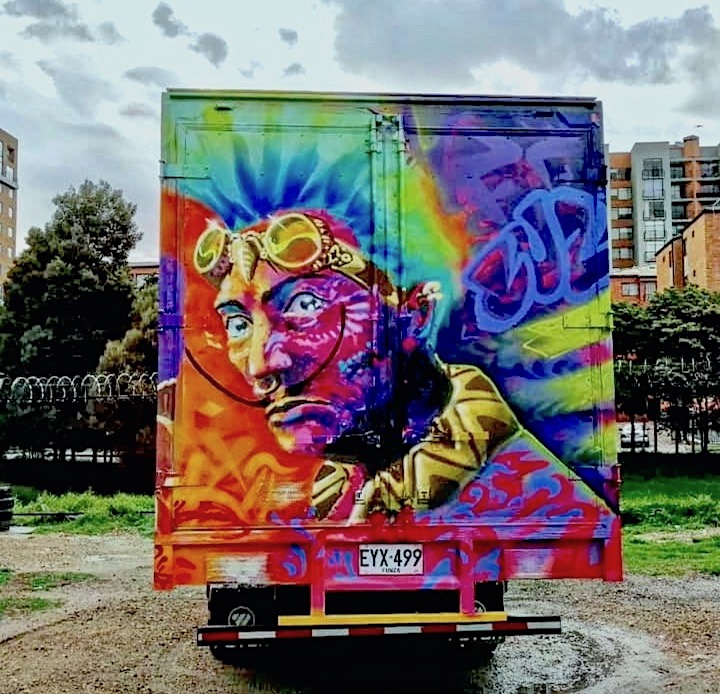 I was delighted to have the opportuity to meet up with the multi-talented Bogota-based artist Andres Osuna aka Bochica who is currently visiting NYC — ready and eager to share his vision with us.
When and where did you first start painting on the streets?
I began ten years ago while I was studying filmmaking in Buenos Aires, The first mural I ever painted was a Tree of Life in Palermo.
What inpired you to do so? Why did you choose to hit the streets?
Because the streets belong to everyone. It is our collective home. Working on the streets enables me to communicate with and share knowledge with a wide community. I see painting on the streets as a revolutionary act.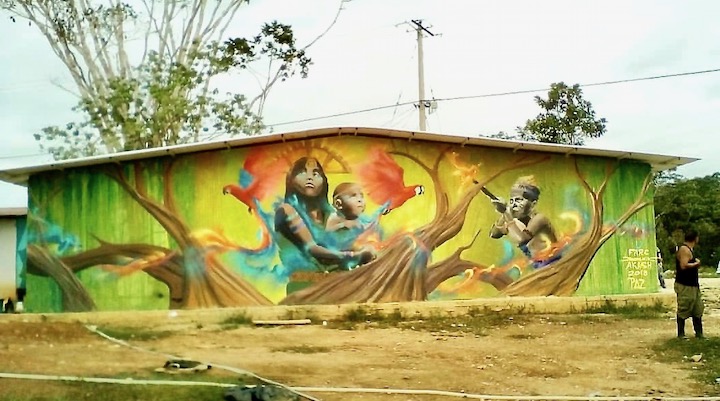 Do you paint with any crews?
I'm a member of the art collective Renova. Our mission is to transform deteriorated or abandoned urban areas into pedagogical platforms using art as a tool.
Do you generally work in illegal or legal spaces?
I'd say 90% of what I do is illegal.
What is your family's attitude towards what you do?
They are so supportive! My mother is a warrior. She was the first fire-woman in Colombia. She has always taught me to follow my passion.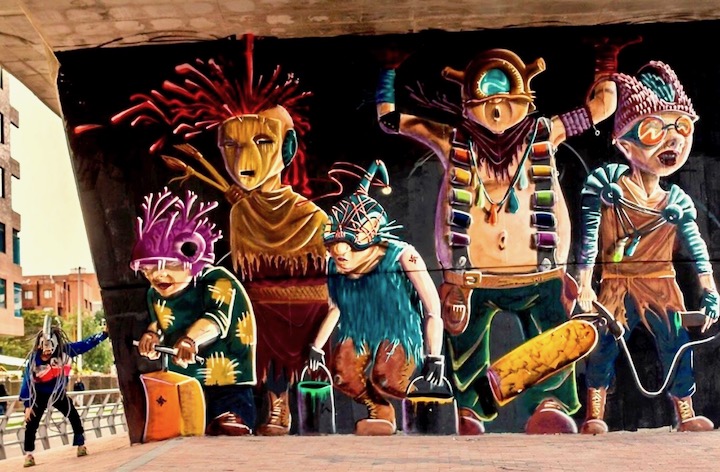 What percentage of your time is devoted to art?
All of it!
What is the source of your income?
It's all art-related. Commissions…set design…festivals…video shoots.
That's quite impressive! Have you a formal art education?
I'm self-taught.  I studied filmmaking, but not visusal arts.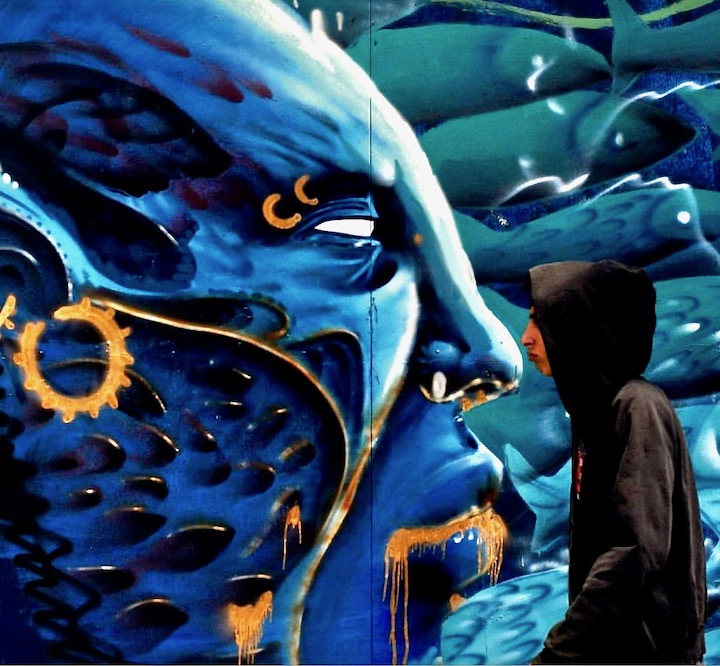 How do you feel about the role of social media in this scene?
I think it's a good tool; it helps us artists connect with each other.
What is the riskiest thing you've ever done on the streets? And why did you do it?
Painting in very dangerous neighborhoods — where I had to worry about both the police and the local gangs.Why did I do it? Because it was necessary–
Do you work with a sketch-in-hand? Or do you just let it flow?
I do both. It depends on the circumstances. But I do best when I work from my head.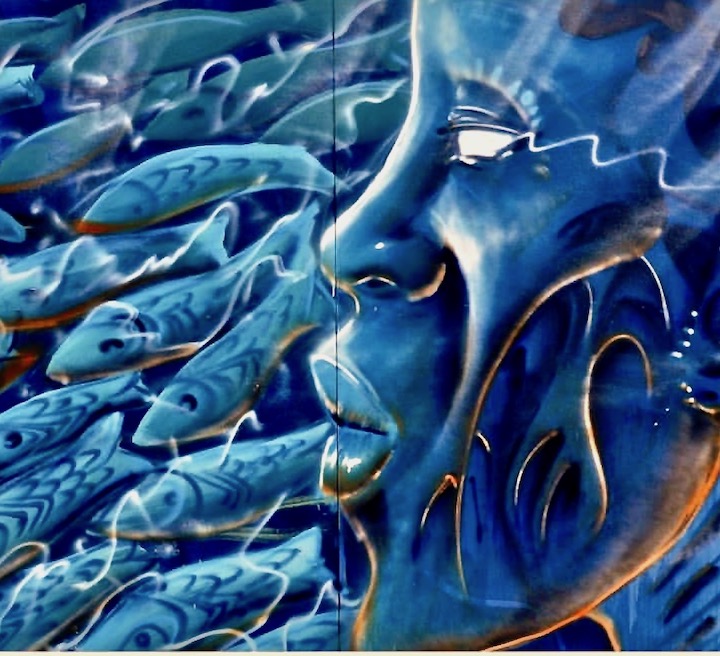 Are you generally satisfied with your finished piece?
Sometimes!
Are there any particular artists out there who inspire you?
I'm inspired by Diego Rivera and the entire school of social realism. As far as living artists, Obey is a personal favorite. I like his aesthetic of resistance. I also love Banksy's sarcasm. And I'm a huge fan of Bordalo and the way he uses trash to create amazing public artworks. My stencil art has been inspired by the Bogata-based collective Excusasdo.
What about cultures? Do any specific ones inspire you?
Indigenous cultures inspire me. I've been hugely influenced by many native civilizations, particularly the Chibcha one.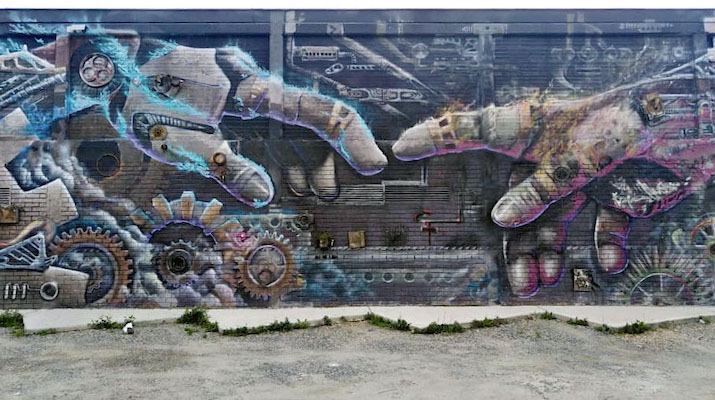 How has your work evolved since you first started painting on the streets over a decade ago?
I feel that everything I'd done up until now was experimentation. My style is far more developed and my ideas are far more synthesized.
What do you see as the role of the artist in society?
I see the artist as a model for transformation. Just as an artist can show us how a surface can be transformed, the artist can teach us how to transform the world.
What's ahead?
I'd like to continue to grow as an artist to help transform myself and the world. Hopofully, I have a few decades ahead.
Interview conducted and edited by Lois Stavsky; all photos courtest of the artist
Note: Hailed in a range of media from WideWalls to the Huffington Post to the New York Times, our Street Art NYC App is now available for Android devices here.