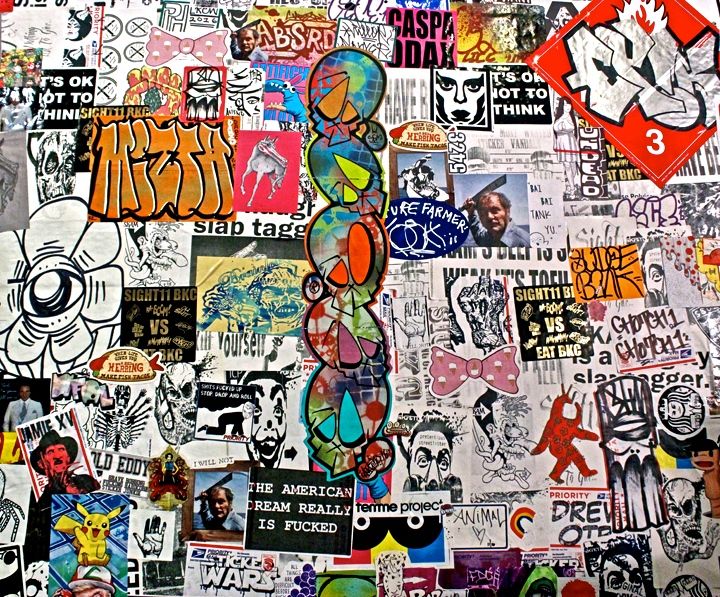 Currently on view at the FridgeDC is DC Street Sticker EXPO 3.0, an extraordinary ode to street art stickers. Curated by iwillnot and hosted and sponsored by the Fridge Gallery, it features over 100,000 striking stickers. They're all here: handsome handstyles, curious characters, political posits and social statements. While in DC, I had the opportunity to speak to iwillnot.
When did you first become involved in the sticker art culture? And what attracted you to it?
It was about ten years ago. I liked the way I could easily transport stickers in my pockets and get them up quickly on the streets.
And what was it about the streets that appealed to you?
Getting my name and message across in a public space.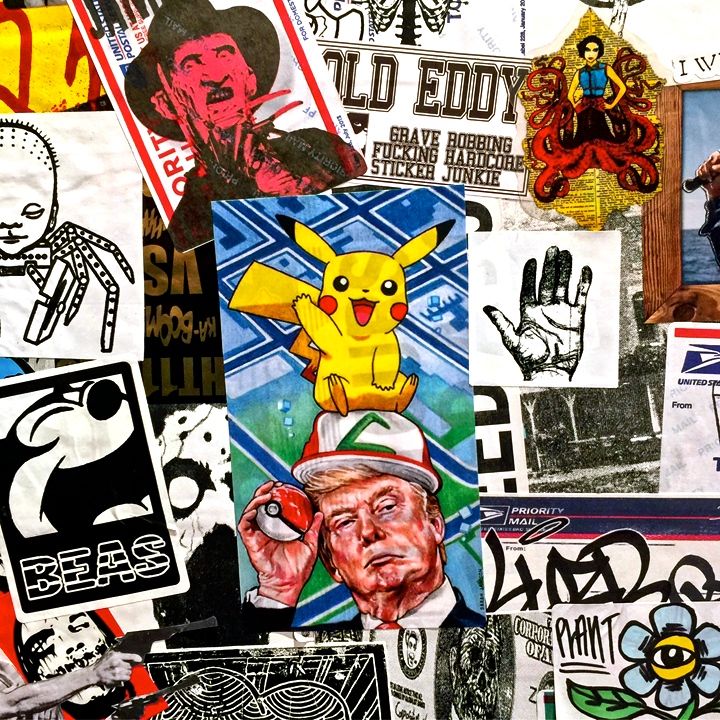 This is the third sticker art exhibit that you've curated at the FridgeDC. What inspired you to bring it indoors?
My son was born five years ago. I no longer had the time to hit the streets. Nor could I take the legal risks. DC's laws are harsh. One can get fined $1,000.00 and be sentenced to 3o days in jail just for getting a slap up.
Gee… And with Trump here, the penalties could get even harsher.  How does this current exhibit differ from the previous two that you curated?
This is the first one that covers the entire gallery. There's been more involvement, and — with a six-week run — it will be the longest-running sticker expo that I've curated.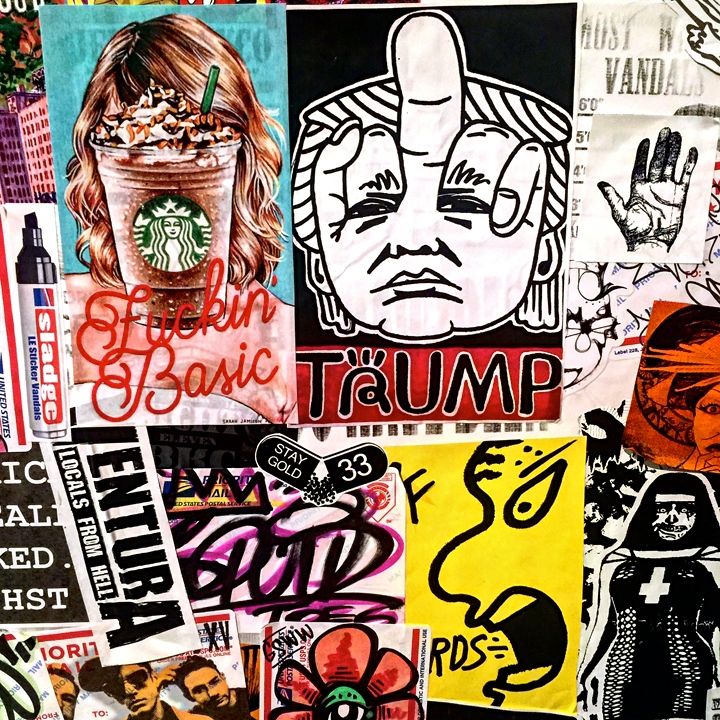 What were some of the challenges involved in curating such a huge exhibit?
It's quite costly. Getting something like this together is expensive. And it demands endless hours of work, including time spent training volunteers.
How were you able to collect so many stickers? There are tens of thousands here!
When I first started posting my stickers online, Skam reached out to me to trade stickers. I've been trading with artists all over the world ever since. Every participant in the expo gets a return pack from me. It takes months to get them mailed out… but a trade is a trade.  After years of trading with artists I have hundreds of thousands of stickers.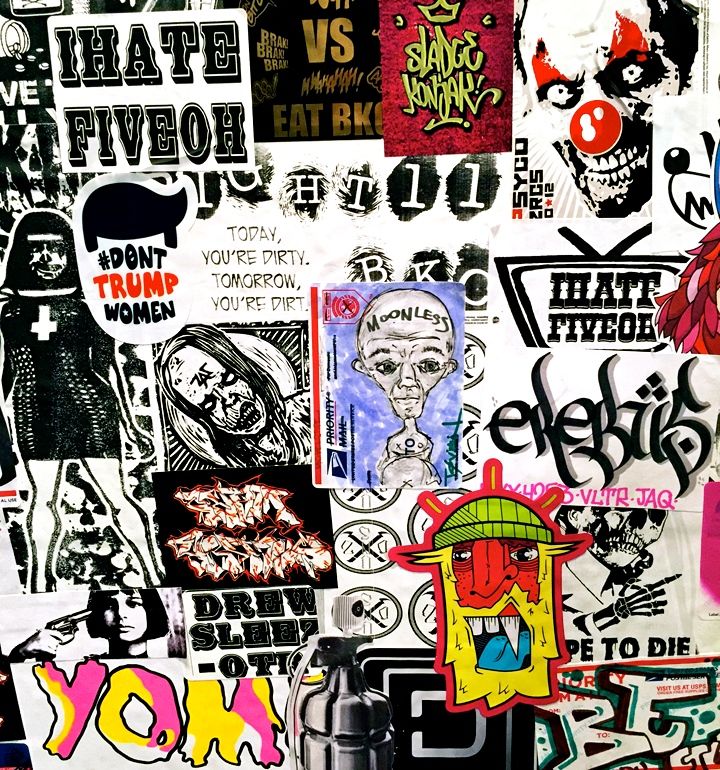 And how do you keep track of them?
I document each and every entry. I tag each one and acknowledge receiving it.
That must be some task!
It's a year-round lifestyle.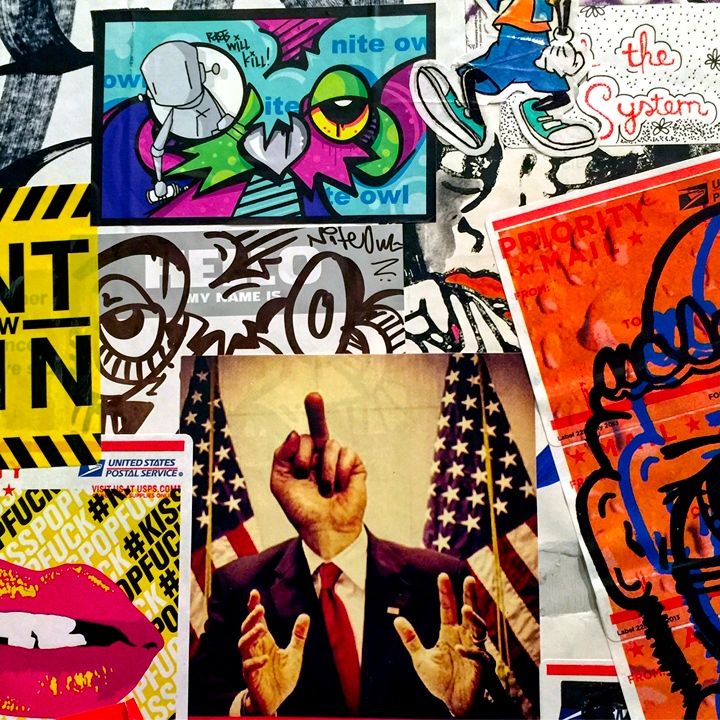 How has the response been to this show? The opening was packed with folks of all ages!
The reaction has been great. People seem to have discovered an untapped passion for this art form. All year round, I'm asked about the "next sticker expo."
How can folks see the exhibit?
It continues through New Years Eve at the FridgeDC, 516 1/2 8th Street SE, and is open Thursday-Saturday 1–8pm & Sunday 1-5pm.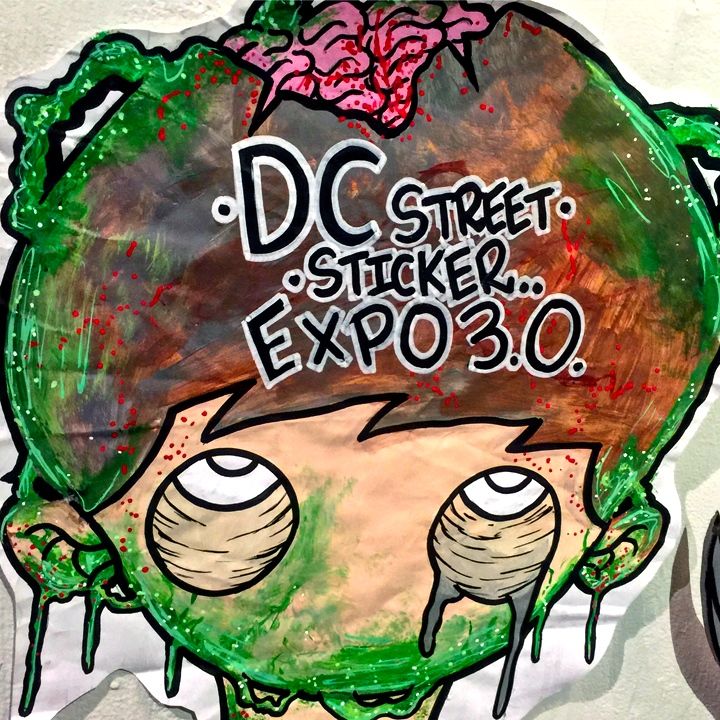 Great! I'm already looking forward to next year's!
Note: Among the many artists featured in the above close-ups are: Skam, Beas, Klozr, Jamie XV, Ed Gein, iwillnot Hugh Brisman, Sarah Jamison, Sladge & Konjak, 2front, Psyco, Nikolay Milushev, da_weiss, 702er, P Lust, Zas, Chris RWK, nite owl, Feln One,…(more to come!)
Photo credits: 1 Tara Murray; 2 – 6 Lois Stavsky; interview by Lois Stavsky