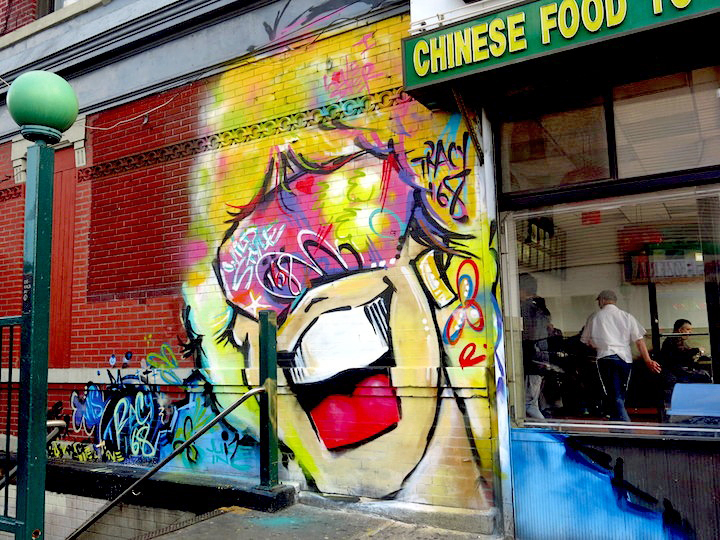 With his outstanding sense of color, style and design, Tracy 168 achieved legendary status early on in the most significant art movement of our time. The personification of wild style and the first writer to hit the subways with cartoon characters, the prolific artist wielded tremendous influence. On reviewing Tracy 168's work on exhibit back in 1999, the Pulitzer Prize-winning New York Times art critic Holland Cotter had the following to say: "Tracy offers an astounding variety of styles, from 3-D to space-age spiky to Cubistic. He floats out words on cushions of colors, and ties them up in unreadable knots, festooned with tendril-like flourishes."
When did you first get up?
I first got up with a crayon on a wall in my house when I was four years old. I remember drawing a tortoise and a hare. I lived across from the Bronx Zoo, and I always heard the sounds of animals from my window.
What about the streets? When did you first hit the streets? And the trains? When did you first hit them?
In 1969 when the Mets won the World Series, I first hit the streets. And I tagged my first train the same year. I was 11.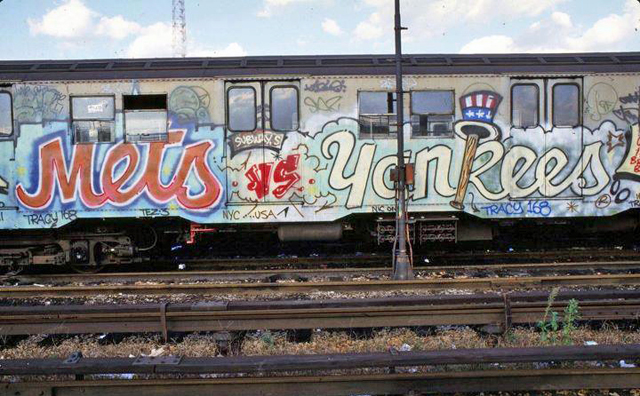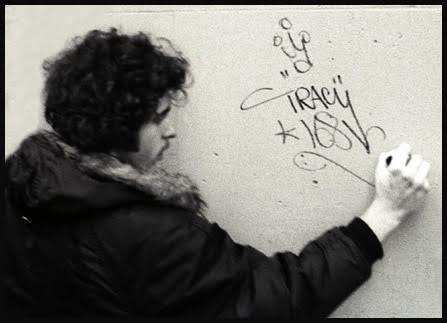 What inspired you to do so?
I loved the sense of adventure…the adrenalin rush. I envisioned myself as a Tom Sawyer or Huckleberry Finn. And I loved seeing my name on the trains.
Had you any favorite spots?
I was all-city, and I loved painting anywhere with people whom I loved. But my favorite spots were New Lots Avenue and Utica Avenue on the IRT line in Brooklyn. Any train I painted there would run right away, and so I didn't have to hang around too long to see my piece pass by.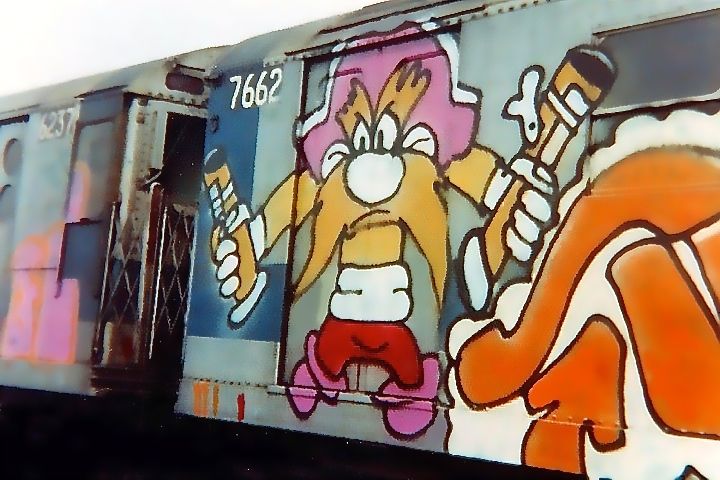 What about crews? Did you get up with any crews?
I founded the Wanted crew. It was one of the largest crews ever, and just about anybody who was anybody of worth was in that crew. It represented Wild Style.
Had you any early role models or inspirations?
My mother, my grandfather, Jack Stewart, Michael Stewart… Michael Stewart gave his life so that others would live. After his death in 1983 — and the trials and investigations that ensued — the police were somewhat afraid of treating writers so brutally.  We are the true prophets…
Any particular risky ventures stand out?
I was always wild, always doing dangerous things.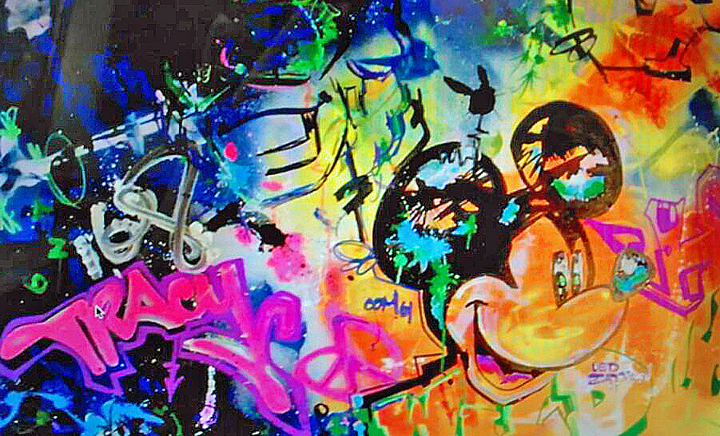 How did you support yourself back in the day? What was your source of income?
In the late 70's, I began to create all kinds of art-related jobs for myself — painting storefronts, memorial walls, murals… I was the first writer to do that kind of thing. I also worked in an advertising agency. Jack Stewart taught me about copyrights and trademarks. He was a true mentor. He told me real stories — not the ones from Fantasy Island.
Your work has been shown in all kinds of settings across the globe!
Yes!  I've been in museums and galleries all over the world. I was always breaking boundaries, Here in NYC my work has been exhibited in dozens of spaces including the New York Historical Society, the Brooklyn Museum and NYU.
I remember seeing your work at the Brooklyn Museum back in 2006.
Yeah! When I came by, I made some adjustments to my canvas with a paintbrush. That didn't go over well with the security guards. They got the curator of the exhibit involved, who insisted that I couldn't change anything, since it had already been photographed for their catalog.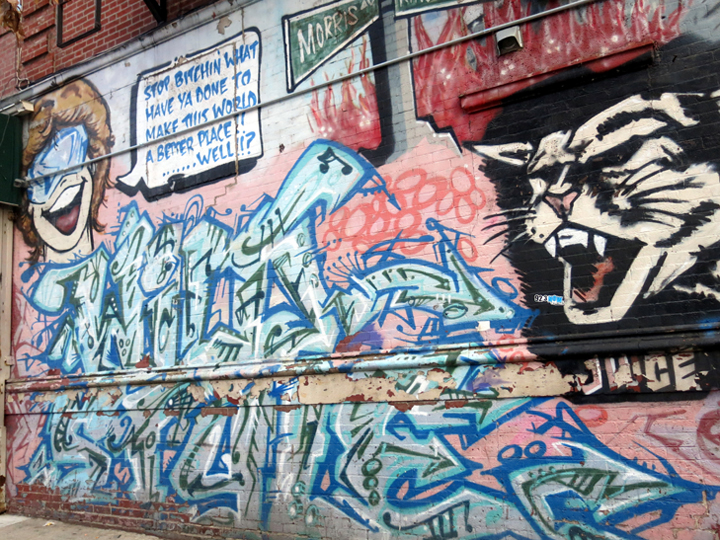 Did you have a formal art education?
My education is hands-on.
How do you feel about the role of the Internet in this scene?
It can be used as a tool — if you know how to read the truth.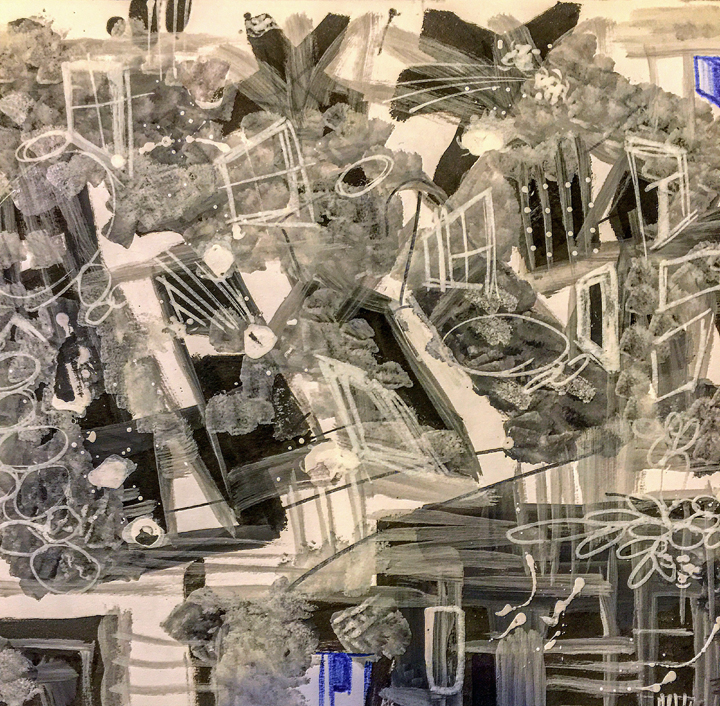 What's your ideal working environment?
Anywhere outdoors. Even when I paint canvases, I like to paint outside.
What inspires you these days?
My main inspiration is to express myself and grow as an artist in a world that is reluctant to see me as one.
Are there any particular cultures that have influenced your aesthetic?
Every culture. NYC is a melting pot, and I'm in the center of it painting.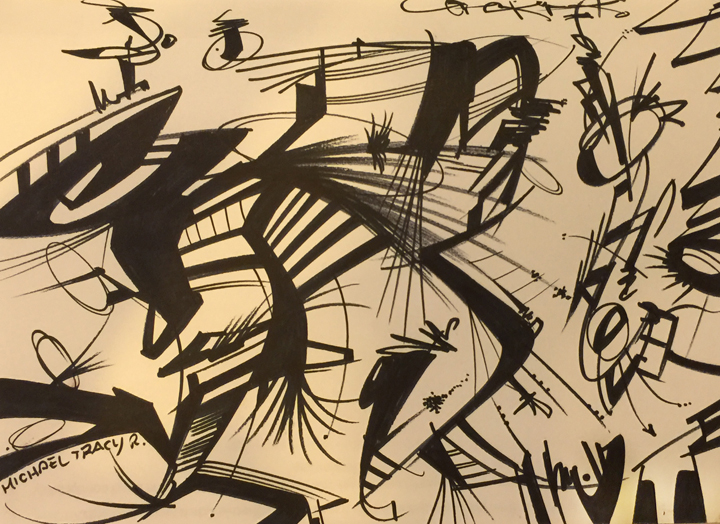 Are you generally satisfied with your finished piece?
I'm not done until I'm happy. As long as I'm alive, I can improve on it. But it must have meaning and exude positivity. Otherwise, why bother?
A few years back you were reported dead. What was that all about?
If I hadn't died then, I wouldn't be alive now. It had to happen.  When I vanished, I saw the world going in the wrong direction. This art form can save it.
How has your work evolved in the last few years?
It's constantly evolving.  This movement is to art like jazz is to music. It's a fusion of styles and cultures that knows no boundaries. It is a universal language. And the message of Wild Style is "Be yourself. Find out what your talent is and get good at it." I love everyone, but I will not surrender the truth and lose my integrity.
Photos: 1, 6-8 Lois Stavsky; 2, 4 & 5 courtesy of the artist; 3 Flint Gennari; interview conducted and edited by Lois Stavsky
Note: Photos 7 & 8 were captured from Tracy's current black book; special thanks to Flint for the introduction!