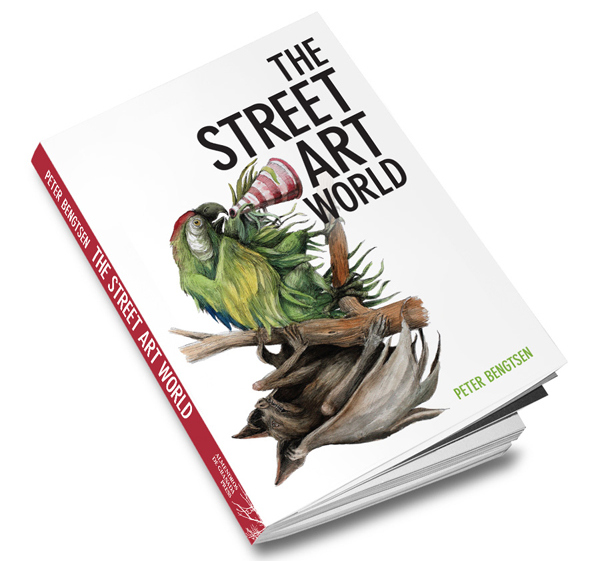 Currently based in Sweden, Peter Bengtsen is an art historian and sociologist who has been researching street art for the past nine years. The Street Art World, a 248 page book, is the result of his research based on studies of everyday interaction among artists, gallerists, collectors, bloggers and street art enthusiasts.  I recently had the opportunity to read Peter's engaging book and pose some questions to him.
When and how did you first become aware of street art?
I grew up in a small town in the Danish countryside, with virtually no exposure to graffiti or street art. As a kid I would sometimes see throw-ups by Tower and Carn in the underpasses when driving with my parents on the freeway, and those names have been stuck in my head ever since. It wasn't until I moved to Copenhagen in 2000 that I really became aware of street art and graffiti, though.
You write that when you first discovered street art, you did not deem it "worth documenting and preserving."  What changed your mind?
When I say that street art wasn't worth documenting, what I really mean is that for a while the immediate and brief encounters with the work on the street were enough for me. However, over time I started getting attached to some of the artworks I passed regularly, and I also began recognizing the work of certain artists like HuskMitNavn and later Armsrock and Faile. I found myself feeling a bit sad when the artworks eventually disappeared, and I felt an urge to somehow keep them. Photography was one way of doing that. The technological developments around that time had a lot to do with making this form of documentation possible. Back in the early years of the 2000s I was using a film camera and I couldn't afford to photograph graffiti and street art, but that changed when I got my first digital camera in early 2005.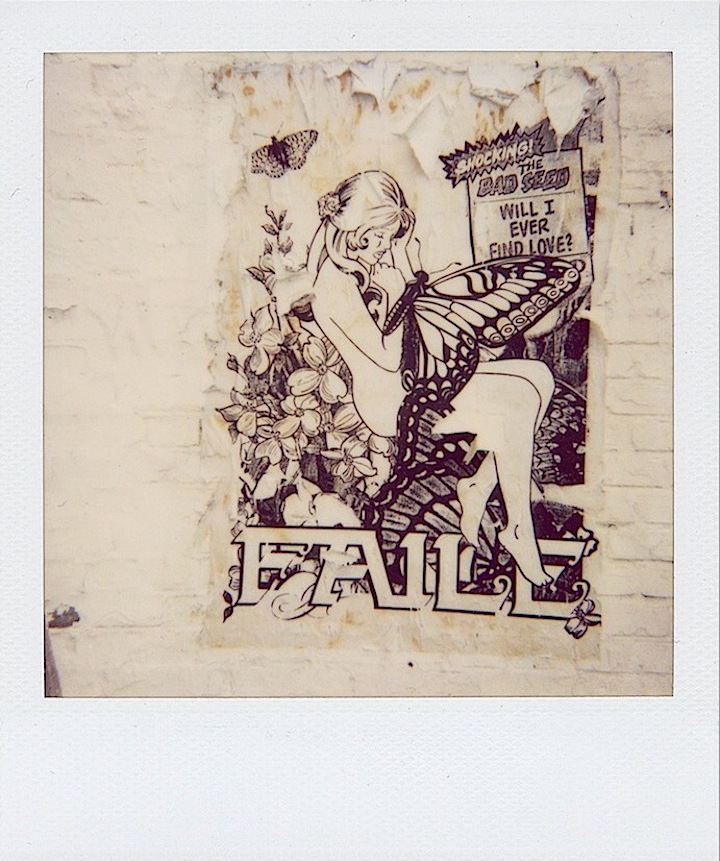 When it comes to preserving street art, I am still conflicted. As an art historian, I see a value in keeping material examples of street artworks for posterity. However, a key part of street art for me is that artworks are transformed over time, because the street is open to change and dialogue. When street artworks are placed under glass or cut out of walls to be preserved in a more controlled environment that openness is taken away. In preserving street artworks, I think one of the essential things that set street art apart from other art may be lost.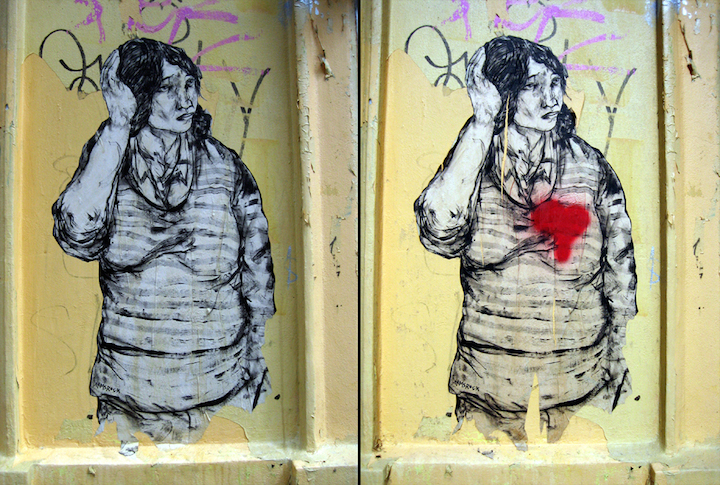 As an academic, what are some of the challenges you face when researching and writing about street art?
Even before I started my research, I found expressions of a rather strong anti-intellectual and anti-institutional mindset in the street art world. These public expressions have become less dominant in recent years as street art gets more integrated in the mainstream art world. However, academics that are seen to attempt "investigating" street art – rather than actually engaging with the art and the social environment that surrounds it – are sometimes still looked upon as a species of "culture vulture," swooping in to pick the bones of a social and cultural environment they know little about. Over the years I have seen researchers fail in their work because they lacked a fundamental understanding of the social rules of the field they were trying to study.
To mitigate the critical attitude towards academic researchers, and the institutional art world they are seen to represent, I think first impressions are very important. In my own case, because my interest in street art was not academic to begin with, I had already been socializing with other street art fans for some time when I started doing formal research in 2006. While I have still met some skepticism and received derisive comments regarding my role as a researcher and my attempts to intellectualize street art, I think the connections I already had with other enthusiasts made it a lot easier to move forward with my project. If I had come from the outside with a research agenda, things might have been different.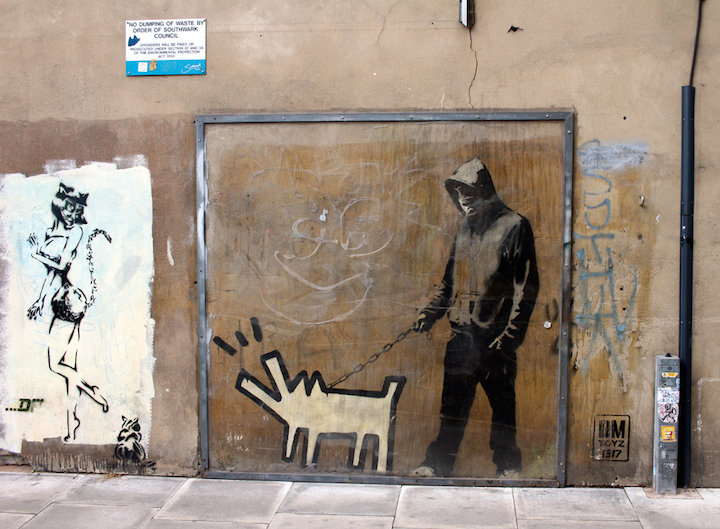 How have other street art enthusiasts – from bloggers and collectors to the artists themselves – responded to your academic approach to the subject?
Apart from the skepticism I already mentioned, people have generally been very positive during the research project. When I was working on the book, I had a lot of help from people who provided me with viewpoints, information, and – very importantly – photographs of artworks I couldn't get to myself. My research budget doesn't allow for expenses related to image rights, so if people hadn't been so generous and willing to let me use their images, the book would have ended up looking very differently.
In terms of the finished book, the response has been overwhelmingly positive. I was confident I had created a solid piece of scholarly work, but it was also very important to me to write something that people outside the academic world would be interested in reading and could relate to. From the comments I have received, street art enthusiasts enjoy the book and recognize the world I am describing. This doesn't mean they always agree with everything I write, but to me that is really great. My goal with the book was never to present the "truth" about what street art is – I actually don't believe one such single truth exists. My hope was that the book could be part of an ongoing dialogue about street art, and critical engagement and disagreement are essential to that.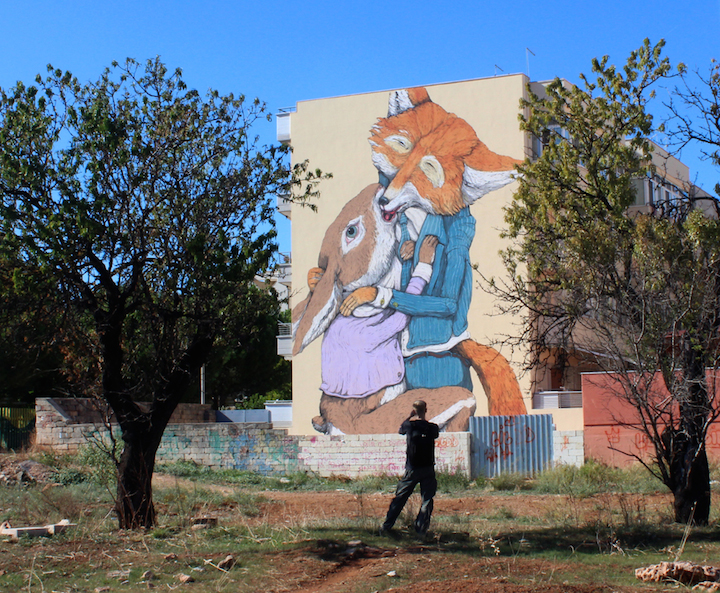 What are some of the changes that you have observed in the street art "world" since you first began documenting it and writing about it?
One of the most significant changes is that the street art world has become increasingly professionalized. This can be seen in for example the establishing of commercial magazines dedicated to so-called urban art, the increasing number of print houses and galleries that produce and/or sell limited edition artworks, the companies around the world that arrange commercial street art tours, and the vast number of street art festivals that have popped up in the past decade. With a more professional system in place, I think it has become easier for some artists to make a living from their work. While this is a positive development in many ways, from a personal point of view I do find it tiresome that some artists now seem to consider doing street work simply as a way of promoting their commercial wares. This is for example reflected in the number of websites and social media handles that are now included in, or placed next to, work in the street.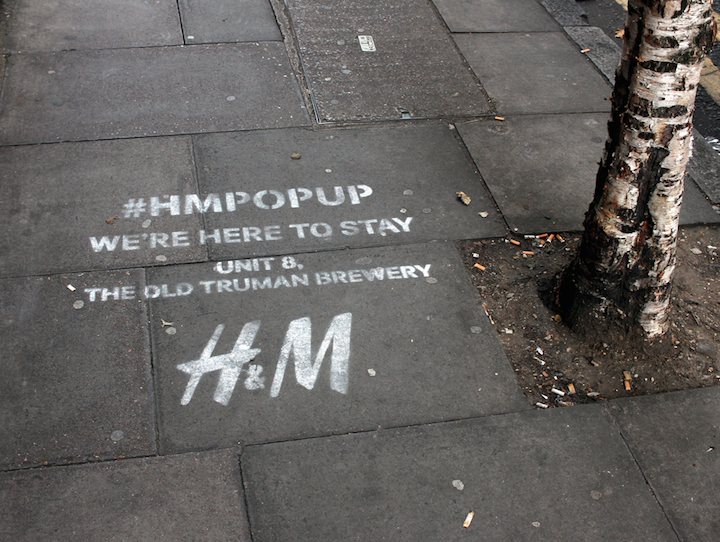 Along with the professionalization, street art enthusiasts seem to have become increasingly focused on the market value of commercial products. I see this very clearly on street art forums. Members have always discussed the value of their collections, but investment potential has gradually become the main focus since 2006, when urban art really started becoming a thing with galleries and auction houses. I think this development may partly represent a change in attitude among the people who were into street art when I first started out with my studies, but I strongly suspect it is also because a different demographic has taken an interest in street art and/or urban art as an investment object. Sadly, it seems to me that critical discussion about the art itself has largely been quashed by the market.
What are some of the key factors that have contributed to these changes?
Money obviously has a lot to do with the way the street art world has developed. With the increasing recognition and popularity of street art/urban art, it has become big business for some to provide a growing customer base with consumable products like limited edition screen prints. As a result, a growing number of print houses are constantly on the lookout for new artists, and it is not uncommon to see prints from artists who have done very little street work. This is in part possible because artists today make very conscious efforts to be "discovered" quickly, for instance by placing their street work in highly photographed areas and by leaving their contact details in or next to the work.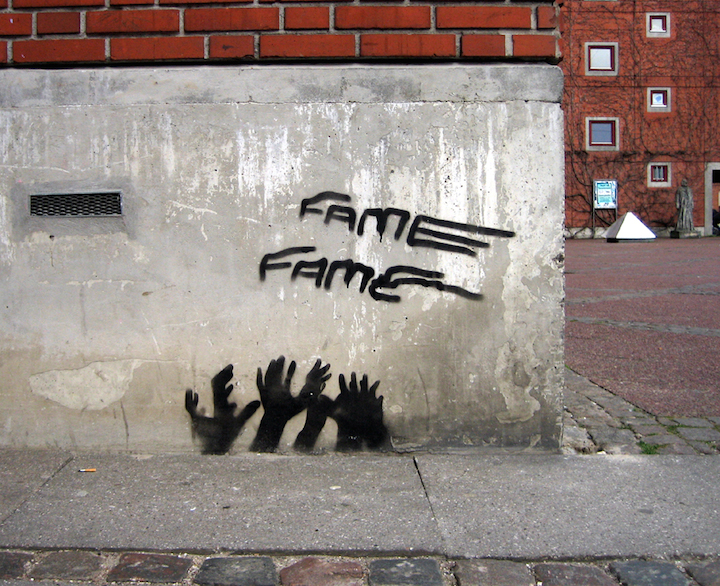 Having witnessed the market success of some of the older generation of street artists, it is perhaps not surprising that members of a new generation see doing street work as a shortcut to a commercial career. Lack of experience and maturity on the part of these artists may be one reason a lot of the commercial work released today is very formulaic and/or blatantly rips off previous work by other artists. Despite this, much of the published work seems to sell out. It is hard to say whether this is because customers actually like the artwork, and perhaps are unaware of the source material, or because they don't want to miss out on what is often deliberately presented to them as an investment opportunity. However, the number of prints on the secondary market is an indication that a lot of customers do see their purchases as investments.
Apart from money, technological developments have profoundly influenced the street art world. Digital photography and videography has made it simple for people to create visual material, and the internet in general – and social media in particular — enables people to share what they, and others, produce.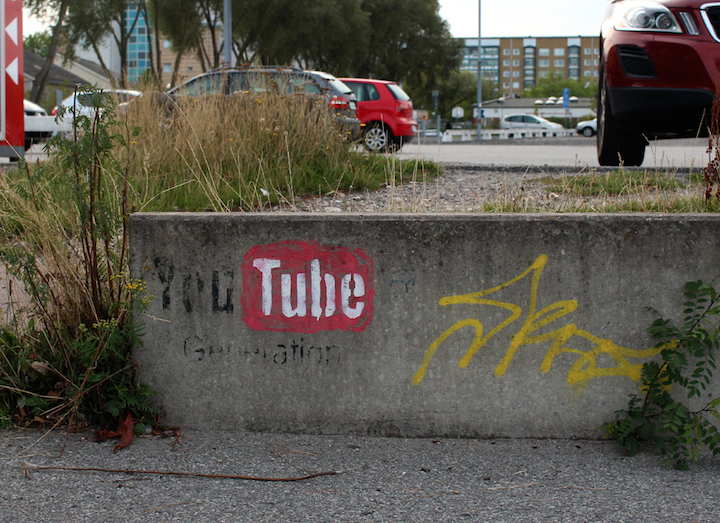 I think the ease of sharing content has played a very important role in the developments seen in the street art world. It is to a large degree through the online sharing of visual material that the interest in street art is spread to new people. These new enthusiasts — and potential consumers — form a basis for the continued existence of the marketplace that now constitutes a central part of the street art world.
Is street art dead? Or is it just sleeping?
I would say that all depends on your definition of street art. The notion of the death of street art comes about when someone experiences a conflict between a specific, subjective ideal of what street art should be and what they think it has become. The statement "street art is dead" has been popping up at regular intervals for as long as I have followed the street art world, yet people are still making, documenting, discussing and trading what they call street art. Although the street art world has become more professional and commercially oriented, much to the frustration of some, I don't think this implies that street art is dead or even dying. It simply means street art – like all things – is evolving.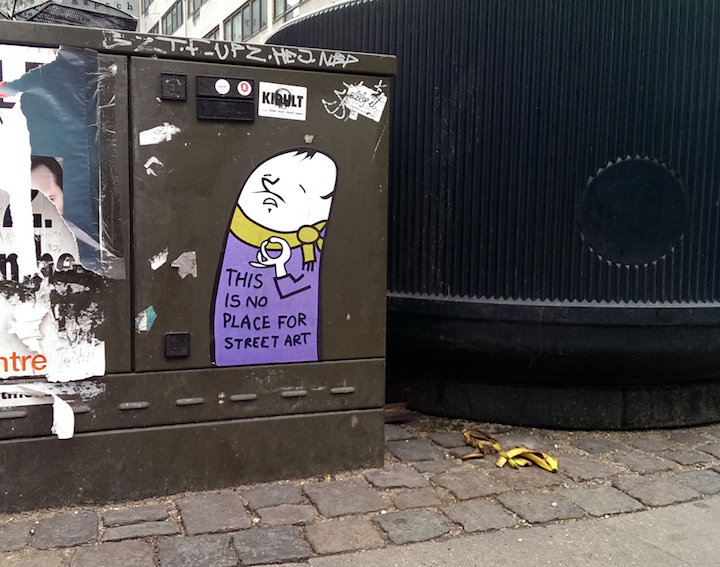 Note: If you are interested in purchasing a copy of the book or if you want more information about it, you can contact Peter at peter.bengtsen@kultur.lu.se. You can also check out Joe Austin's review of the book here
Interview by Lois Stavsky; all images courtesy Peter Bengtsen
1. Cover illustration:  Ericailcane
2.  Faile, polaroid of paste-up, Copenhagen, 2004
3.  Armsrock, photos of the Danish artist in Copenhagen, taken in July and September 2008, illustrating how artworks are gradually transformed in the street context
4.  Banksy, stencil painting behind acrylic glass, London, 2015
5.  Ericailcane, mural Fame Festival, Grottaglie, 2012
6. Stencil, filling the street – a space already over saturated with commercial messages – with additional advertising
7. Stencil painting, unknown artist,  Copenhagen, 2008
8. Stencil, Malmo, Sweden, 2015
9. Kissmama, paste-up, Copenhagen, 2015
Note: Hailed in a range of media from the Huffington Post to the New York Times, our Street Art NYC App is now available here for Android devices.