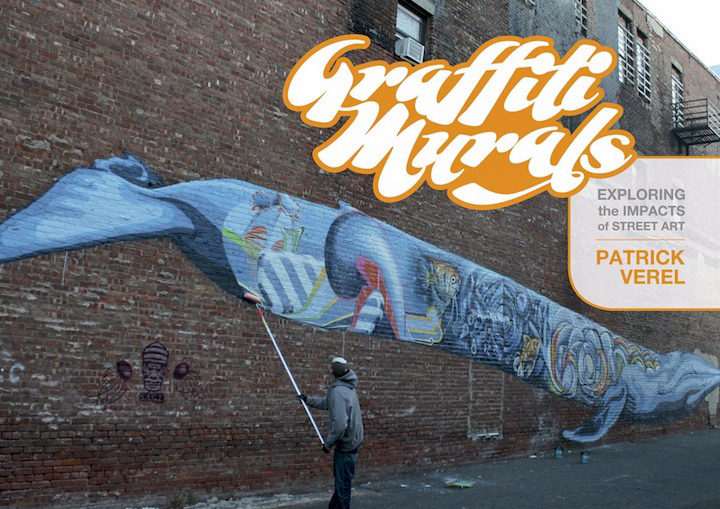 In his highly acclaimed book Graffiti Murals: Exploring the Impacts of Street Art, free-lance writer and photographer Patrick Verel presents six case studies, along with dozens of photographs, exploring the role of sanctioned graffiti murals and street art in the urban environment. I recently met up with him and had the opportunity to ask him a few questions:
What spurred your interest in this topic?
I was always into graffiti.  I have a short attention span, and I love being surprised! Cities stimulate me and graffiti is part of that stimulation.
How did this initial interest evolve into a book?
I never thought I'd actually write a book. It developed from the thesis that I wrote when I was enrolled in Fordam University's Urban Studies Master's Program.

You focus on six cases from the South Bronx to Trenton, New Jersey. How did you connect to all of the folks whom you interviewed?
I sent out lots of emails after poking around the Internet.  And I made some of the connections via my Flickr contacts — like the photographer Luna Park, who hooked me up with Robots Will Kill.
What were some of the obstacles you encountered while doing your research?
Getting people to talk to me and synthesizing all of the information.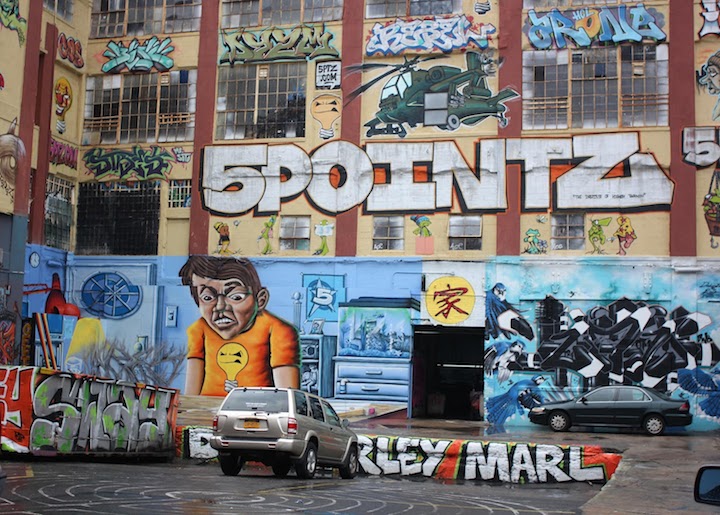 You seem to have accomplished that quite well! What — would you say – was the mission of your book?
To change the way so many people think about graffiti. To introduce them to the positive benefits of graffiti murals in enhancing the urban environment.
Are there any particular factors that assure the success of these interventions?
So much depends upon the owner of the space and his relationship with the artists. That owner must be able to trust the artists to do what they want.  And a successful collaboration demands money, effort and time.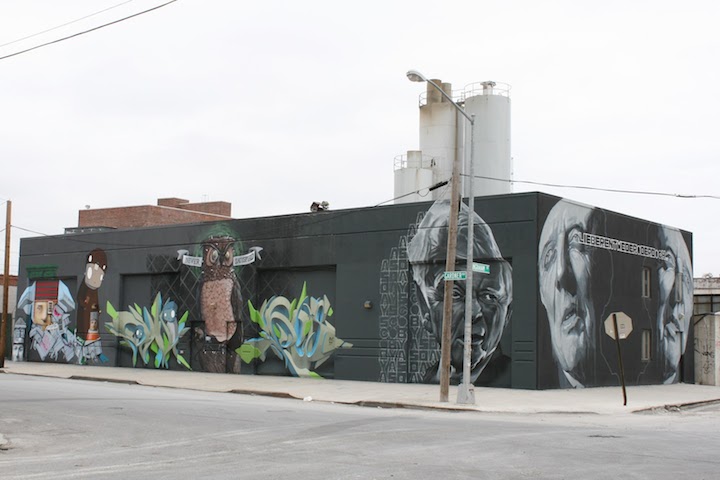 Were there any unexpected outcomes following the publication of the book?
Yes! I received a positive response from City Government, and I connected to Natalie Raben of the Lower East Side BID and the 100 GATES Program.
Have you noticed any changes in the graffiti/street art since you wrote your book?
There seem to be more projects, like the Bushwick Collective and the Welling Court Mural Project, that give artists legal opportunities to paint outdoors.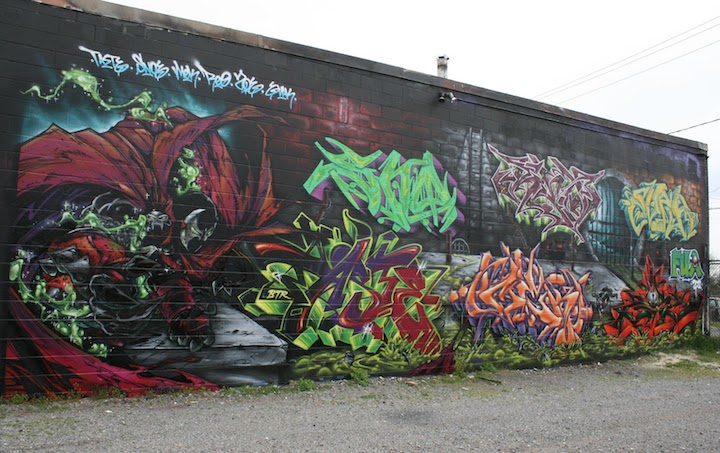 Published by Schiffer Publishing, Graffiti Murals: Exploring the Impacts of Street Art, is available online and in most bookstores.
Interview by Lois Stavsky
Photos of murals by Patrick Verel
1. Book cover, Lank completes mural he painted with Delve, Luv1 and Casso in Jersey City
2. Wallnuts mural in Gowanus with Dos, Chester, Muse, Been3 and Werc
3. 5Pointz in LIC with Meres, Zimad and more
4. Robots Will Kill in Bushwick with Chris, Veng, Peeta, Never & ECB
5. Taste, Mek, Evak, Sno Reo & Zoe at TerraCycle in Trenton, NJ
Note: Our highly acclaimed Street Art NYC App is now available here at Google Play for Android devices.