Living and working as a full-time artist in Williamsburg, Brooklyn, Milan native Federico Massa aka Iena Cruz first visited NYC in 2008. He has since moved here, enhancing NYC and beyond with his strikingly stylish aesthetic. This post is the first in a new series of interviews with artists born abroad who have decided to make NYC home.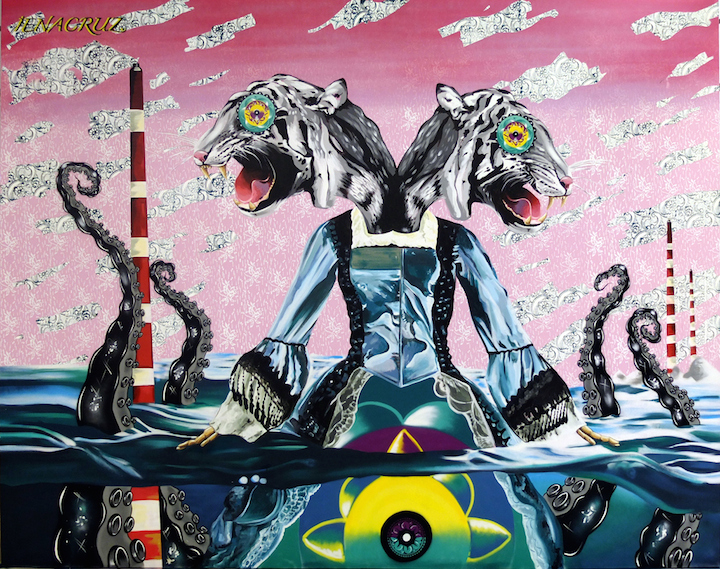 When did you first visit NYC?
It was the summer of 2008. I stayed here for a month.  At the time, I didn't know anyone in NYC.
What brought you here? Why NYC?
I was on vacation, and I was interested in exploring other cities. I had begun to feel that Milan is too small for me.  NYC seemed like a logical place to visit.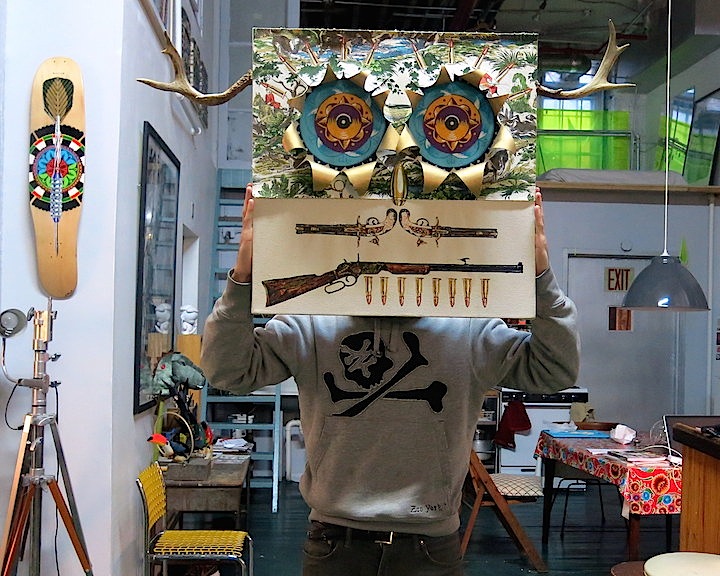 What was your first impression of NYC?
I fell in love with it at once.  I didn't understand it, but I loved it. I felt inspired by the chance to be connected to so many different cultures. I thought everything about NYC is great!
What was your image of NYC back in Milan?
It was out of focus. The only image I had of it came from what I saw in movies and music videos. I really had no idea what to expect.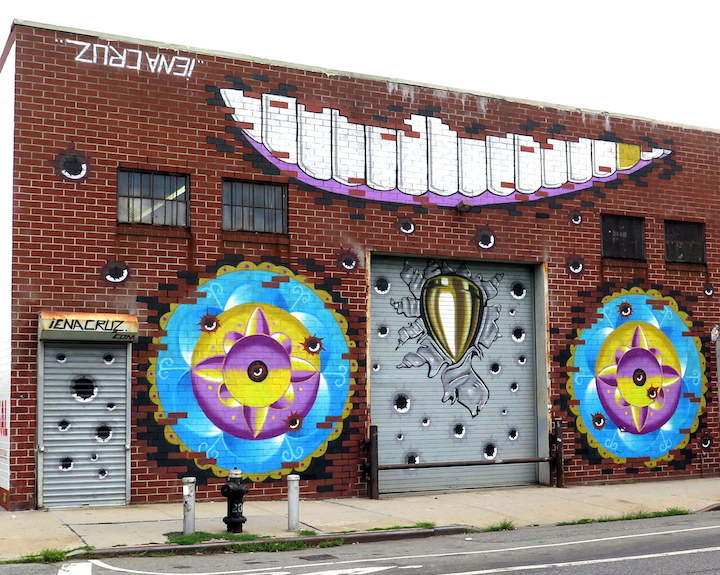 When did you decide to return here? 
I knew soon after my first visit that I needed to come back.
How did your family feel about you leaving Milan for NYC?
They were supportive. They know how difficult life is for an artist in Milan. Back home no artist is taken seriously until after he is past 50.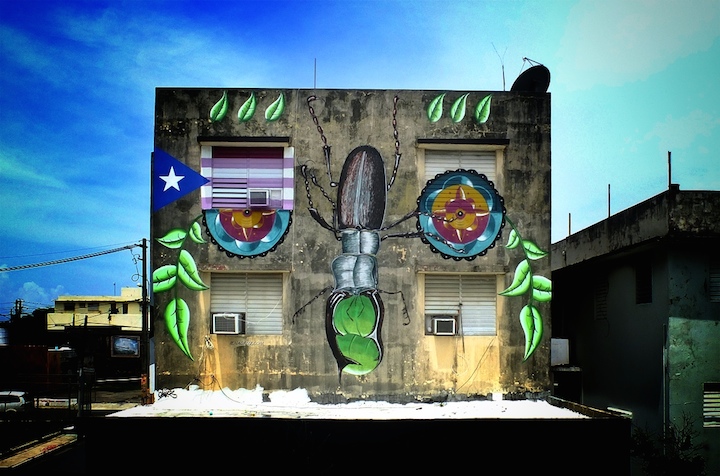 What were some of the challenges you faced once you decided to make NYC home?
I had to learn a new language. I had to find work to meet basic living expenses. I constantly had to concern myself with visa requirements and paper work. And in order to do all this, I had to put aside my painting. There was a general sense of instability.
Your current living situation is ideal – as your home is also your studio. How did you get so lucky?
I discovered this place on craigslist. When I contacted the owner, he asked me to show him a sample of my artwork! As soon as he saw it, he took me on as a tenant. At the time there were two other artists living here, both Mexican.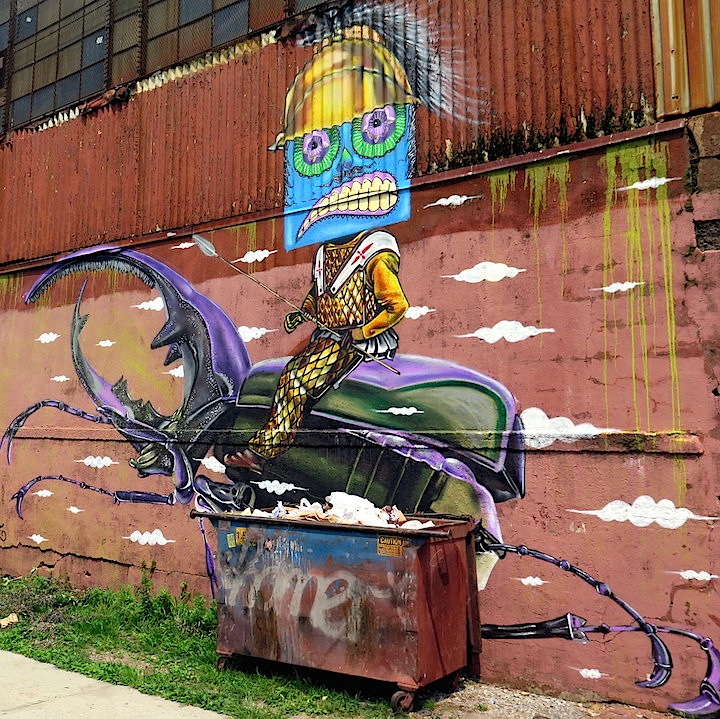 What was that like – sharing the space with these other artists?
It was wonderful at the time! And they've had a tremendous influence on my aesthetic. Through them, I discovered Mexican culture, and I've since adapted elements of it into my artworks.
Now that the space is all yours, how do you meet all your expenses?
Largely through a variety of commissioned projects. I also sell artworks and do set design.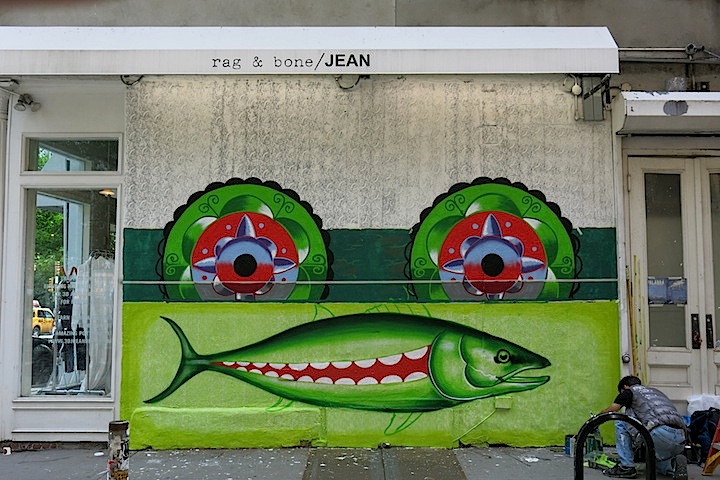 Do any particular projects stand out?
The huge mural I did for the Williamsburg Cinemas on the corner of Grand and Driggs was an experience! It was unlike anything I had done before – both aesthetically and in terms of the people with whom I interacted while painting it.  And last month, I had the opportunity to participate in FAAM, Fine Art Auction Miami in Wynwood.
How has your artwork evolved or changed since you came here?
My current works feature and fuse elements of Italy, Mexico and NYC.  And as I'm inspired to push myself here, my art is certain to continue to evolve and develop.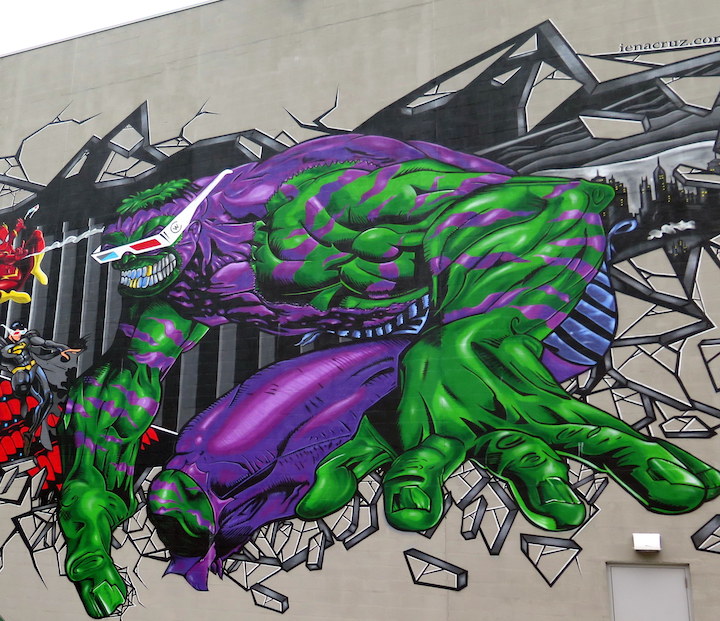 How receptive have New Yorkers been to your artwork? To you?
It's been so positive. My sense is that folks here admire my work, and they've been so welcoming.
What's ahead?
Now that I have my green card, I just want to keep painting murals and exhibiting my artwork.
Interview by Lois Stavsky with City-as-School intern Zachariah Messaoud  
Photos: 1. In Miami for the FAAM MAJOR STREET ART AUCTION and 4. In Puerto Rico, courtesy of the artist; 2. In the artist's studio, Lois Stavsky; and 3, 5-7, In NYC, Dani Reyes Mozeson