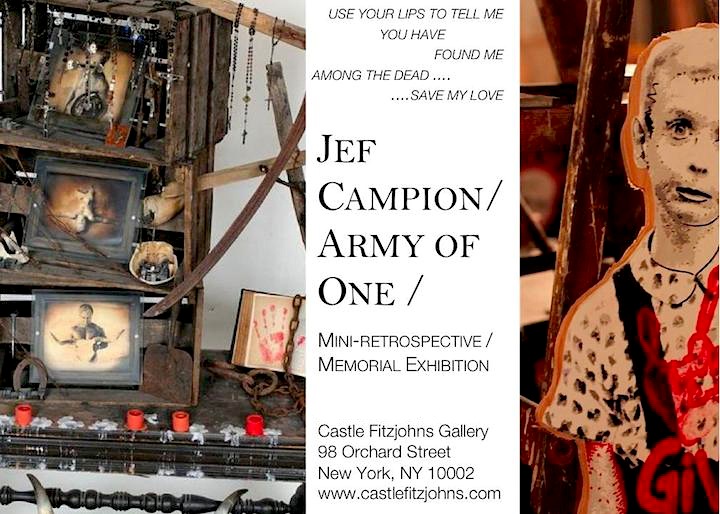 Most of us street art aficionados identify Jef Campion aka Army of One with his appropriation of Diane Arbus's compelling image, "Child with Toy Hand Grenade in Central Park." But currently on exhibit at Castle Fitzjohns Gallery at 98 Orchard Street is a series of works never viewed before — from poetry to sculptures fashioned on salvaged wood — that provide a poignantly intimate look into the talents and torments of this distinctly complex and sensitive artist.
We visited the gallery the day after the exhibit opened and had the opportunity to speak to its owner, Vincent Harrison.
Where and when did you first meet Jef?
I discovered Jef at Art Basel in Miami in 2012. He was standing in front of his van, covered with red paint from a project he'd been working on.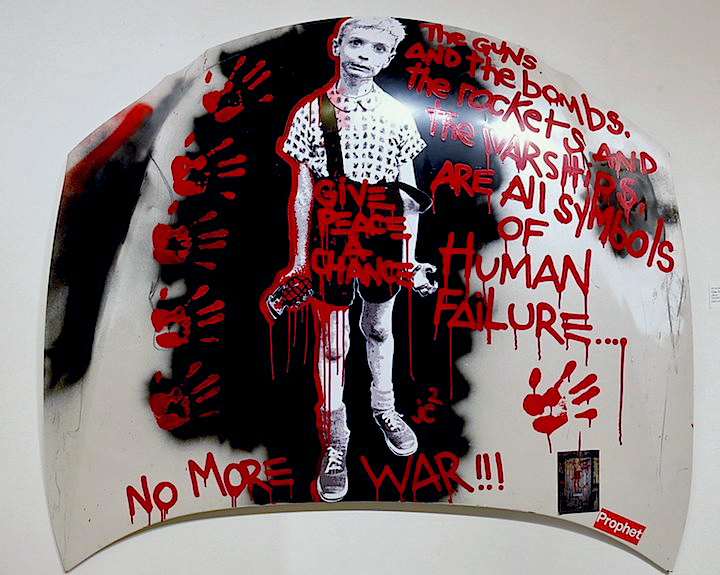 What was your first impression of him?
He was a very intense guy, but also one of the nicest you'd ever meet. I was impressed by his sincerity and passion — in addition to his artistic and technical skills. He had a strong sense of justice that he carried throughout his work both as an artist and as a firefighter. In fact, he never intended to exhibit his work in galleries or make money from his art. Whatever money he made he donated to causes and charities such as the Ronald McDonald House. He just wanted to make a difference.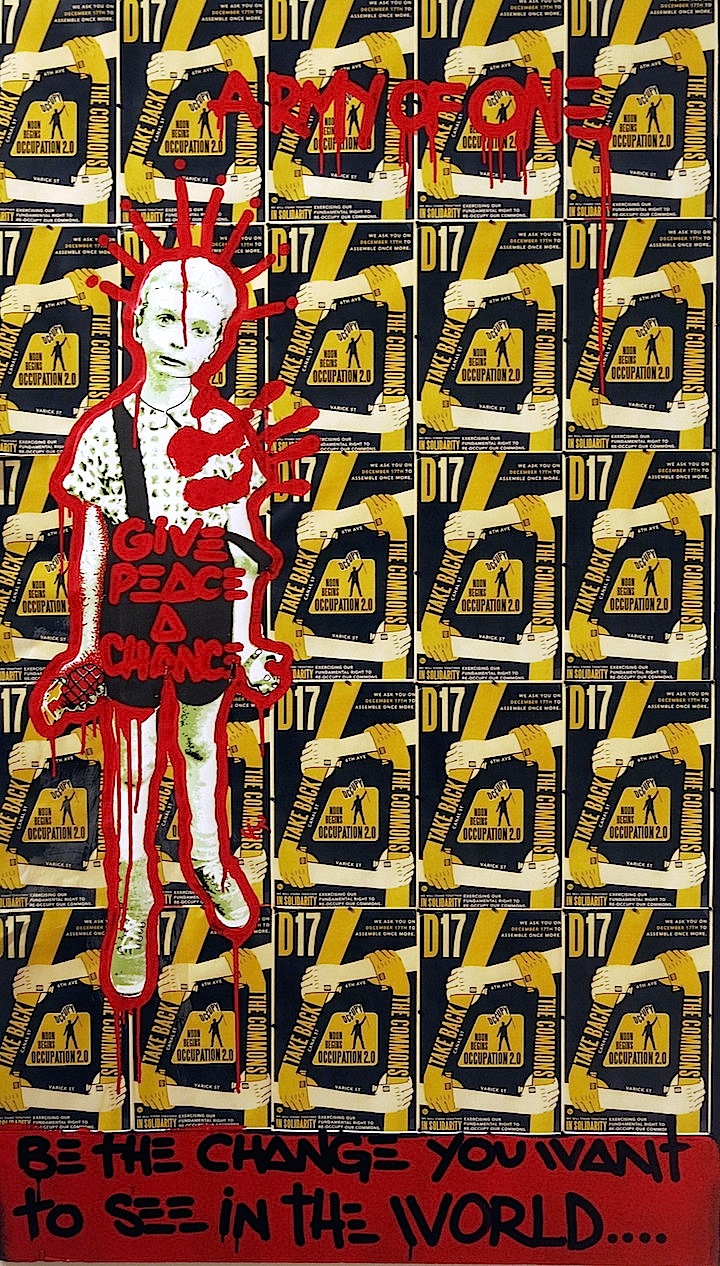 Why do you suppose Jef took his art to the streets?
Jef studied at CalTech and SVA and was making fine art long before he hit the streets. But after 9/11, he became intent on reaching as many people as possible. And the streets were the perfect vehicle for him to do this.
Have you any thoughts on Jef's appropriation of Diane Arbus's iconic Grenade Boy?
He always felt a strong connection to Diane Arbus, someone who also led a tragic life. Her iconic image was the ideal way for Jef to highlight the plight of children affected by war and the loss of innocence within American society.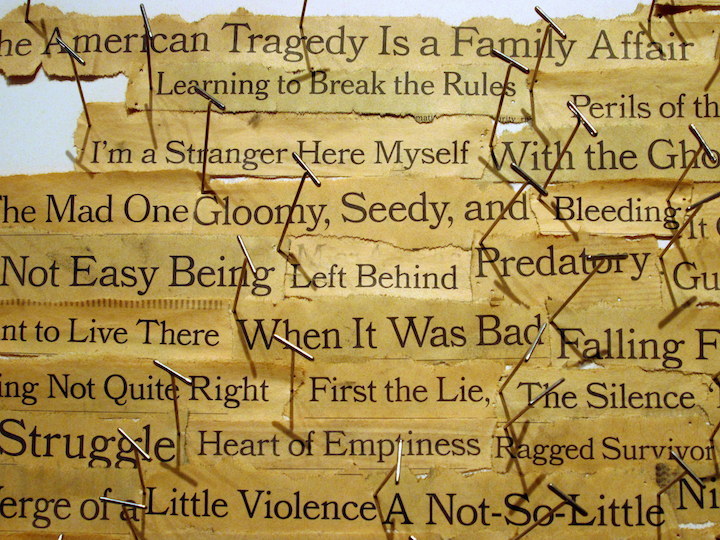 There seems to be so much pain and angst in Jef's work.
He had his demons. He struggled with issues related to his childhood, his relationships with women and his abuse of drugs and alcohol.  Though spiritual, he rejected organized religion and the Catholicism that was imposed on him as a child. He felt that religion had been used to promote prejudice. But the biggest battle he faced was with PTSD (Post Traumatic Stress Disorder). He was a first responder following the 9/11 attack and stayed at Ground Zero for 40 consecutive days. He was left struggling with traumatic, painful memories.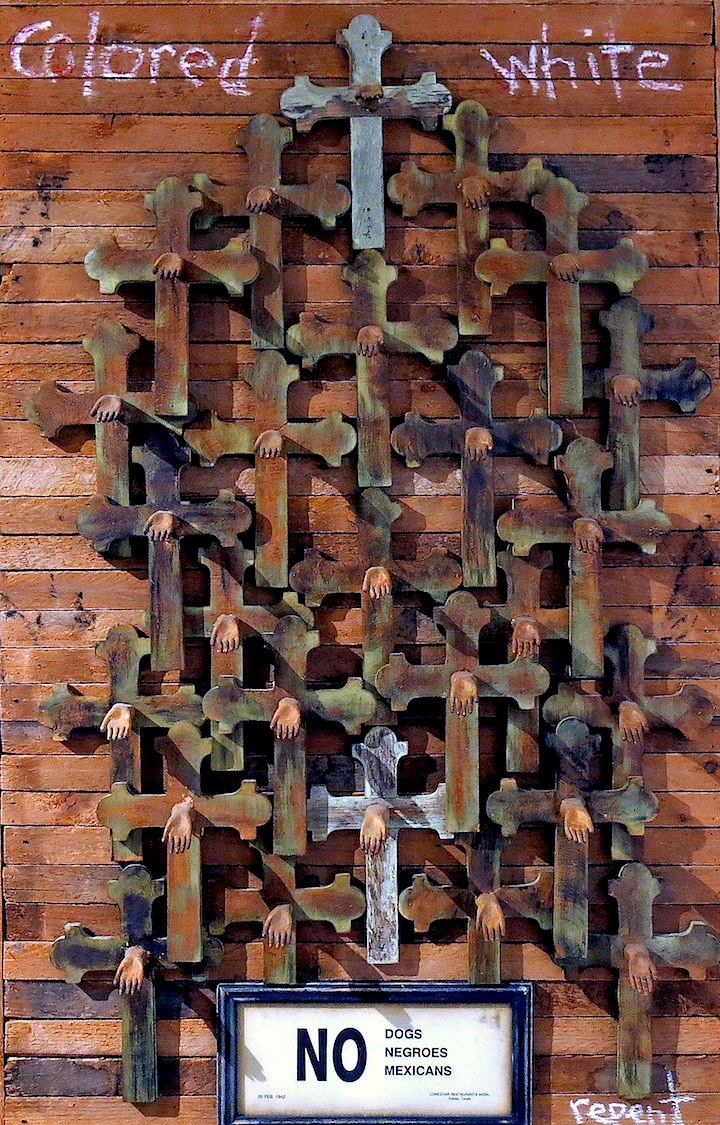 Can you tell us something about this particular exhibit?
We wanted to commemorate Jef Campion's life as an artist and individual who gave so much back to his community.  Brooke Lynn McGowan, who was in touch with Jef's former girlfriend, curated it. None of the work on exhibit is for sale, but some museums have expressed interest in the work.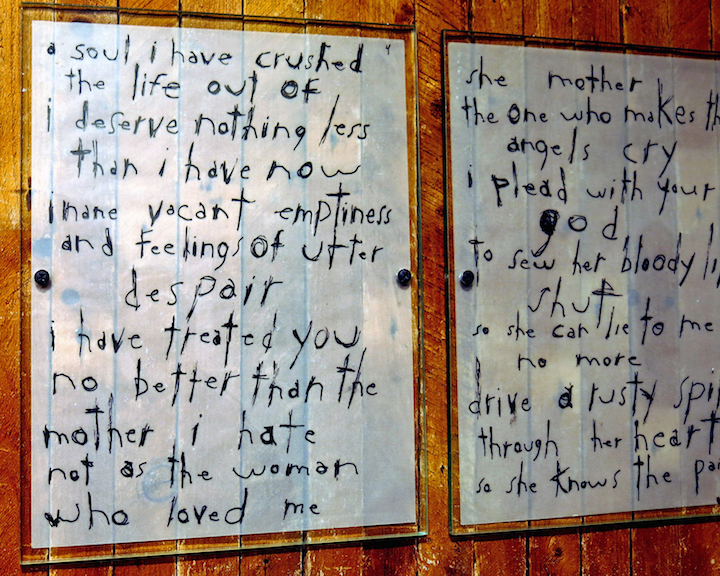 How did the opening go?
It was a wonderful tribute to Jef. His close friends, along with street artists, firemen, members of the police department and representatives of charities, attended and shared their memories. He will be missed.
The exhibit continues through Thursday at 98 Orchard Street on Manhattan's Lower East Side.
Interview with Vincent Harrison by Emily Thaler; photos of Jef's work by Dani  Reyes Mozeson, Lois Stavsky and Dea Sumrall