Born in Canada, Lady K-Fever is a NYC-based interdisciplinary artist, art educator and curator. A recipient of numerous grants, she currently works with the Bronx Museum of the Arts, the Studio Museum in Harlem, the Bronx River Arts Center and the Laundromat Project.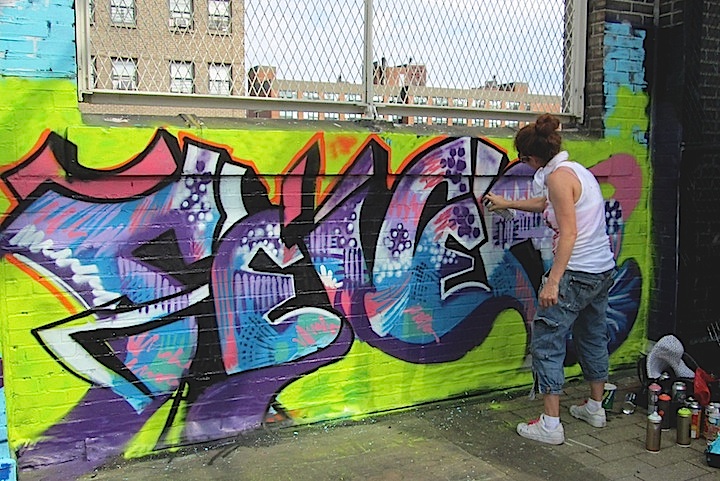 When and where did you start getting up?
I started bombing in Vancouver, Canada in the early 90's. I got up all over the city. No block was safe.
What inspired you back then?
In 1992, I found The Faith of Graffiti at a thrift shop and bought a bootleg copy of Wild Style. I immediately fell in love with graffiti.  I was also into skateboarding at the time, and I was a member of the Riot Grrlzs: The Vancouver Chapter.  We were invited to create an installation for an exhibition "Artropolis 1993." We collaborated to create a graffiti-inspired tag wall about human rights.
What spurred your interest and engagement in social issues?
I was inspired by activism of the Black Panthers and counter culture of the 1960's & 70's.
What about graffiti crews? Did you belong to any?
My first crew was the one I created with some of my friends in Vancouver, the ILC crew: The Independent Ladies Crew. I have since put down with lots of other crews: CAC, TLV (the Latin Vandals), IBM, and WOTS.  Right now I am down with KD-TDS-INDS.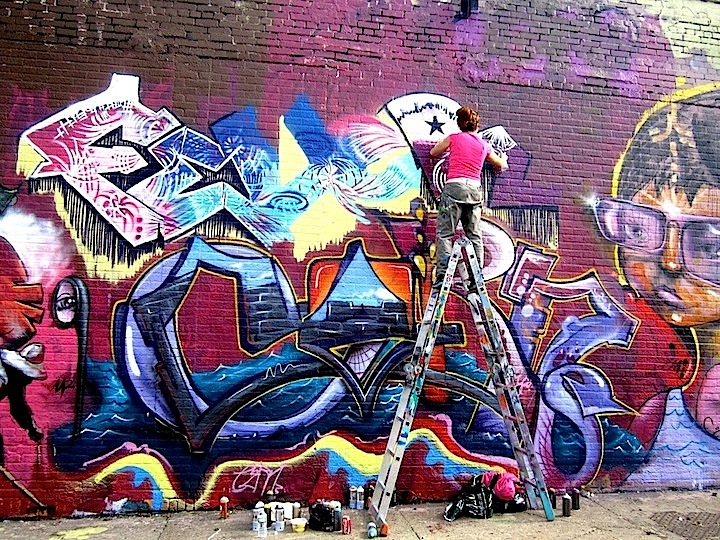 Any early graffiti memories?
I'll always remember the first three-color piece/bomb I did on my own.  It was all about timing.  It was in 1996 in downtown Vancouver, and I had hidden behind a car. I started to paint in the shadow of the car and hide when traffic was coming by. It was a thrill, and I wanted to do more.
When did you first get up in NYC?
My first time painting here was in 2001 at The Phun Phactory before it became 5Pointz. While there, I met so many people and artists who have helped me along my path. I am so grateful that there was a place like that – a place for the global graffiti movement to connect and blossom in New York City.
Have you ever been arrested?
Pleading the 5th and the 4th. 
Have you exhibited your works?
I began exhibiting my work in galleries in 1993 in Vancouver.  In NYC, I have exhibited at  the Bronx Museum of the Arts, El Museo del Barrio, Longwood Art Gallery, The Corridor Gallery, Andrew Freedman Home and MoMA.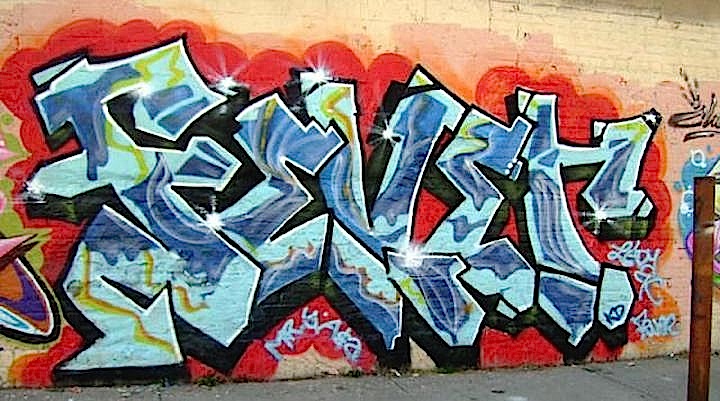 What percentage of your time is devoted to your artwork?
100 percent. All day. Every day. It's my life. Life is my art. My art is the facilitation of my experiences as a creative human on this planet. I am inspired and find inspiration all day long.
Have you made money from your work?
I sell pieces, do commissions, apply for grants and residencies, teach and consult with museums and arts organizations, speak at schools and conduct workshops. Hustle is hustle.
Any thoughts about the so-called graffiti/street art divide?
The boundaries continue to blur.  I thought we all fought hard for graffiti to be considered "art". A writer is a writer; an artist is an artist. Both are valid and beautiful and all artists have the right to decide how they want to be identified. What I do not like is the dogma and the prejudices that arise. If graffiti and street art are ultimately forms of freedom of expression, then what really is going on?
Do you prefer working alone or working with others?
Both. I like working alone, and I like the interaction that happens when artists work together. I go through phases.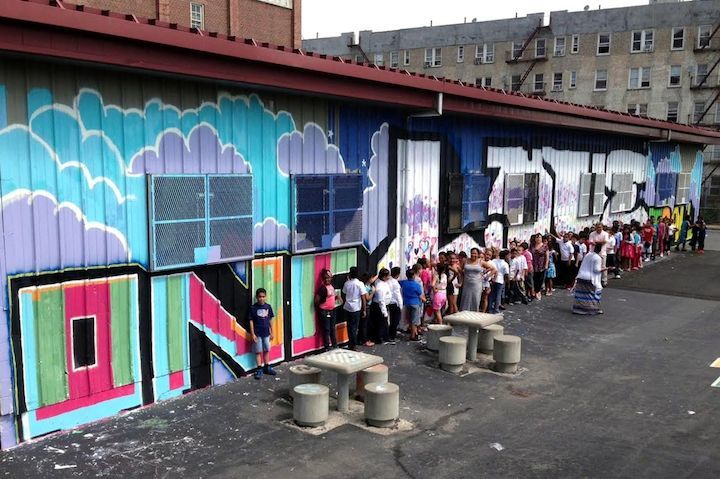 Do you have a formal arts education?
Yes and no. I studied fine art in high school and in college, but I formally went on to major in Theatre.  I worked as a studio assistant with a Canadian pottery artist and as a scenic painter on film/TV sets to gain art trade skills.
What is the riskiest thing you've done?
I have done a lot of risky things. On my last day in Toronto, I did a bridge piece along a highway in downtown Toronto.  I wrote the name Lady K Fever in huge letters on the whole bridge.  As I was finishing, I saw a set of police lights flash across the highway. I ran and hid all the way home. That was my exit from Toronto.
Are there any particular cultures that have influenced your aesthetic?
I'm influenced by all cultures. I go through inspirational phases. I love texture and color. I like to work with Indian, African and Mexican fabrics and designs.  Music is also an influence – its sounds, beats and lyrics.
Are you generally satisfied with a finished piece?
Yes and no.  Sometimes, I just have to walk away and move on to the next.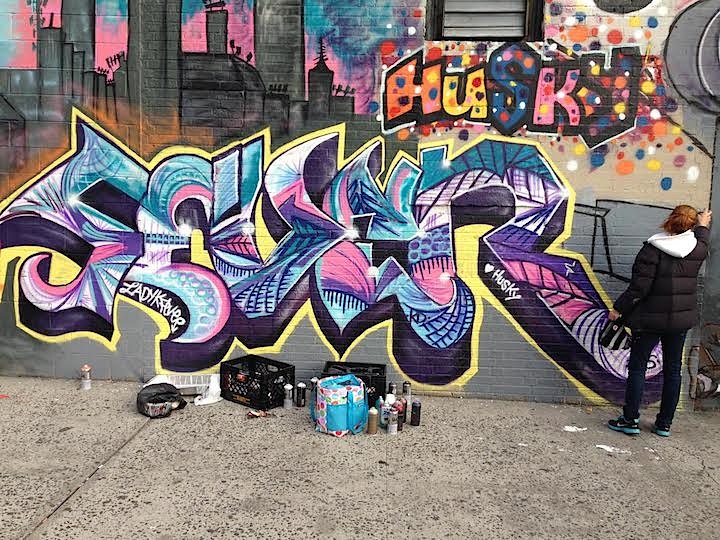 How has your work evolved throughout the years?
I continue to refine my style and explore concepts.
How would you describe the role of the artist in society?
The artist's role is to tell stories through personal and collective reflections and responses and to raise questions. The artist is a messenger of universal truth who challenges others to see and acknowledge what they might not want to
Interview with Lady K-Fever conducted by Lenny Collado and edited by Lois Stavsky; photo credits 1. Lenny Collado; 2. Tara Murray; 3 – 5. courtesy of the artist