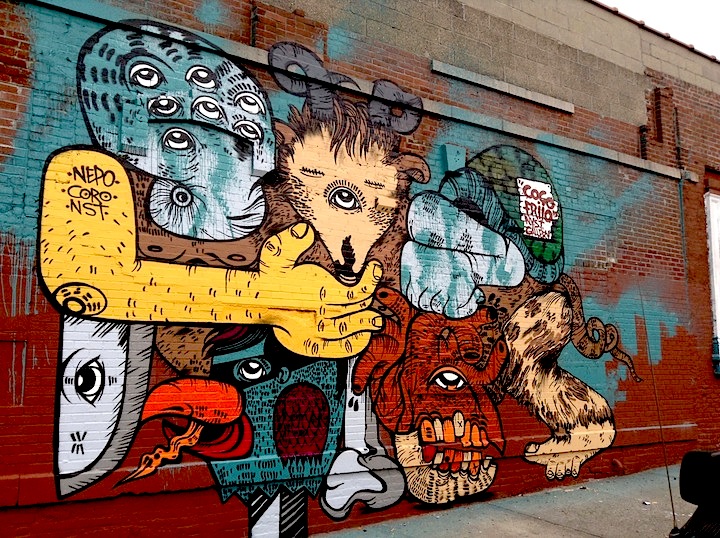 We are thrilled that Puerto Rican native Nepo has brought his superb skills to us here in NYC, delighting us with his wondrous characters, sensuous styles and bold colors.  He's been busy in Bushwick these days, where he will be painting live and exhibiting his work with New York Street Gallery next Friday, November 15th.
When and where did you first get up?
I began bombing and tagging my name back in 1996 in Puerto Rico.  I was 16.
What inspired you to start writing?
At first I didn't write. I used to help my friend Ensa with his fills when he did pieces. I also served as his look out. Eventually I started tagging. And Ensa was the one who gave me the name Nepo. It was kind of a joke, but it stuck.
Had you any preferred surfaces back then?
No. It was location that mattered. We focused on getting a spot where as many people as possible would see the work. Surface didn't matter. Although, I'll say, I do love shutters. They present a challenge I enjoy.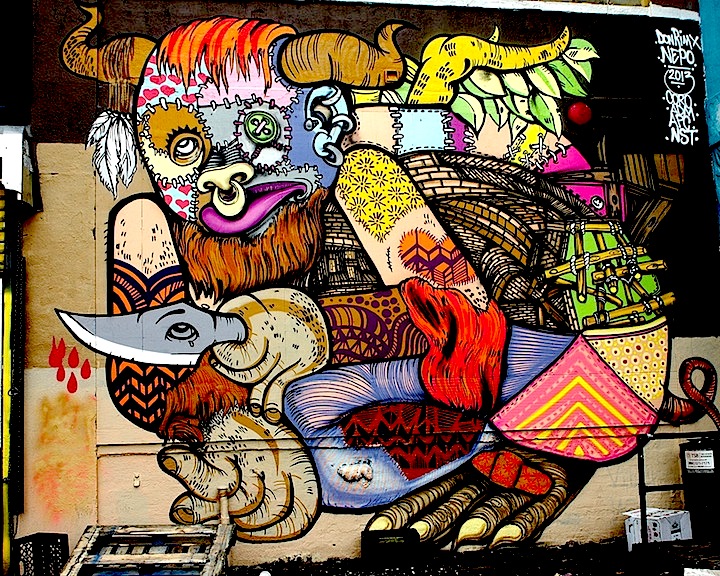 Do you paint with any crews? Or do you paint alone?
Both. I get up by myself and I also paint with El Coro and NST – both here and in Puerto Rico.
Have you exhibited your work?
I have. In Puerto Rico, I contributed to Carry On, a collective that went on to tour in Boston and in Oakland. I had two solo shows back home, and I'm working on an upcoming one here. I'm also now preparing for a group show with Bushwick's New York Street Gallery.
How do you feel about the movement of street art and graffiti into galleries?
Artists need to make money. In Puerto Rico, there are underground art galleries that support graffiti and really show love for it.  I haven't felt that here in NYC.
How does your family feel about what you do?
My mother and father didn't get it for a long time. They thought it was crazy that I was spending so much time and money without getting paid. But then after they attended some of my shows and read about me in the news, they knew that I was progressing as an artist. And they grew to appreciate it.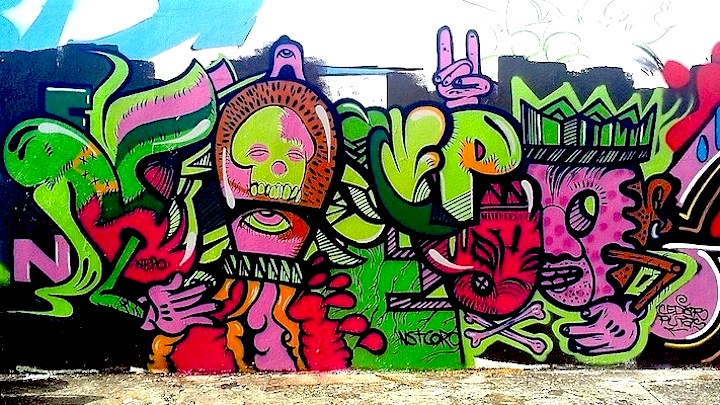 What percentage of your time is devoted to art these days?
I'm almost always working on a canvas, flyer, T-shirt, print, painting or wall. It may not yet be 100%, but I hope it will soon be.
Have you earned any money from your artwork?
I have. I designed a sign for the Well Project that brought me some money. And I will soon begin working for the Roberto Clemente Center, painting outdoors with five other artists.
Any thoughts on the graffiti/street art divide?
I have tremendous respect for graffiti and I identify with it. But these days I'm more of a street artist or muralist. I like doing legal walls because I can take my time. There is a divide, though, even though many street artists started as graffiti writers.
Is there anyone you would like to collaborate with?
I'd like to do something with Os Gemeos. And if they were still alive, I'd work with Diego Rivera and Basquiat. Ha-ha!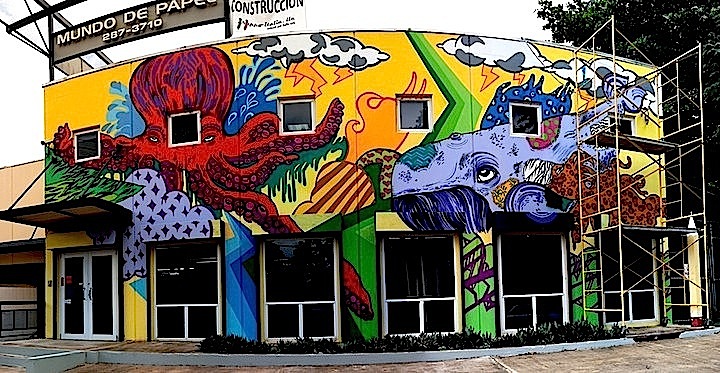 Do you have a formal arts education?
Yes. I studied art with a focus on traditional graphics, silkscreen, etching and printing.
Are there any particular cultures you would say have influenced your aesthetics?
The many bright colors that I use and the animals I reference are influenced by Puerto Rican culture.
Do you work with a sketch in hand or do you work free hand?
For murals, yes, I use sketches, especially for proportions.
Are you generally satisfied with a completed work?
Yes. When I have given my all to a particular project, the quality is there.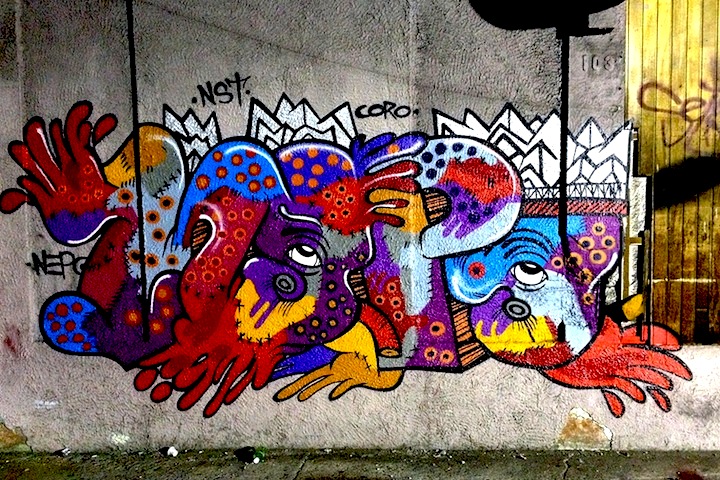 When you look back at what you've done in the last two years, is there anything you would have done differently?
I'd have done bigger work, larger scale murals and more of them. Here in NYC, I've done four and that's not enough.
How has your art evolved throughout the years?
Initially, I began with paint brushes. But because I love to learn and expand, I moved on to spray paint and became obsessed. I continue to enjoy learning new spray paint techniques.
What was the riskiest thing you've done as a graffiti writer?
Ha-ha! I actually tagged the door of a Senator's house in Puerto Rico. My friends and I were drunk, and we decided to tag it at four in the morning. Since we didn't have our cameras with us, we ran home to get them. But by the time we returned, someone was already power-washing the tags off the building.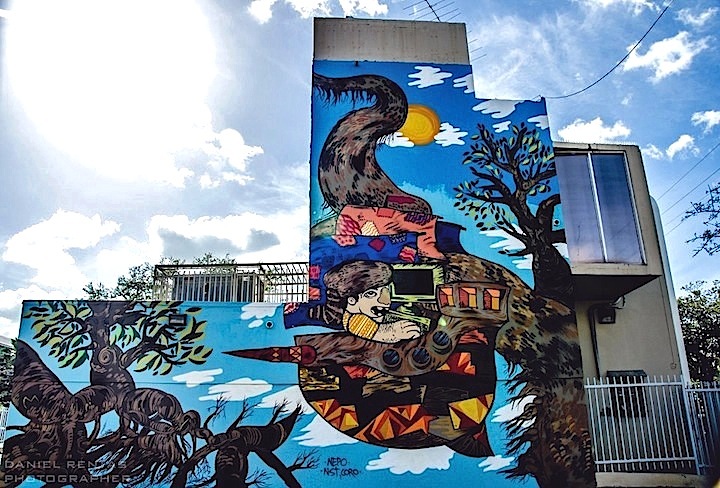 How do you feel about the photographers and bloggers on the scene?
We need them. Their job takes time and love.  It's not just about the artists; it's also about the people who share their love for what we do with others.
What's ahead?
I'm part of the first New York Street Gallery group exhibit that will take place next Friday, November 15, at 272 Messerole Street on Bushwick Place.
Interview by Lenny Collado; Photo 1 in Bushwick by Tara Murray; photo 2 at 5Pointz by Dani Reyes Mozeson; all others courtesy of Nepo