NYC became a bit more colorful and joyful these past few weeks, as Bortusk Leer's lovable monsters found their way here — both on the streets and at CULTUREfix on Manhattan's Lower East Side.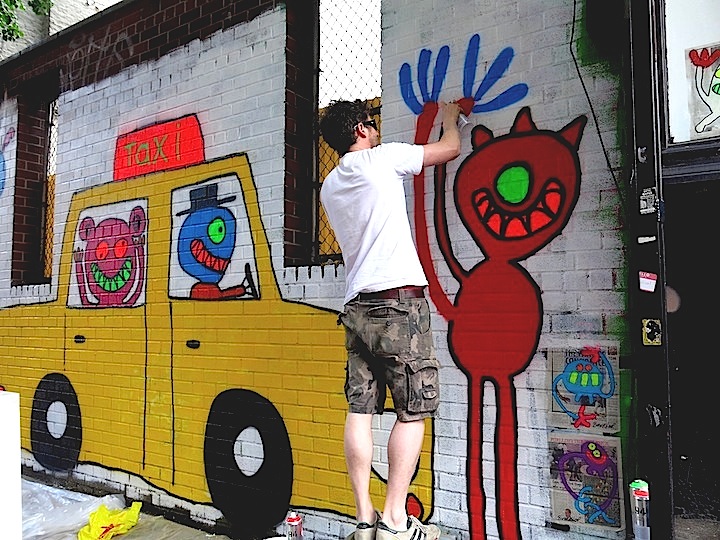 When did you first start getting your artworks up in public spaces? And where?
In 2006 in London.
What inspired you at the time?
I was working at the Leonard Street Gallery, where I became friendly with lots of street artists.  And both Sweet Toof and Cyclops said to me, "Why don't you just put your work out on the streets?" And so I did. I began stenciling pigeons onto newspaper and cardboard and stuck them up. The monsters came somewhat later.
Your monsters are quite joyful!
Yes. I was seeking an antidote to all the negative images that I passed daily on the streets. I wanted to get something out there that would cheer folks up.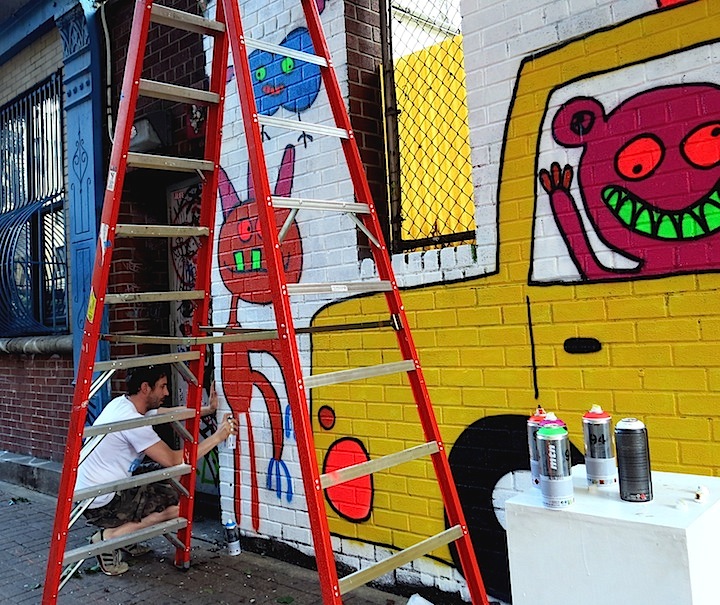 What percentage of your time is devoted to art these days?
Most of it. Between commissions and art sales, I've been earning enough money to be a full-time artist.
Have you a formal art education?
Yes. I studied art in a formal setting for six years. First at Canterbury Tech and then at the Falmouth College of Arts.
Any thoughts about the move of street art into galleries?
In my case, I was exhibiting artwork in galleries long before I shared it on the streets. It's a different experience.  I certainly don't have a problem with street artists selling their work in galleries. 
Any favorite cities?
Amsterdam – where I'm based these days.  It has everything a big city has – without its madness.
How has your work evolved in recent years?
It's become more stylized. I'm actually trying to loosen up a bit.
Are you generally satisfied with your finished piece?
Generally, yes!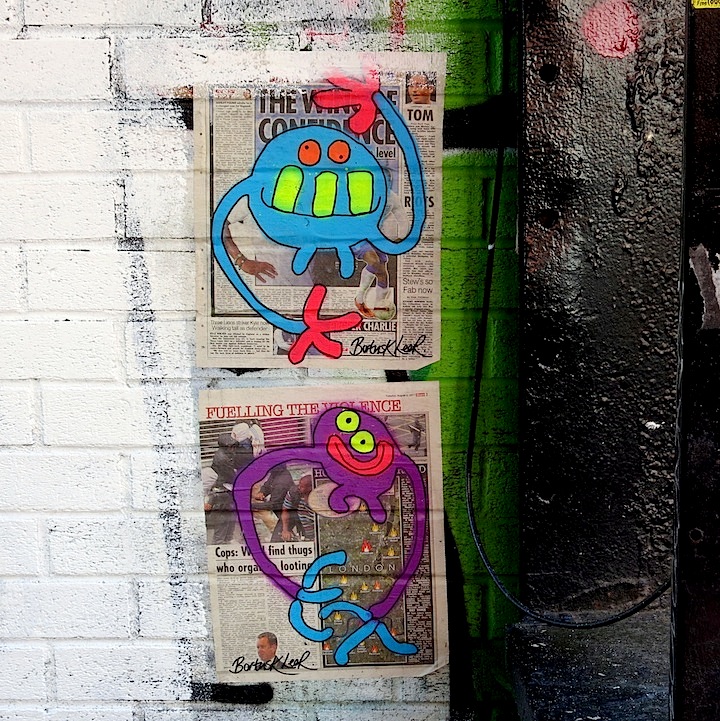 How would you describe your ideal work environment?
Lots of music, space and light!
What inspires you these days?
Everything! I can't stop drawing.
Are these any particular cultures that have influenced your aesthetic?
I love the primitiveness of ancient cultures. And I've also been influenced by cartoons!
Any favorite artists?
I love Picasso. And I've been particularly inspired by the members of the CoBrA Movement and the works of one of its founders, the Dutch painter, Karel Appel.
How do you feel about the role of the Internet in all this?
It's a good tool for networking and a great way to find out what's happening.
Any thoughts about the graffiti/street art divide? Is it apparent to you?
There is a divide, but it doesn't really affect me.  Graffiti, I feel, demands greater technical expertise.  And I can understand why graffiti writers might resent street artists who gain acceptance more easily. But I do feel that both forms will eventually merge into one.
What do you see as the role of the artist in society?
Many roles! But mine is to cheer people up.
Bortusk Leer's lovable monsters remain on exhibit at CULTUREfix through Sunday.
Photos by Tara Murray and Lois Stavsky