Of the many new pieces to surface at 5Pointz since it began its 11th season last month, a particular stand-out is the huge mural by Phillip Perez aka Article. Curious about the artist behind this singular graffiti aesthetic, we posed some questions to him.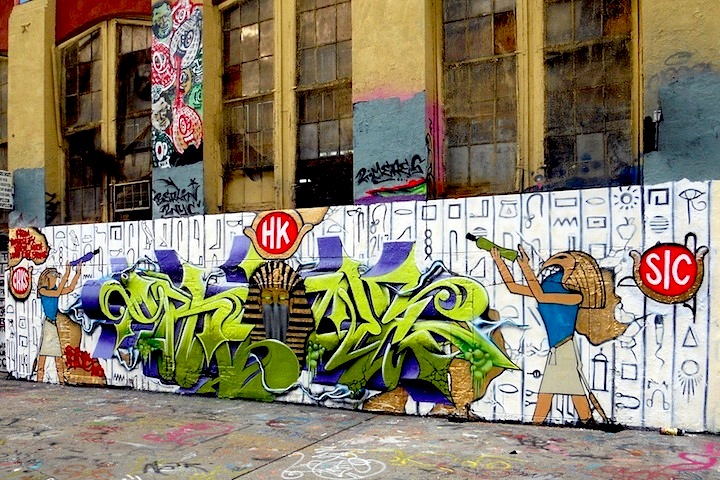 When did you start getting up?
I first started in Houston, Texas — back in 1992.
What inspired you at the time?
It started when my friend Big Mark aka KRAM, a B-Boy (Rock Skittles Krew) and a graffiti artist, showed me a video that featured break dancing and graffiti. Before then, I hadn't seen anything like it. Two days after watching that video, I went bombing. I spray-painted in an alley behind my house.
Any memories that stand out from those early days?
A neighborhood hothead, SKEEZ 181, invited me to paint in a train yard for a graffiti battle. I don't know how he got my number, but he did. He gave me a call one day and said he'd even pay for the paint and pick me up at my place. I was young and crazy, so I agreed. It was me and Ceroe against all of Hou-Tex freaks in a train yard in Denver Harbor. And as we were painting, a couple of train cops rolled up on Ceroe at the end of the car and start shooting at us. We all hopped about six sets of train tracks while dodging the bullets. Everyone got out of there alive. We even became good friends after. Never did like train yards, but I did it that once!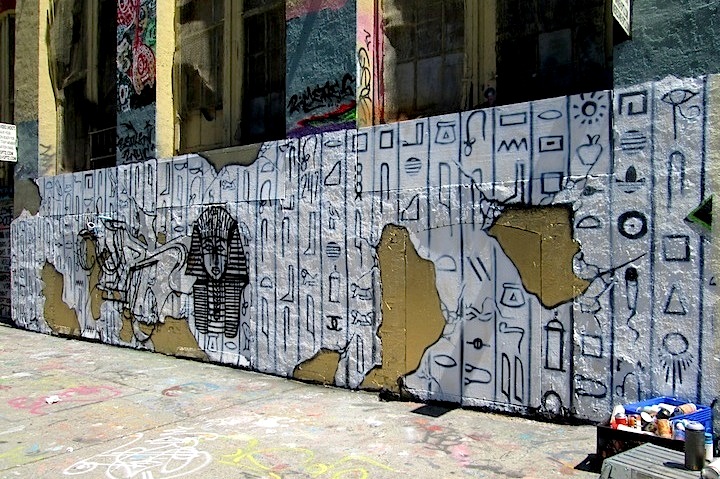 Have you any preferred surfaces?
No favorites. I'm a city bomber; any surface will do. The laws here don't allow graffiti to live too long. A month maximum and bombs are buffed. So as a writer in Houston, you have to be very selective where you bomb. Location is key!
What's the riskiest thing you've done?
I painted a wall along this railroad track with a couple of friends. Soon, the police rolled by and we were forced to hide in this ditch of muddy water amidst a horrible stench and a swarm of mosquitos. We couldn't move or sneeze. The cops knew that there had been painting going on, as there was that strong smell of paint in the air. When the police left, we jumped out of there and ran. When we did, a police officer saw us, and hit full speed. To get away, we had to jump over barbed wire gates. We made it, but we separated as we dodged the cops. We met back up again about an hour later.
Have you ever been to jail?
Yes. When I was young, I went to jail for a lot of crazy things, but not for my graffiti art. I'd never go to jail for that. I'd feel too awful getting caught for my art.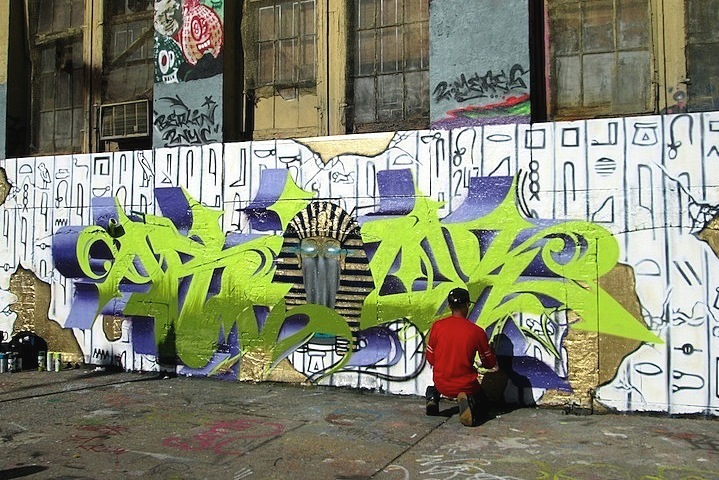 Can you tell us something about some of the other writers down in Houston?
When I started out in the early 90's, there were hardly any graffiti bombers. There were a few graffiti artists, though.  Nekst and Vizie started here in the mid '90's and moved on to work with MSK — from what I understand. I respect those kids. They could have done anything in life, but they chose graffiti as a lifestyle. Episode, Color One, SKEEZ 181, The One Lee, Cease, Dual — are a few cats that live the lifestyle and keep things real in the H.
Who or what inspires you these days?
The lack of real graffiti nowadays is what inspires me to keep at it and teach it — when possible. This new generation needs to learn the foundation and history of this culture before they try to rub elbows with self-made artists. It's a big let down when I meet a cat who can rock a 3-D but can't paint regular letters or write with a nice hand style. But there are still sick artists coming out of the woodworks.
Are you down with any crews?
I'm in Hyroglifx Krew 182. We're like a family here and help each other out. I don't see it happening these days with many other crews. Internet crews have members who don't even know each other. We were all born and raised in the North Central Houston.
Have you exhibited your work?
I have in the past few years, and I'm looking to exhibit more regularly.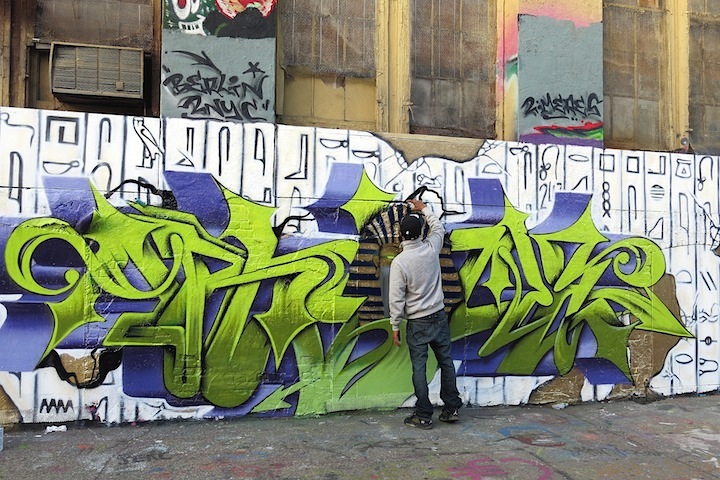 Do you have a formal arts education?
No. My art have been my true education. It has taught me to write proposals and contracts, research history and conduct business. Art has taught me everything. When in school, I felt like the institution was misguiding me.
What's the attitude of your family and friends towards what you do?
My mom bought me my first can. She has been supportive of the graffiti art, but not of the graffiti bombing. It's a life style and culture. For me, graffiti is a rare art form. I often find myself explaining it to friends. I never get any real negative feedback from them, though.
What percentage of your time is devoted to writing?
It's a balance. I have to maintain my commercial works and still fit in my street time. My heaviest bombing years were throughout the 90's. I've had to slow down in the 2000's because of paid gigs, which took up a lot of time and energy.
,Have you a steady day job?
Yup! I have an in-house art gig for a corporation. It helps me pay the bills and buy paint supplies. When I'm not working there, I do commission work for various people. Along the way, I've met a lot of actors, musicians and politicians who are interested in what I do. So luckily, I get to work for them and anyone else who needs art of any kind.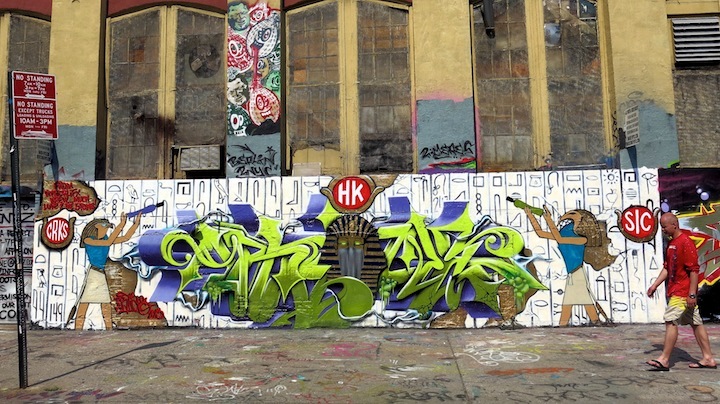 What about other interests?
Anything that is even vaguely art-related interests me. I'm also interested in history.
How has your work evolved throughout the years?
It's evolved a ton. I taught myself foundation, structure, color schemes and balance. And through that learning process, my work naturally evolved into what it is today.
How did you connect with 5Pointz?
My boy Episode gave me Meres's number and I texted him. A thousands miles later — with a hundred pounds of paint — I presented my layout to Meres, who approved the sketch and got me straight to work.
Can you tell us a bit about this image?
It's a memorial wall — a tribute to the building representing the kings, the OGs of New York City graffiti. I don't want to see the building torn down. With its gold background, the piece represents the significance of 5Pointz. The hieroglyphics are actually names of important writers such as Stay High 149, Dondi and IZ the Wiz, to name a few. And overall, the work represents the style of my crew. It's an offering to the 5Pointz community and its importance in the movement. Even in Houston, we know its value.
Interview by Lenny Collado; photos by Lenny Collado, Tara Murray and Lois Stavsky