Germany's masterful graffiti artist Semor returned to 5Pointz earlier this month, where he once again graced its walls with his outstanding skills. This time we has the opportunity to speak to him.
When did you first get up? And where was it?
I was 11 years old when I first hit a wall. It was in an abandoned area in the middle of nowhere. I grew up in a village near Cologne, Germany where there was no graffiti — or just about anything — on the walls.
Then — how did you get into graffiti?
As a young child, I destroyed my room with chalk. This started when I was about six. I always focused on letters. One day my sister said to me, "What you are doing is graffiti."  And she bought me a copy of Style Wars. That was it!
And you have been doing it ever since!  What is it about graffiti that appeals to you?
I can put my all into it. I can express everything that is going on inside me and around me. I never sketch beforehand. Everything I do is freestyle. It's what I feel at the moment. It doesn't matter if it is a good day or bad day. I have graffiti.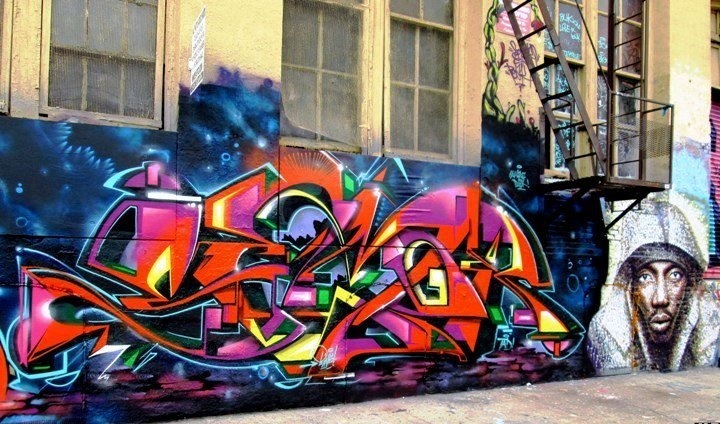 How do your folks feel about what you do?
My mom loves it! And my dad admires what I'm doing, too. He is an architect.
Tell us something about your name. How did you get the name Semor?
I was always a big Simpsons' fan and I particularly liked the character Seymour Skinner, the head of Bart Simpson's elementary School. I just changed the spelling!
Have you any favorite surfaces?
I'll paint on anything that is paintable, but I love big walls.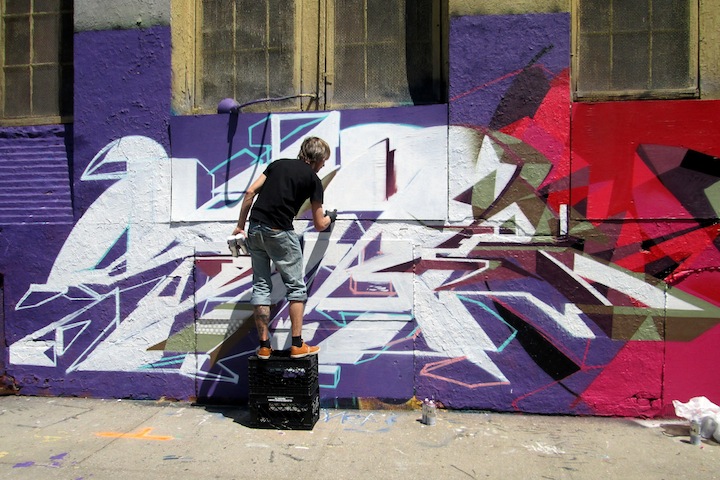 Have you ever been arrested?
Sure, but Germany actually provides us with graffiti lawyers. And you need to be caught in action in order for the police to arrest you.
Have you exhibited in galleries?  And how do you feel about the move of graffiti into galleries?
Yes! It's been a good experience. It's good money. And it's time for graffiti to be given the respect it deserves.
How do you feel about the divide between street art and graffiti?
Graffiti is graffiti and street art is street art. Street artists are more concerned with getting a message out to the public.  And it often has political and social overtones. Graffiti is about style.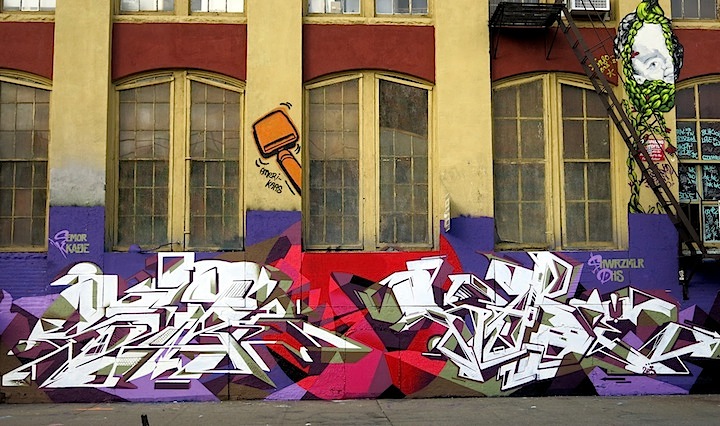 Any thoughts about today's young writers?
They need to learn the importance of respect. They think getting up is cool, but too many young writers out there don't have any knowledge of graffiti's roots.
Any differences between the graffiti here in NYC and back home in Cologne?
There's definitely a greater variety of styles back home. Writers there are more eager to experiment.
Have you any favorite writers?
The Schwarzmaler Crew, Sen2, Storm, Aroe MSK – among others.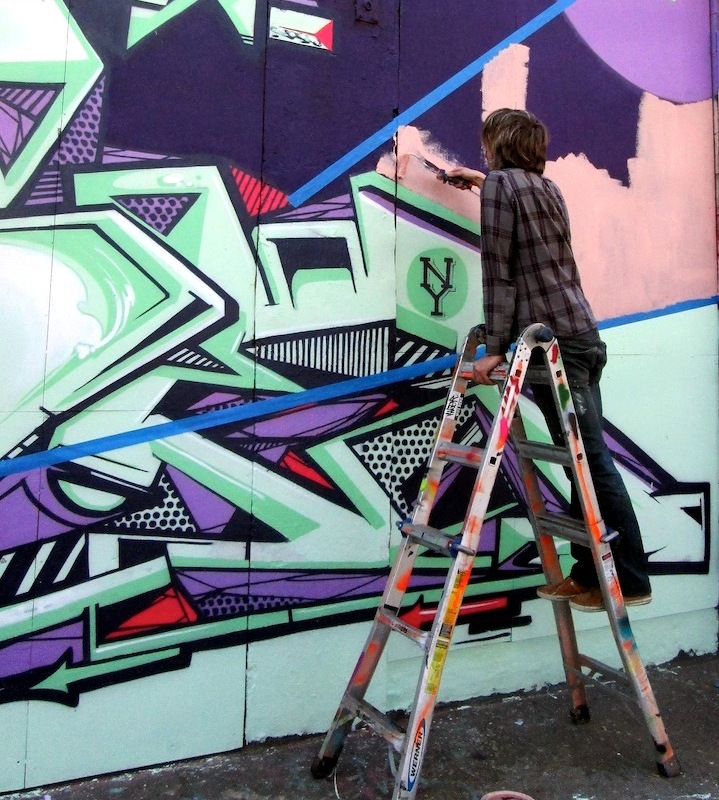 How did you make contact with 5Pointz?
In 2005, I reached out to Meres via e-mail, and we've stayed in touch since.
Photos of Semor with Jimmy C and Semor & KKade by Lois Stavsky; Semor at work by Lenny Collado and Tara Murray