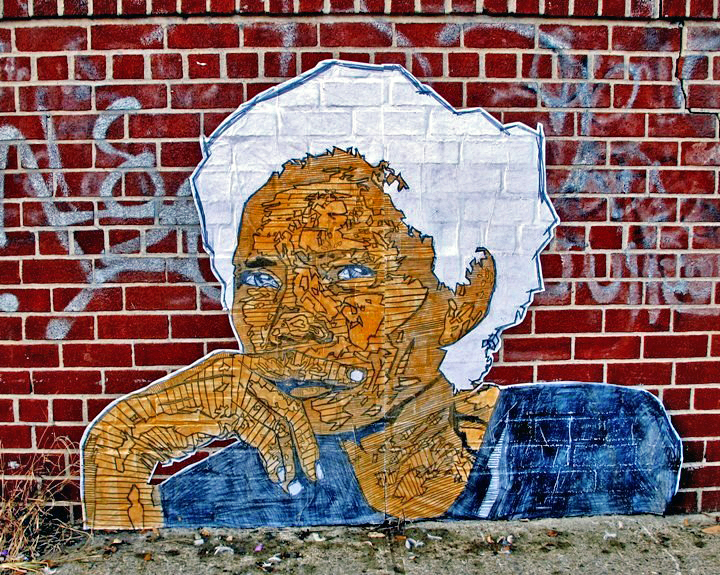 With his hauntingly elegant wheatpastes of everyday folks, Baltimore-based Nether has transformed the visual landscape of his city's bleakest blocks. Within the past few months, his vision has also made its way to NYC. And opening tomorrow, January 24, at Weldon Arts is Crumbling Cities, a solo exhibit of Nether's works.
When and why did you first get up?
It all started – sadly – as a rebellious middle schooler trying to be cool.
Did any particular artists inspire you to move in your current direction?
The two artists who really got me going were Gaia and Tefcon.  I was living and sharing a studio space with Tefcon, and just watching his relentless hustle and work inspired me.  And around that time, I got to be friends with Gaia and filmed him at work with Nanook.  I soon became super interested in wheatpaste.  It was like a bomb went off in my head.  It seemed like the perfect bridge between my politics and my art.  And Gaia was super helpful showing me the ropes and sharing his print and other connections with me.
When did you begin getting your wheatpastes up?
Started really going hard about three – four years ago.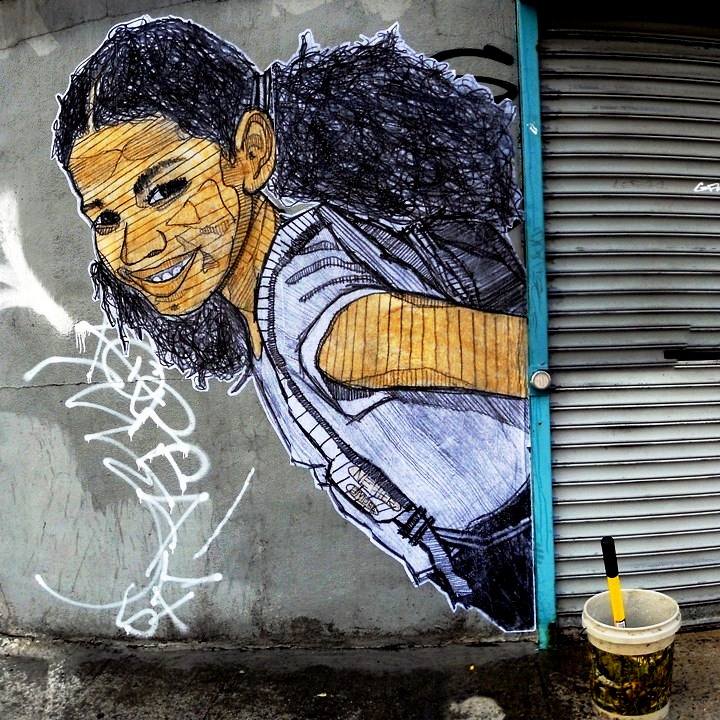 And what about the risks? What inspired you to take the legal risks?
Seeing what other artists like Cedar, Dume, Ways, and a lot of KSW/NSF writers were doing at the time inspired me. And I see my work on the streets as a way to empower other Baltimoreans.
In the past few years, you've made quite a mark. Your work can be seen not only in Baltimore, but in NYC, Philly, DC, Berlin, Shanghai, Paris and London. You seem to be on a mission. Could you tell us something about it?
I see public art as a vehicle for social change. And the artist — by transforming the landscape – is the facilitator of this change. By getting up on the streets, I can reach masses of people at the same time that I am beautifying the environment.
Are there any issues that particularly concern you?
My main focus is the issue of slumlords neglecting their vacant properties in Baltimore.  People just deem these areas hopeless and don't think to address the issue or find out who is responsible. I am trying to put it in their faces.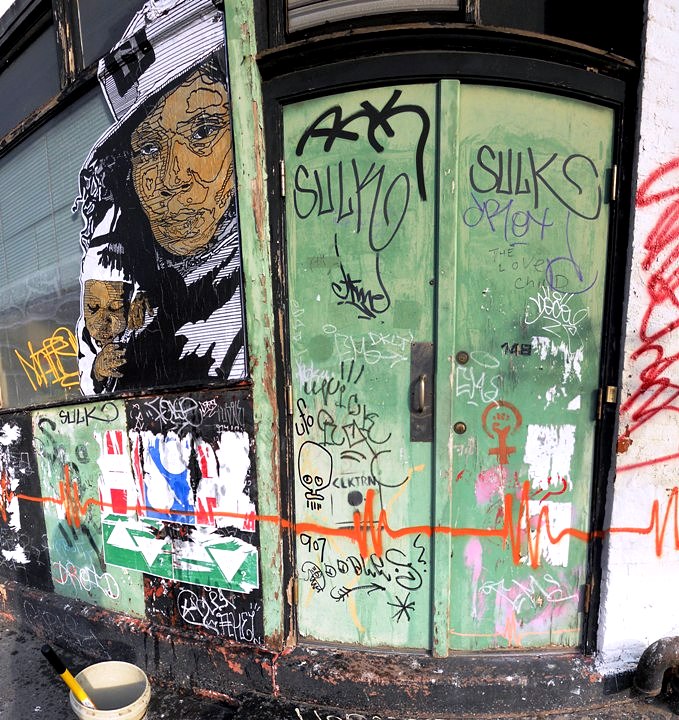 Any favorite spots?
Anything vacant. I love vacant doors, electrical boxes and glass.
How do the cops respond to your current ventures?
Generally, if the cops come by, it's in a non-threatening way.  They always have way more pressing issues on their plates. I just tell them that I'm trying to beautify the neighborhood, and they are usually just curious and confused.  A few times they've actually watched my back!  Most of the more intense run-ins with the police have been out-of-town.
What about your parents?
When I first started going hard with it, they were worried.  I remember getting a call from my mom after she drove by one of my pieces on i-83. But now they are totally down and both really dig it.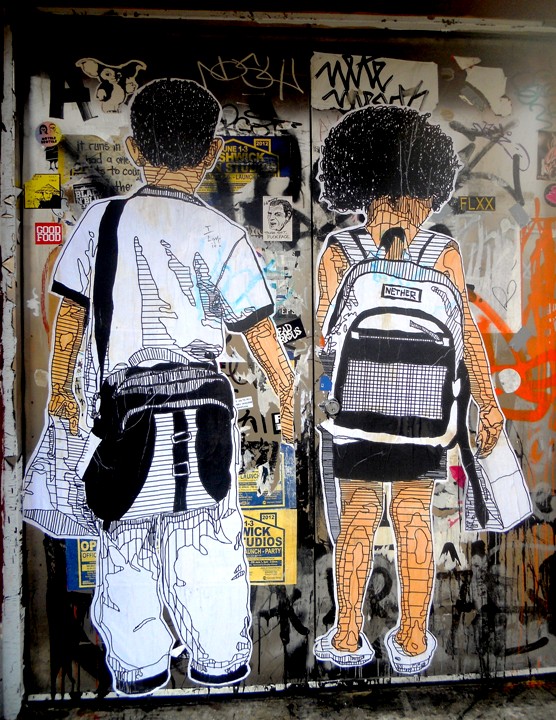 What was the riskiest thing you ever did?
The riskiest thing I ever did was the dumbest. I was with my buddy Tony trying to put up a piece in daylight on the Amtrak Line.  Two trains passed by, and then one came by super slow and stopped. Three transit cops jumped off and chased me.  I ran off the track clearing, slid off this embankment and fell like 20 feet into the Jones Falls.  Then I swam across and hid under a rock for like 45 minutes till they gave up looking for me.  I got a really nasty cough after that.
What about the role of the Internet in all this? How do you feel about it?
I have mixed feelings about it. On one hand, it kills the experience of simply stumbling upon a piece.  On the other hand, it allows folks all over the world to see the work I've created for a specific small community.
Are there any artists who particularly intrigue you these days?
I am really digging Pixel's recent work and Ludo in Paris.  Swoon has always been my favorite artist, and her new stuff continues to stun me.  On the graf side of things, it's Kuma and Goal.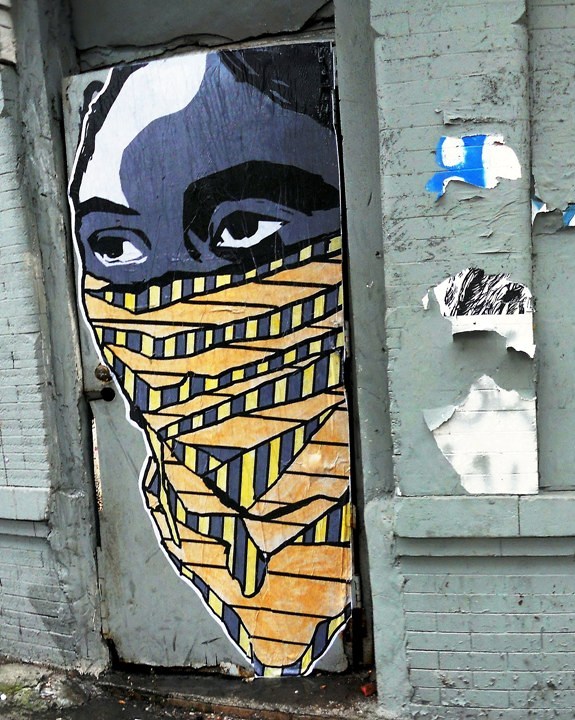 Have you collaborated with any artists?
I've installed work with a bunch of artists from different places.  Shouts to Mata Ruda, Harlequinade, Sorta, Gaia, Tefcon  — and many others.
How do you feel about the branding of street art and graffiti? Are you open to it?
I think it's sad, but often necessary.  It's all about who you get the money from and what you do with the money.  On one hand, all this focus on money changes the nature of the underground. But, at the same time, the money allows us to pump funds into the street game.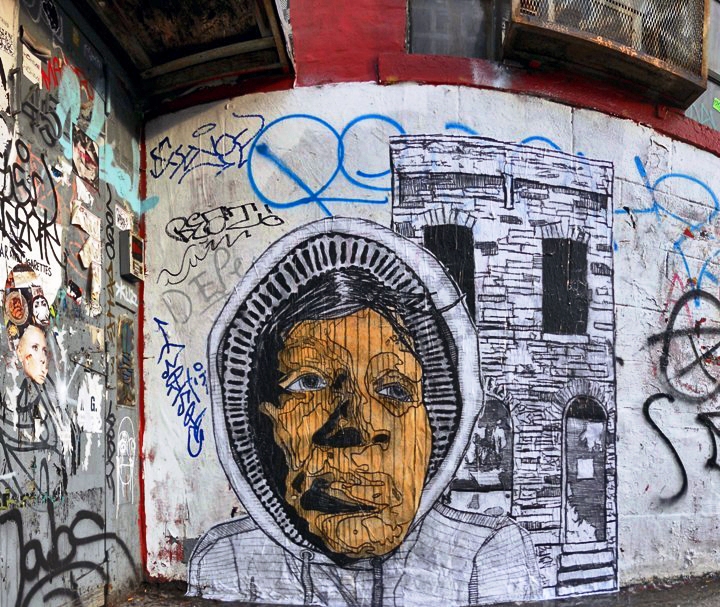 What's ahead?
I'm super-psyched about this new project with the Baltimore Slumlord Watch. We are going to wheatpaste artwork onto all of Baltimore's neglected vacant properties. We will post large QR codes – next to the artwork – directing passersby to the Slumlord Watch website. On the doorways we will list the specific property violations and the contact info to report them.  This project is intended to create awareness and pressure absentee slumlords into fulfilling their responsibilities.  I am also working on a mural project with the Muhammad Ali Center.
It all sounds wonderful! And good luck with your exhibit at Weldon Arts.

Interview by Lois Stavsky; photos by Tara Murray, Lois Stavsky and courtesy of the artist