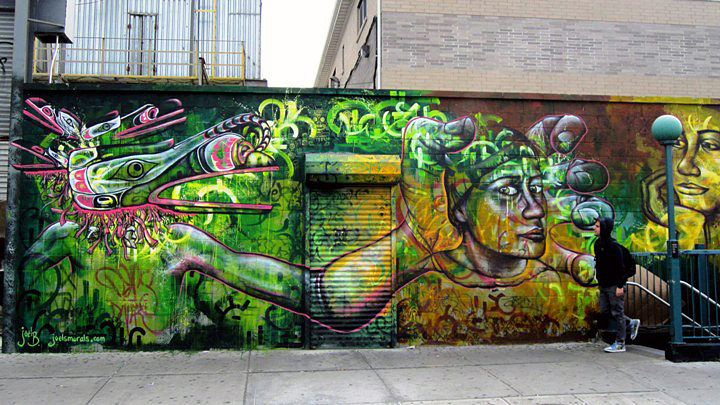 Nomadic artist and educator Joel Bergner aka joelB is best known for his expressive, brightly-hued murals that focus on issues of social justice. Currently based in Brooklyn, he has recently graced Bushwick with two huge vibrant murals.
When did you first begin creating art?
I was always into art as a kid, but I got more seriously into it when I was 16. I was going through hard times, and I was stressed out about a lot of things. Among them was becoming a father at such a young age and suddenly having so much adult responsibility. Art was an outlet for me. I used to stay up all night drawing and painting.
Have you a formal art education?
No, I took a few art classes in college, but I couldn't get into creating art in an academic environment. Maybe I just didn't have the right teachers. So I focused on developing my style on my own.
When did you first start hitting walls?
When I was a teen, I was a graffiti fan and dabbled a little in bombing and tagging, but I wasn't so good at graf lettering…so I gravitated toward painting more figurative styles.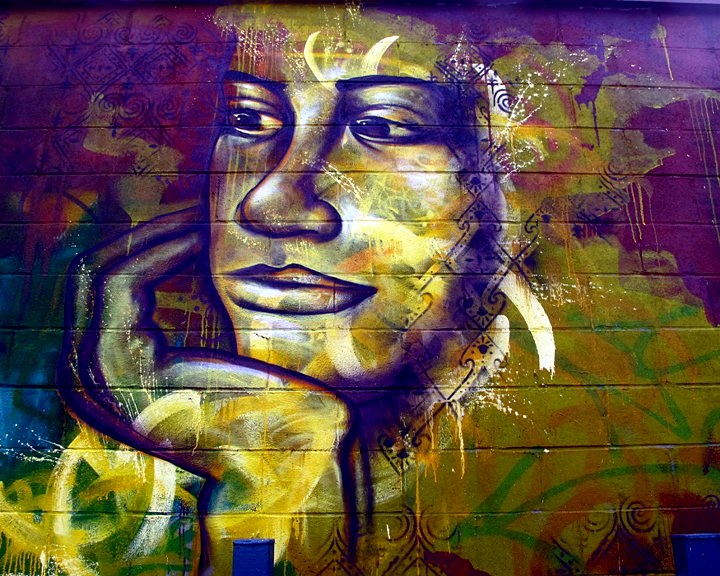 What inspired you to create murals?
I lived for many years in Latino neighborhoods in Chicago and San Francisco, where murals are a popular form of expression — from classic Mexican murals to graffiti to various street art styles. I soaked it all in and got inspired by all these movements. I wanted to share my work with a much broader audience than is possible from the gallery scene, which caters to a small and often privileged group, so painting on the street was my natural direction. 
Where did your early murals surface?
The first one I did was actually indoors — in a cafe in Chicago. But in my early 20's, I was living in the Mission District in San Francisco and I painted a series of pieces there on the street.
Had these murals any particular themes — as the ones we've seen here in Bushwick are rich with multi-cultural references?
I've always been interested in different cultures, exploring social issues and giving voice to marginalized communities, who participate in many of my public art projects and workshops in the US and abroad. I work with street children, incarcerated youth, the disabled and young people from shantytowns and slum areas through my Action Ashé! art and education project.
What do you suppose draws you to these issues?
Well, even when I was young, I always clicked with people who society doesn't value. I took on jobs working with the mentally ill and the homeless and counseling troubled adolescents — not just because I wanted to be a "do-gooder," but because I really enjoyed them and connected with them — and this has continued in my art and my community work as I've gotten older. I now spend part of every year living and working in the City of God (Cidade de Deus), a poor community in Rio de Janeiro where I run youth public art projects. These experiences open your eyes to so many injustices and allows you to see the value in places and people whose beauty is rarely recognized.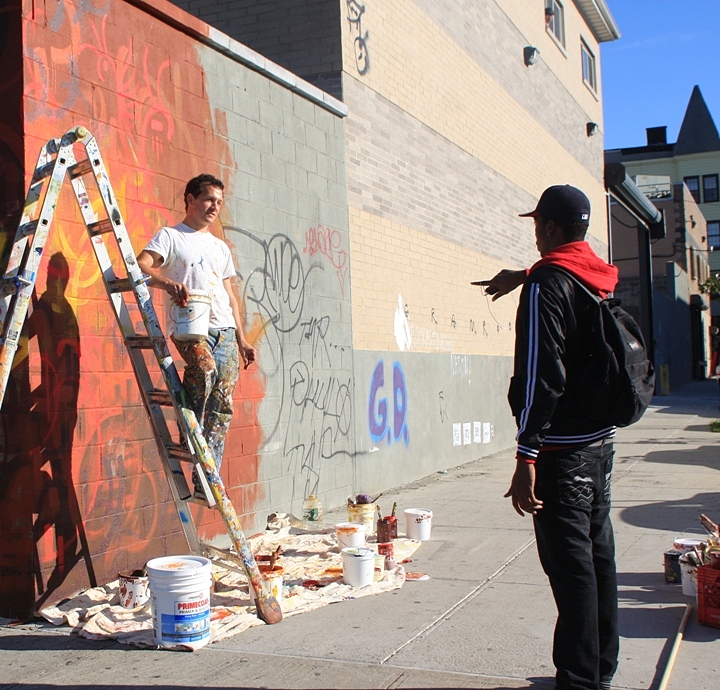 What is the intent of your art?
I think the best art moves people on many levels — emotionally, spiritually and intellectually. That's my goal for my personal art. And for my collaborative pieces with street children and other groups, I have the added goal of giving them the opportunity to express their humanity to a society that usually ignores them.
In what other countries have you painted?
I've painted in Brazil, Cuba, Poland, Cape Verde (in West Africa), El Salvador and Peru.
Any favorites?
Probably Brazil and Cuba, where I've spent the most time. I strongly connect to the people and cultures.
How has your relationship been with graffiti artists and street artists – who share public spaces with you?
It's been positive; there's a sense of mutual respect. I think when people respect each other's work, all those labels fall by the wayside—graffiti, street art, mural art, public art. At the end of the day, what matters is if a piece is good or not. I see my art as a combination of many styles and artistic traditions, so I don't let myself be boxed in by choosing any specific one to define my work.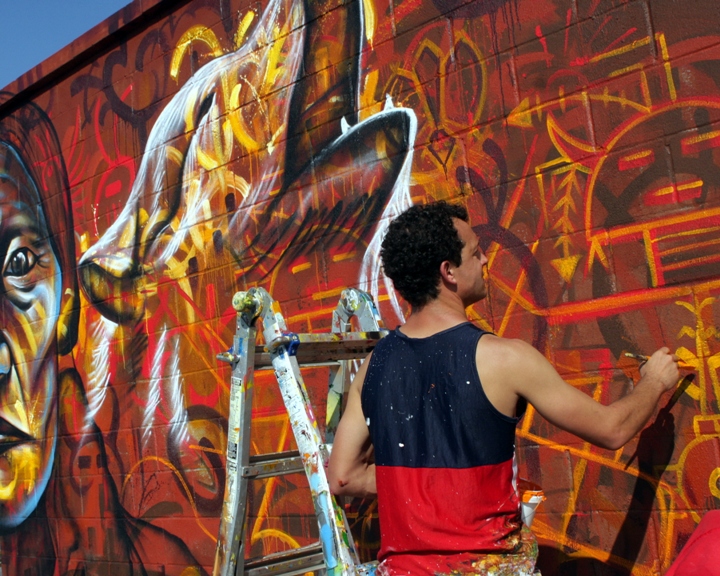 Have you any favorite artists who currently work in the public sphere?
Many…I like Os Gemeos, Saner, Sex aka El Niño de las Pinturas, JR, Swoon, Retna, Pose2 and How & Nosm and a million others.
What about traditional muralists? Any favorites?
I definitely like "Los Tres Grandes" from Mexico: Diego Rivera, David Alfaro Siqueiros, and Jose Clemente Orozco, as well as many who have followed in their footsteps like Juana Alicia and Susan Cervantes in California.
You mentioned before that you find the gallery world "elitist." Would you be open to exhibiting your work in galleries?
I'd be open to it if it were the right situation where I had the freedom to take it in a unique and provocative direction. As I've gotten older, I realize that it doesn't have to be elitist just because it's indoors. But my main work will always be on the streets.
How do you feel about the role of the Internet in all this?
I love it. I get to see what other artists are doing and share my work with others who might not otherwise see it.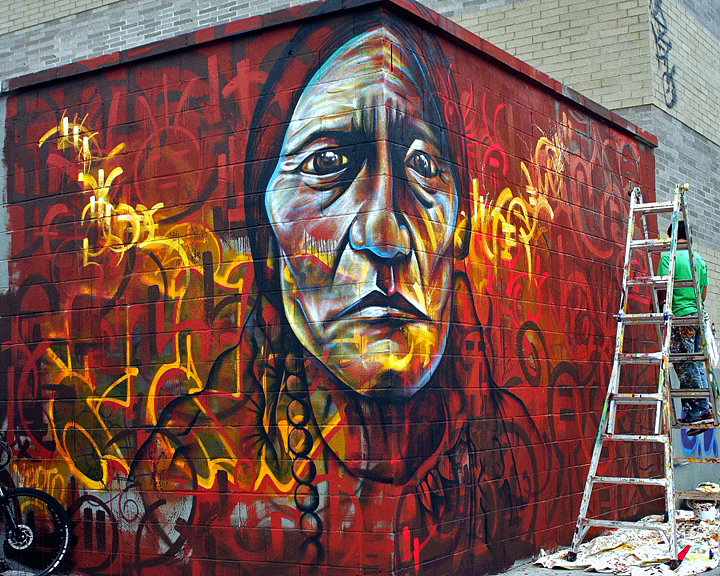 What's next?
I'm heading to Mexico in a couple days for my next project, and then I'm off to Nairobi, Kenya for a project that we just finished raising money for on Kickstarter.
Could you tell us something about it?
The Kibera Walls for Peace project will use public art to encourage unity and cooperation among ethnic and political groups ahead of the presidential election scheduled for March, 2013. Kibera, one of Africa's largest slums, was strongly affected by the violence and political turmoil that engulfed Kenya after the last election. Preventing a repeat of this crisis is the project's main objective. I will be working with the community- based youth organization Kibera Hamlets and 30 local youth to study peace-building and public art, culminating in the creation of five public murals in high-profile locations around Kibera, all aimed at easing tensions between different ethnic and political groups and encouraging peace. We will be filming the experience for a documentary. I'm very interested in making documentaries of my projects, including one I organized in Rio de Janeiro called "Street Art with Street Kids."
Wow! That sounds fabulous. Good luck!
Thanks!
Photos by Dani Mozeson, Sara Mozeson and Lois Stavsky