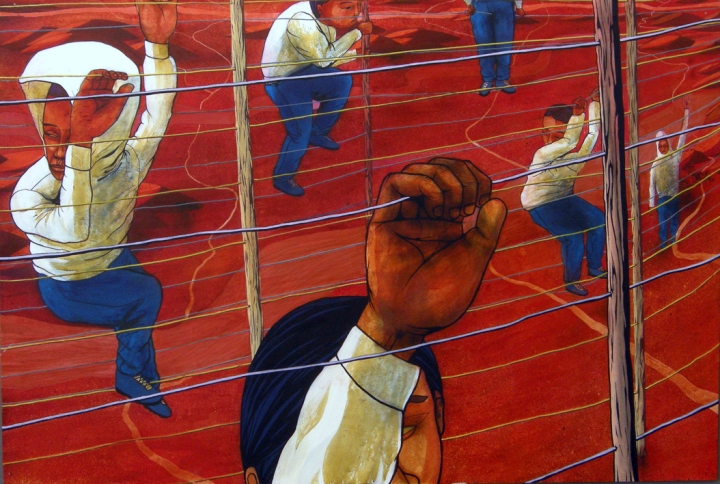 Chilean native Nelson Rivas aka Cekis, one of the pioneers of the Latin American street art movement, began painting on the streets of his native city, Santiago, when he was sixteen. Since then, his artwork has graced the walls of a range of cities from Sao Paulo to Paris. Based in NYC for the last seven years, he has painted murals throughout Brooklyn and beyond. Recently, Nelson held his first open studio featuring the Fence Series, a series of paintings on the theme of immigration and the concept of self-imprisonment. While visiting Nelson's studio last week, we asked him a few questions.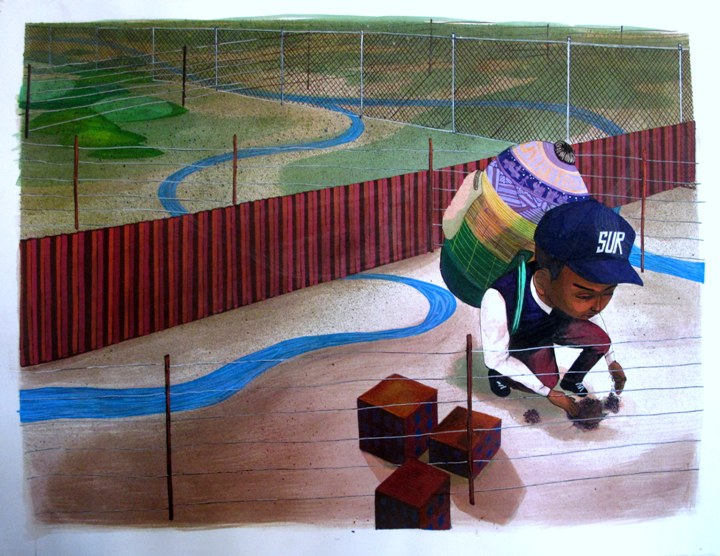 What inspired you to create the Fence Series?
Various personal experiences and encounters have sparked the concept of these paintings. When I moved out of Chile, I left behind almost everything I'd ever known: my family, my friends, and my career as a graffiti artist.  When I came to NYC, I had no money, poor English language skills and hardly any friends. I had actually exiled myself from freedom and comfort, and I began to feel fenced in.  It was a fence I had imposed on myself to enable me to grow as an artist. Once here, I met many immigrants with incredible stories. These people and their stories spurred me to further explore the theme of fences, particularly as they relate to immigrants.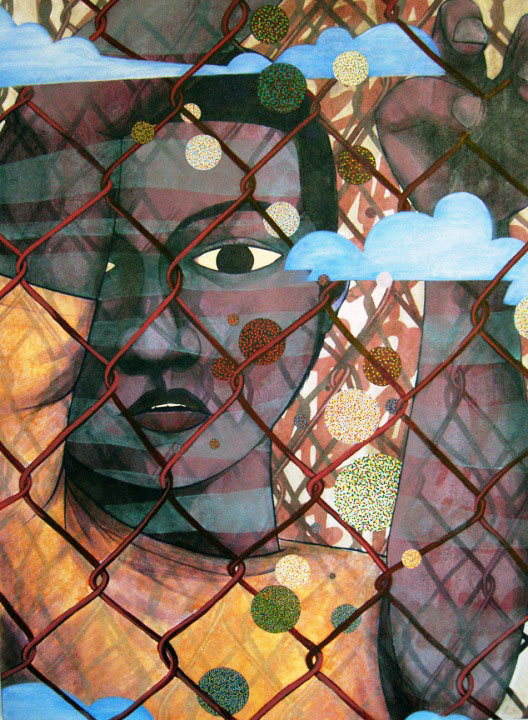 How long have you been working on this particular series?
A couple of years ago, fences began to surface in my studio work. At first, they appeared as a subtle layer of texture, and then they gradually evolved into an essential element of my work.   In the last six months, however, I started to play and experiment with fences as the main feature of my work. I started creating different colored fences, overlapping them, and intertwining them. I transformed the fence into a metaphor for imposed or self-imposed oppression, division, and the yearning for freedom.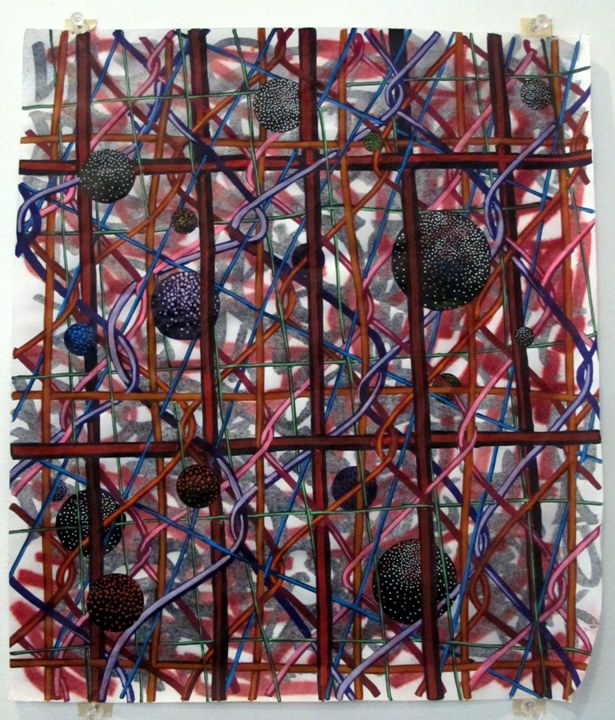 How would you describe the process of creating your work?
The more I work and develop the concept, the more natural the process becomes. I don't have any particular formula. If I did, I would start to get bored.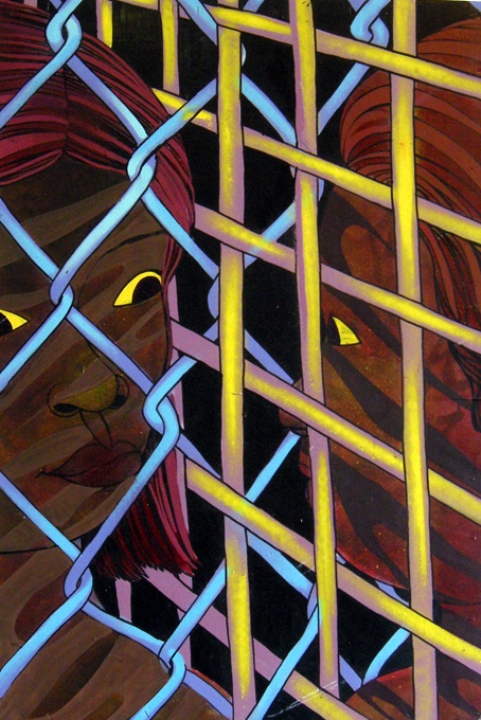 What materials do you primarily work with?
I've been working with lots of acrylic markers, acrylic house paint, spray paint, paper, wood and photos.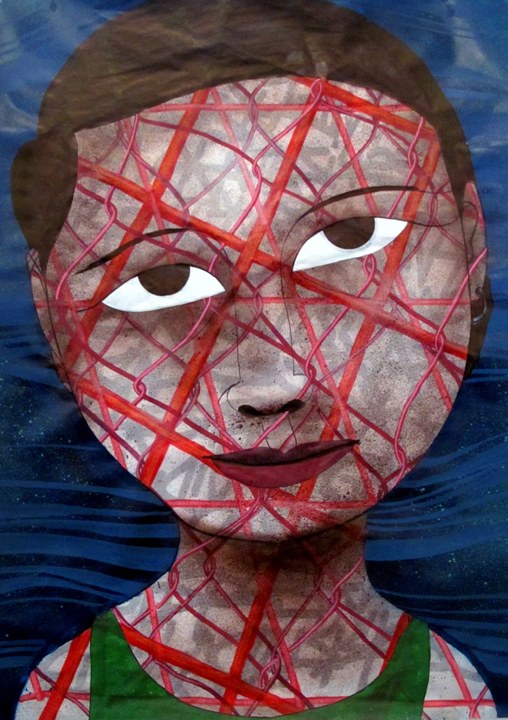 How has working in a studio been different from working in the streets?
I love painting on the street, but in NYC it is quite difficult to get new walls. It is easy to feel paranoid even when you are a legal resident. This is the main reason I started painting in the studio.  I love painting murals, but I've come to enjoy the idea of experimenting, exploring and trying out new ideas on paper, wood or canvas. Also, when I work in my studio, I have fewer distractions. Then when I go outside, I apply some of the techniques I've developed from my studio work to my huge public works.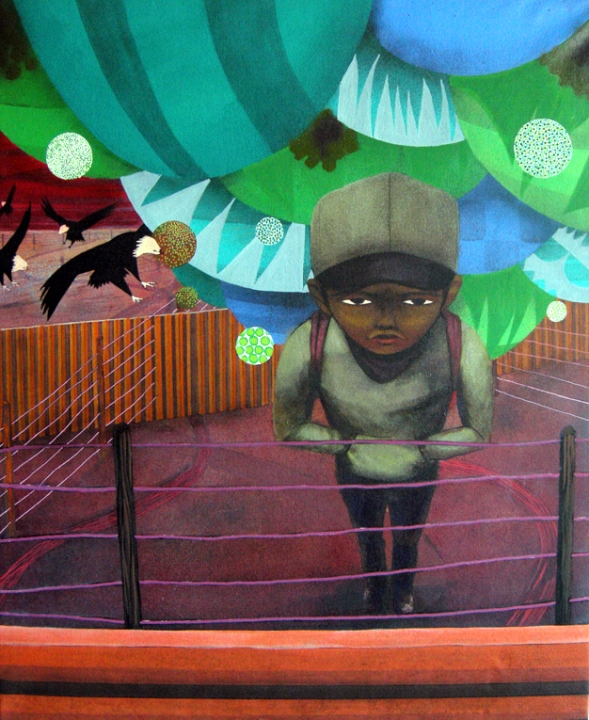 What's next?
I'd like to continue painting at home and eventually share these latest pieces in a gallery setting. I recently received a grant to paint outdoor murals in Sunset Park later this spring. And I plan to travel abroad in the late fall to participate in a huge street art festival scheduled to take place in South America.
Good luck! We're looking forward to seeing your outdoor murals in the months ahead.
Photos by Street Art NYC & Nelson Rivas