While visiting San Francisco earlier this summer, I discovered Max Ehrman's aka Eon75 mesmerizing public artworks. Eager to find out more about the talented artist, I posed a few questions to him: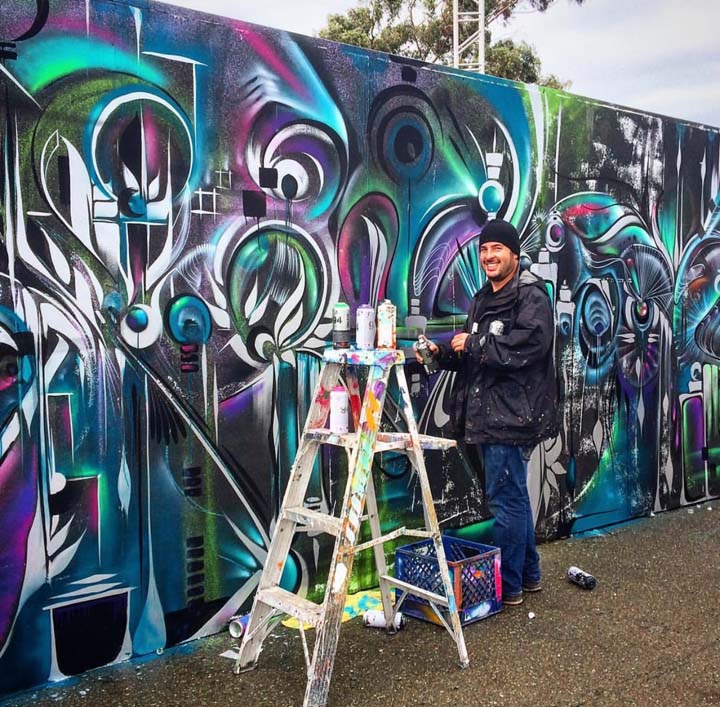 Where and when did you first paint on a public space?
The first wall that I painted was a legal wall of fame in Gainesville, Florida. I was in my early 20's.
What inspired you at the time?
I was inspired by a memorial wall that Daim and Seemso had painted on that spot. It was amazing! I had never seen anything like it before — in terms of design, color, layout and balance.
What keeps you doing it? Painting in public spaces — in addition to your studio work? You are quite prolific!
Passion! It is something I love doing.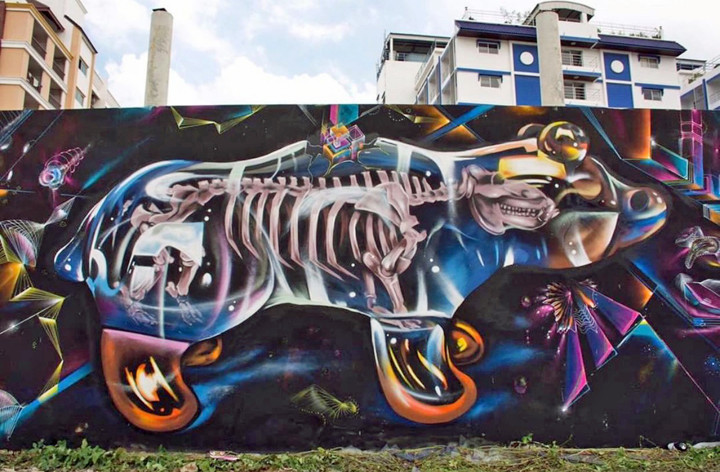 You've traveled quite a bit. Have you any favorite cities or specific sites where you like to paint? 
Anywhere that I can paint and sit on a beach is top on my list. So Barcelona, Puerto Rico, Naples, Florida and Thailand for sure.
What is your favorite medium when you work outdoors? 
Spraypaint — definitely!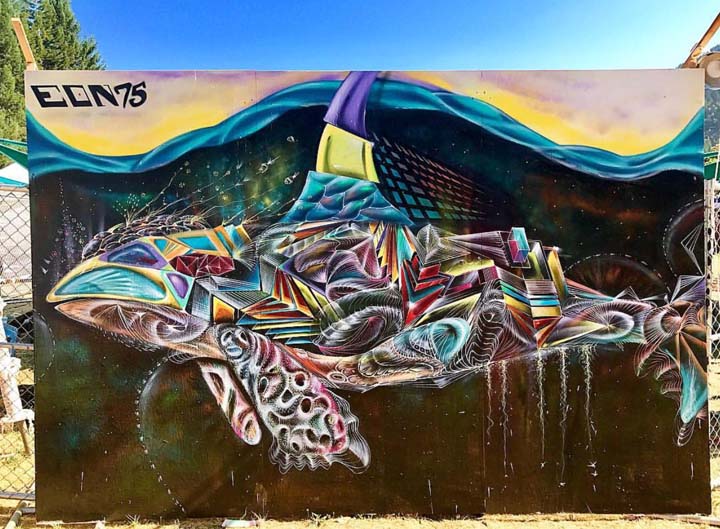 What about your name? Eon 75?
A friend in Europe gave it to me. Extermination.of.reality — and 75 is the year I was born.
Have any particular artists or cultures inspired your aesthetic?
Mostly Mother Nature and the cosmos.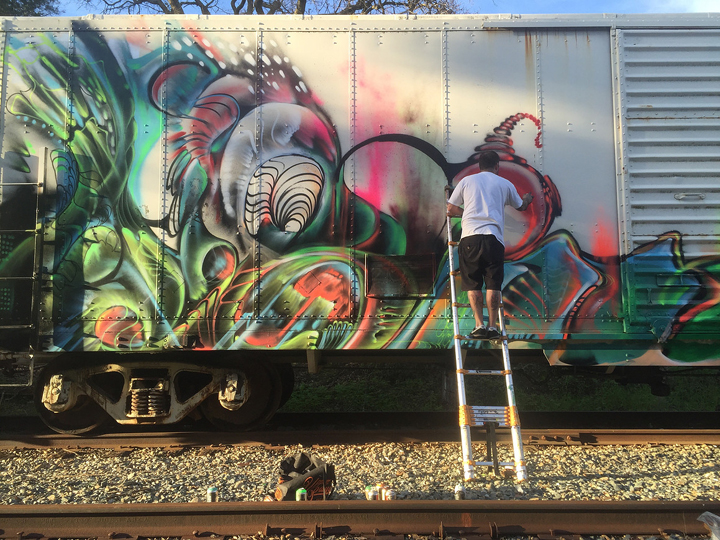 Do you prefer working alone — or collaborating with others? 
I love working with other artists…some of my favorite people to paint with are San Francisco-based Ian Ross and Ratur from France.
Have you a formal art education?
No, I went to school for architecture. When It comes to art, I'm self taught.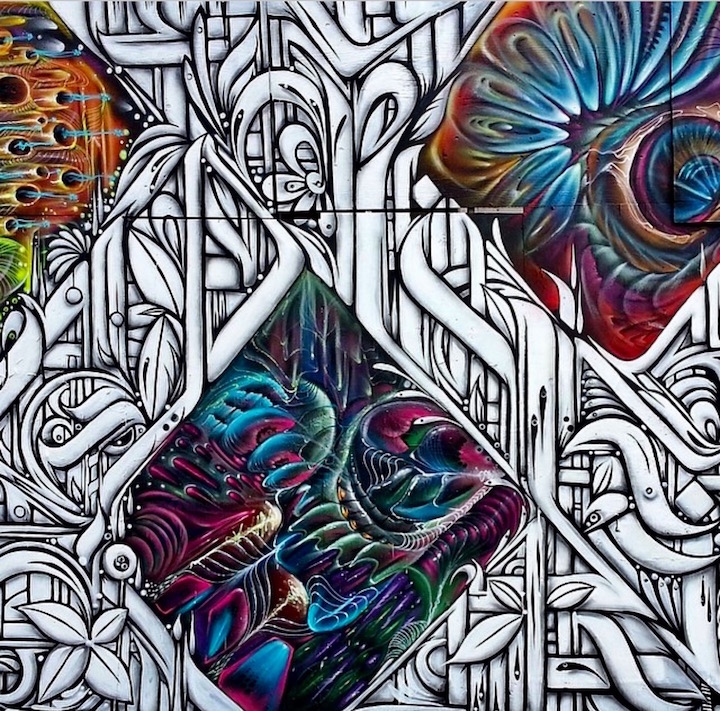 How has your work evolved through the years — since you first started painting back in Gainesville, Florida?
I would say it's gotten more complex, and I love working in lots of diverse mediums which leads to changes in styles.
What's ahead?
More traveling and painting. I'd like to paint more characters and get into sculpture.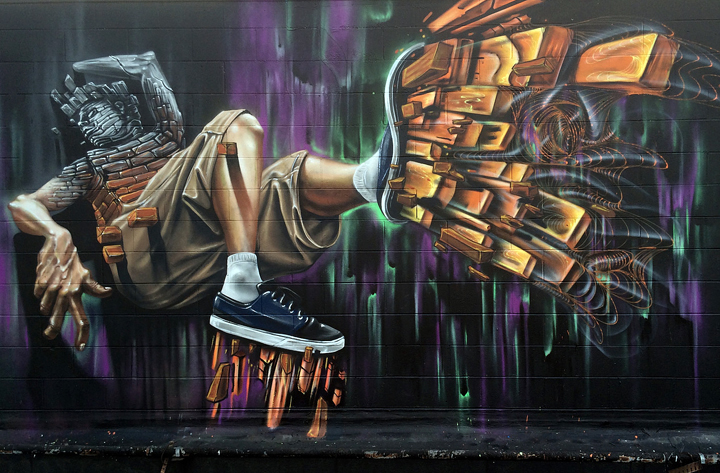 Good luck! And it would be great to see your work here in NYC!
Images
1  Treasure Island Music Festival in San Francisco
2 Collaboration with Vance DNA in Bangkok, Thailand, close-up
3 Cooks Valley Campground in Piercy, California
4 Abandoned train in California
5 Collaboration with Ian Ross in San Francisco, close-up
6 Collaboration with Ratur on San Francisco rooftop
All photos courtesy the artist
Note: Hailed in a range of media from WideWalls to the Huffington Post to the New York Times, our Street Art NYC App is now available for Android devices here.

{ 0 comments }