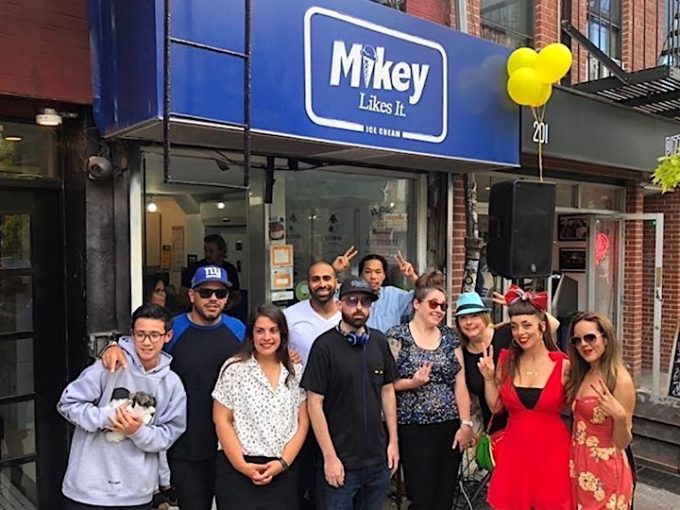 The following post is by Street Art NYC contributor Ana Candelaria
Omar Victorious and I grew up together on the Lower East Side, but 20 years had passed since we'd been in touch. And then street art reunited us – first with the Street Art  Photography Show that Omar had curated back in August at Mikey Likes It Ice Cream in the East Village and then with his hugely successful roving Shooters Street Art Scavenger Hunt. Curious about the direction his life had taken, I asked him several questions:
Before launching Shooters Street Art, what had you been up to? 
I'd started a brand called End of The Weak, which has become the longest running open mic in New York City and has had huge global impact with chapters in Belgium, Africa, China, London and Paris. We just celebrated our 19th anniversary! Eventually, though, I had to shift my focus to my education, so that I could do more for my family. I attended  a vocational technical school and obtained my certification in Network Engineering, Administration and Hardware Support. I'm also a certified Project Manager Professional.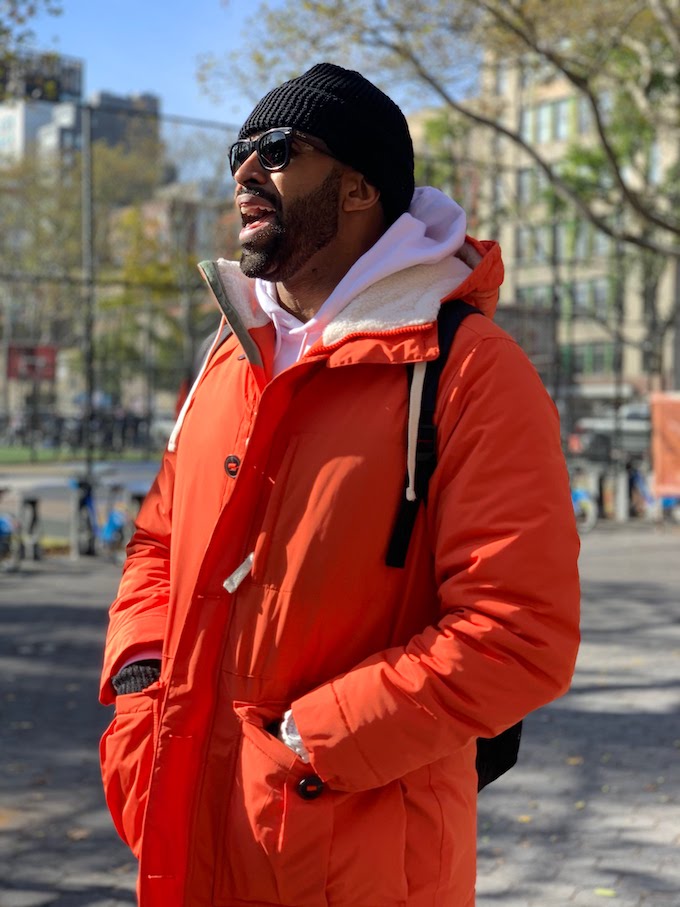 How has your Project Manager skill set impacted your current work related to street art? 
It carries over in terms of organizational skills. I have a goal. What must I do to execute that goal? A lot of people have ideas but don't know how to go about executing them. I've gained many skills — including website design, photography and video production — that enable me to accomplish my goals. I can negotiate contracts, and I understand the role finance plays in business.
How did street art come to play such a huge role in your life?
I'm from the Lower East Side, East Village, Alphabet City. I'm downtown. I woke up to tags, graffiti, murals and spots that are bombed to shit. It was the landscape of my childhood. Around ten years ago, I started taking pictures with my Blackberry, and I started a blog. I, also, came up with two hashtags: #crackimagecrew and  #cracknificent. Over a four-year period, those hashtags have gained 1400 posts on Instagram from 10-12 photographers from all around the world. That's how I came up with the idea for the Shooters Street Art Photography Show. I reached out to everyone who was using those hashtags and asked them if they'd be interested in participating in a street art photography show. I really wanted to meet them in person and expose their talents. I wanted to recreate the vibe of my childhood. We weren't on the Internet back in the day. We were connecting with humans. These days I'm trying to build community —  an ecosystem of people who support one another and value creativity My good friend, Mikey, has a venue downtown called Mikey Likes It, and it all fell into place.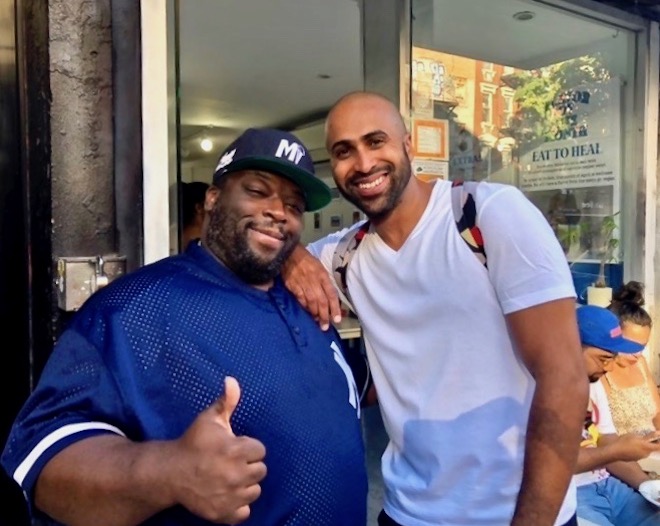 And how did the idea of the Shooter's Scavenger Hunt come about?
I was talking to a few artists — including SacSix and Sara Lynne Leo — at the Shooters Photography Show. I was thinking, "How can we take this further?  Let's get out on the street and do a scavenger hunt." And everybody was like YES!  From there everything just started clicking. And, all of a sudden, we go from 10 to 30 people. Here we are seven hunts later: SacSix, Sara Lynne Leo, Dee Dee, Raddington Falls, Praxis and Jilly Ballistic. The response has been overwhelming. People are out there having a great time — street art hunting and winning original artwork. And all they have to do is pay $5.00 and put in some hard laps on the streets. The artists are creating original one-of-a-kind pieces as prizes. That's exciting! The kids come out; the dogs come out and everyone has fun.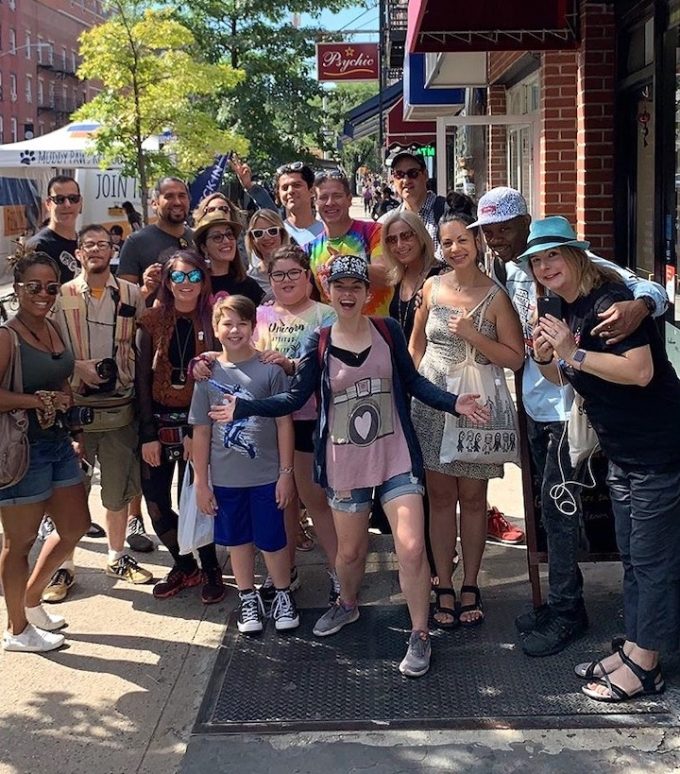 What's ahead?
The road map is already written. The idea behind Shooters is to showcase the eye behind the lens. It's about the photographer who is capturing and delivering the content. There are so many different avenues to take and so many different genres to explore. You have photographers who shoot everything from nature to extreme sports. Just think about the potential of showcasing all of those shooters and giving them a platform? You have to respect the Shooter! Respect the Shooter! It's not just limited to street art; it's about photography; it's about the eye.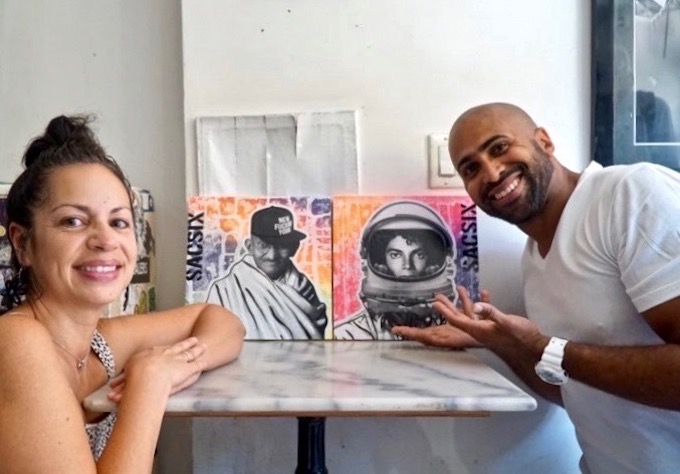 Anything specifically related to street art that we can look forward to?
We are planning a Shooters app. We also plan to digitize the hunt and take it to another level. We'd like to take the hunt to new cities and get more artists involved. We're just getting started, so if you're a street art enthusiast who's hungry and ready to shoot, Holla!
Interview conducted by Ana Candelaria and edited for brevity and clarity by Ana and Lois Stavsky. 
Photo 1 courtesy of Ana; 2 photo of Omar Victorious by Katie Godowski; photos 3-5 by Ana Candelaria; the final photo features Hady Mendez, winner of artwork by SacSix and Shooters Street Art  founder Omar Victorious
{ 0 comments }