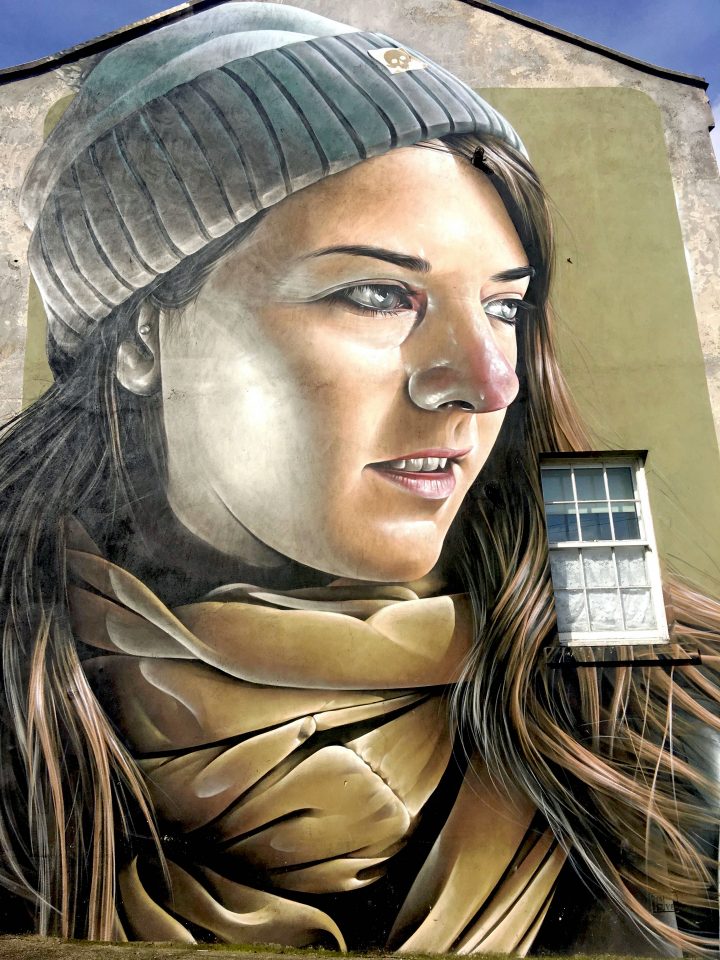 The following guest post is by Houda Lazrak
Earlier this year, I visited Waterford, Ireland, the country's oldest city — approximately 100 miles south of Dublin. Best known for its exquisite crystal, Waterford has also become, in recent years, a street art destination. Using the arts to rejuvenate urban space, its annual street art festival, Waterford Walls, has transformed Waterford into Ireland's largest and most accessible outdoor gallery. 
While there, I had a chance to meet Waterford Walls founder, Edel Tobin, at its headquarters, and speak with the nonprofit's Assistant Project Manager, Gabe McGuinness, as we strolled the streets together:
You are based in an interesting building right in the center of the city. What an ideal location!  How did it become the site for your offices?
Yes, it's great! The building was donated by a local family. They wanted to see what we can do with it to develop the arts in Waterford.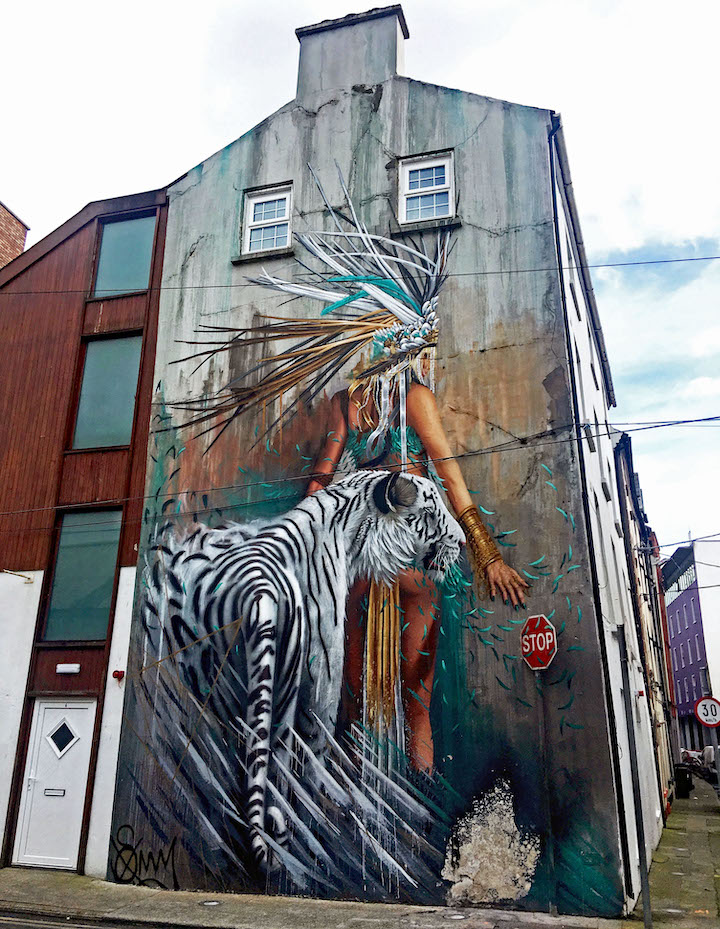 Lucky you! The festival was initiated a few years ago in 2015. How many walls have you produced since?
We are up to 180 walls at this point. And we try not to paint over any previous ones.  
Why Waterford?
It started with a community garden project spearheaded by Edel.  From there, she got the ball rolling to showcase public art.
How did you become involved? 
I came to visit the festival one year, absolutely loved the project and applied for a job!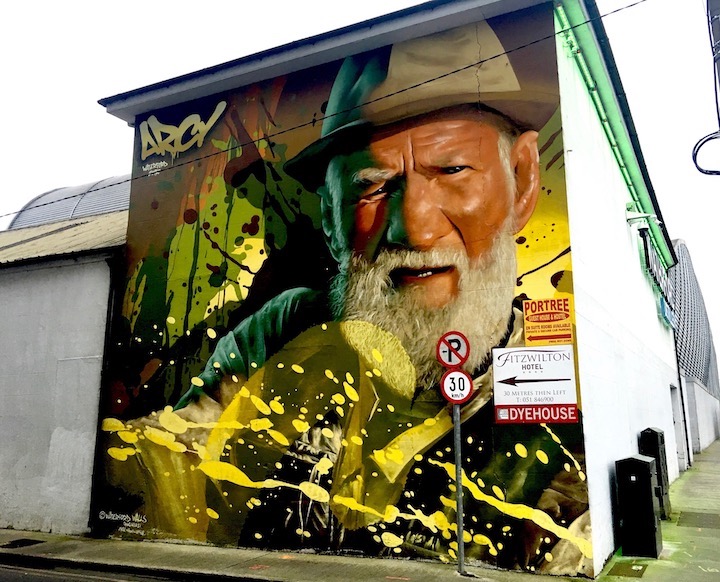 Can you tell us something about your background?
My background is in archaeology and geography. I am interested in integrating the arts with these disciplines. I also studied cultural policy and arts management. I've produced music festivals, and I've done production management for short films.
Just when does the Waterford Walls festival take place? And what goes on during it?
The festival takes place annually at the end of August. This year it will be held from August 22-25. We invite artists to paint, of course, but we also host other activities — such as panel discussions and talks on themes around public space. And we organize children's workshop and set up live music events, among other things.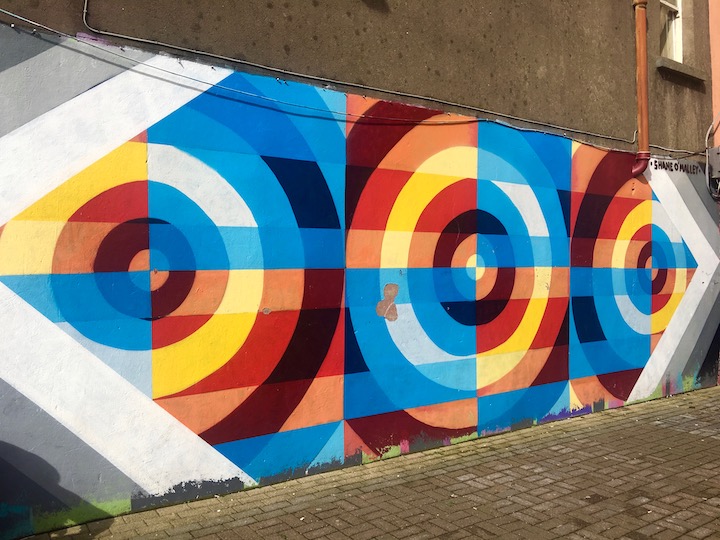 Which neighborhood does the festival take place in?
In the first years it was in the city center. Starting last year, we expanded and brought it up to a hillier part of the city called Ballybricken. 
How do you go about finding and selecting artists?
We invite two or three headliners each year, and we also have an open call. Artists are encouraged to apply to the open call, which is generally held from September – December. The  selection committee then determines the final roster. We have hosted artists from all around the world and Waterford-based artists  — like Caoilfhionn Hanton — as well.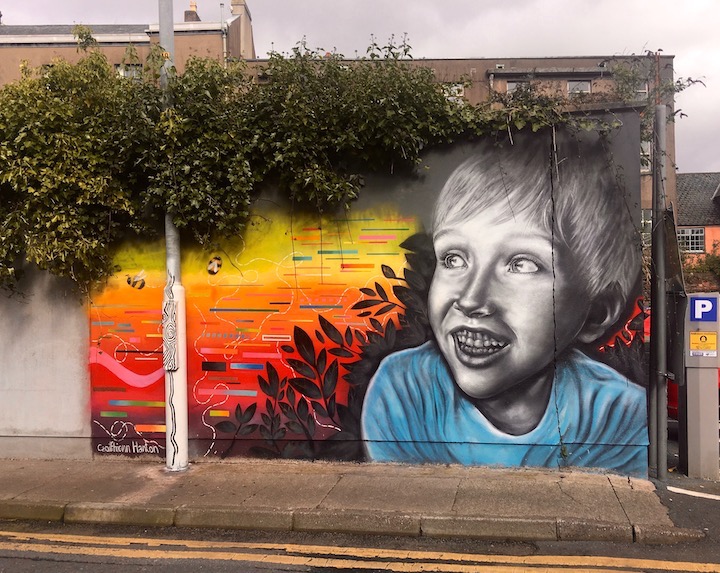 Is there an overarching theme each year?
No, there is no brief for artists. We ask them to create something based on what Waterford represents to them. We encourage them to spend time in the city before painting to seek inspiration from the local culture and history. Some of the common themes are: nature and animals, Irish folktales, Vikings, marine-related motifs and the famous Waterford Crystal factory.
What has been the impact of the festival on Waterford?
It has helped develop O'Connell Street as cultural quarter of the city. It has encouraged creative industries to come into Waterford. We also do focus groups with community members and ask what they would like to see. Their input serves as a basis for our five-year plan. Like I said, we've focused on the city center, but we want to expand to bring public art to the outskirts, as well.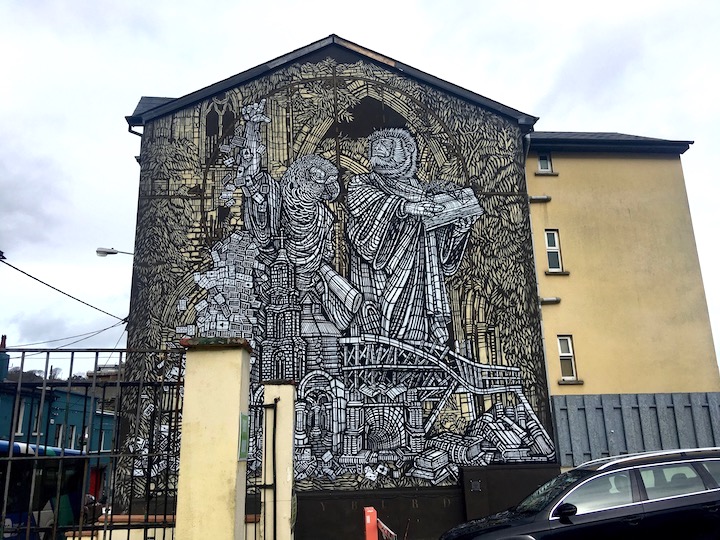 And what about the locals? How have they responded?
We've gotten a lot of support from the Waterford community! Some of the hotels give us free storage space during the festival and local businesses offer lunch to the artists. We also get emails from people saying they want to give us walls for the festival. Unfortunately, many walls are made of pebbledash, or roughcast, so the surface is tricky to work with. It's basically plaster with pebbles thrown on it. They are okay for abstract murals, but details don't work well. There are also local businesses who want to sponsor walls, so they pay for the entire production cost. Some of the murals have also been totally appropriated by the Waterford residents. The seated elephant by Louis Masai, for instance, is adored! There would probably be protests if it were removed!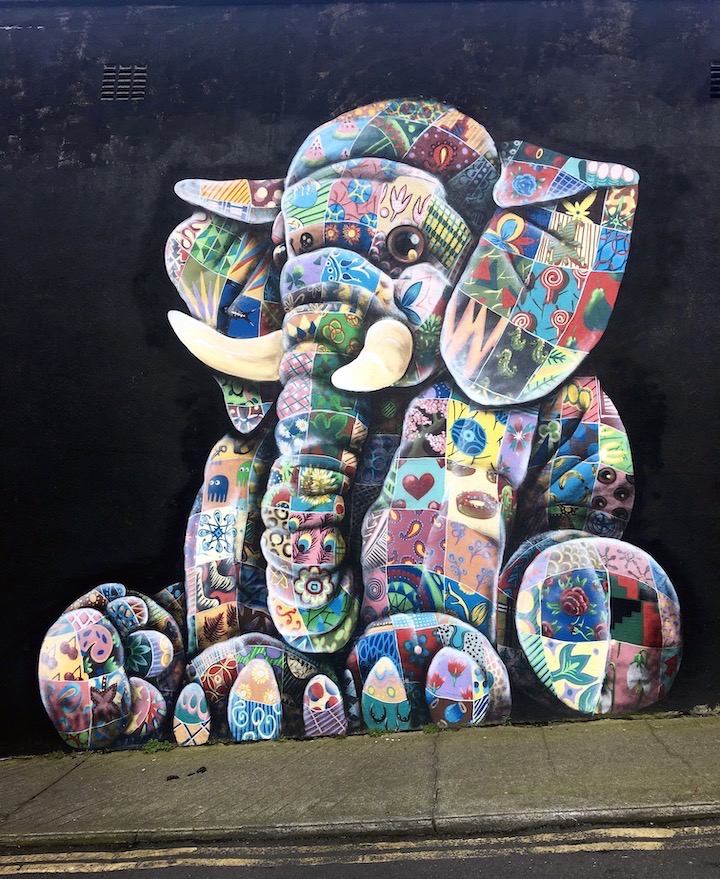 What are some of the challenges you've encountered in seeing such a momumental project through?
We are well-known among artists but not by the general public. Most people in the next big town over, Cork, don't even know about us. We are trying to change that. We started doing weekly guided tours on Saturdays from April to November, and we offer private tours, as well, for tourists or other visitors. We also host tours for schools interested in branching out of the more traditional Celtic art taught in class. Another, more practical, challenge is that artists often request walls without windows, which are hard to come across! The festival is also a non-profit, so it relies heavily on sponsorship. The last two years we've been sponsored by German Montana, but it's tough to find funding. More and more people are coming to Waterford specifically for the murals, though, so that helps with fundraising.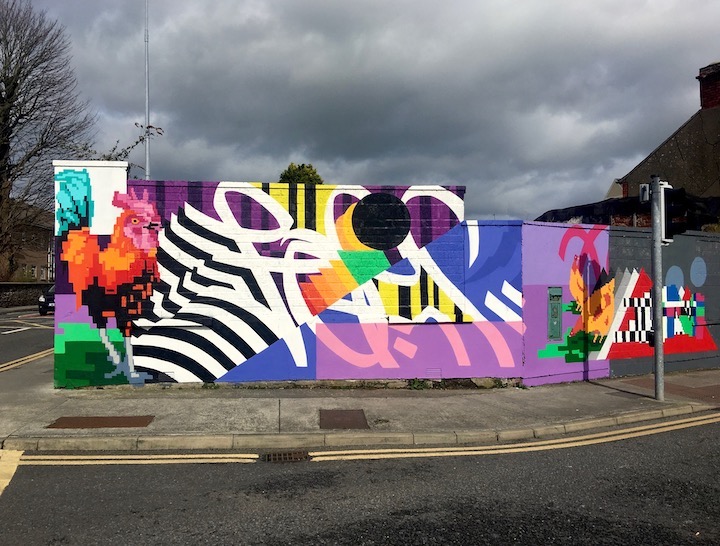 Yes! Myself included! The murals brought me here to Waterford! We wish you the best for the future. And we are looking forward to the 2019 edition! 
Images
1 Glasgow-based Australian artist Smug, Portrait of Waterford Walls curator, Louise Flynn
2 UK-born, Johannesburg-based Sonny Sundancer
3 The itinerant American muralist Arcy
4 Irish artist Shane O'Malley 
5 Waterford-based artist Caoilfhionn Hanton 
6 The French Monkey-Bird Crew
7 London-based Louis Masai
8 Dublin-based Ominous Omin
Photos and interview by Houda Lazrak
Note: Hailed in a range of media from WideWalls to the Huffington Post to the New York Times, our Street Art NYC App is now available for Android devices here.

{ 0 comments }