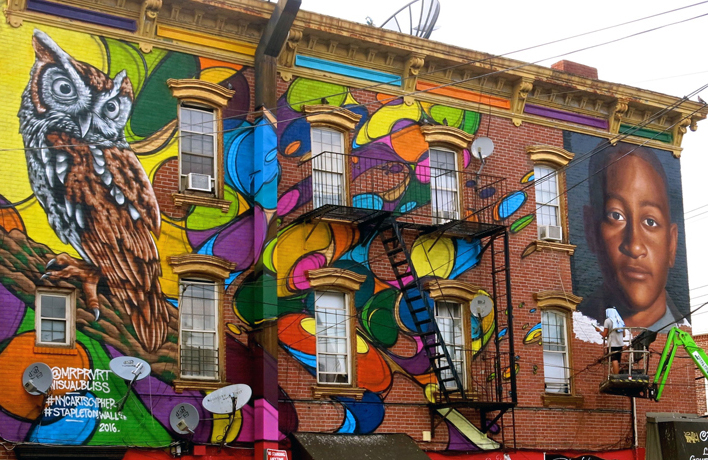 Passionately engaged in promoting the positive values of the cultures of street art, graffiti and hip-hop, the Staten Island-based NYC Arts Cypher is a dynamic ever-evolving venture. For the past few months a host of  local, national and international artists have been busily at work preparing for Cypher Fest, NYC Arts Cypher's first Annual Street Art Festival. While visiting I had the opportunity to speak to its founder and president, Charlie Balducci aka Charlie B.
When was NYC Arts Cypher born?
It was founded in 2004, and it became an official 501c3 nonprofit organization in 2007.
What spurred you to create it?
It was a way for me to stay involved in all aspects of the arts and entertainment and –- at the same time — engage the community.  The realization of it was a dream come true. Of the five boroughs, ours had been the least recognized.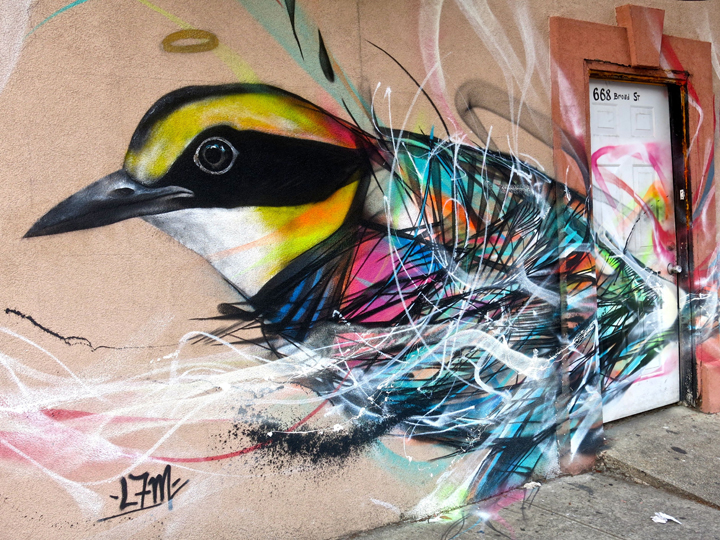 How would you describe its mission?
Its mission is to promote positive values through programs and events related to urban art. NYC Arts Cypher also serves as a networking tool for artists in all five boroughs. And with its open-door policy, it introduces many of our local kids to a range of skills from painting and dancing to acting and producing videos.
What are some of the concerns that  NYC Arts Cypher has addressed?
When Amanda Cummings, a local teen, threw herself in front of a bus in 2013, we took on the issue of bullying.  And, tragically, the issue of bullying was in the news once again when 13-year-old Staten Island resident Danny Fitzpatrick took his life leaving behind a note that expressed his pain as a victim of bullying. Among other issues we address are: vandalism, drug abuse and conflict-resolution.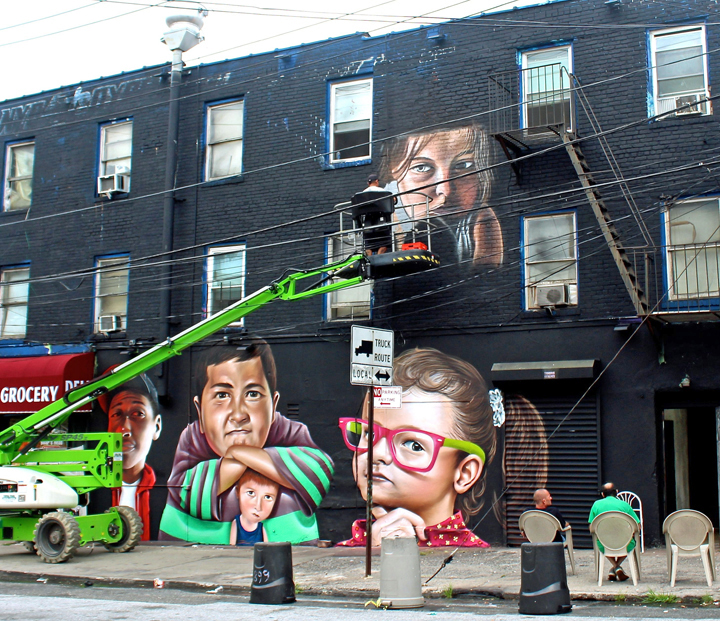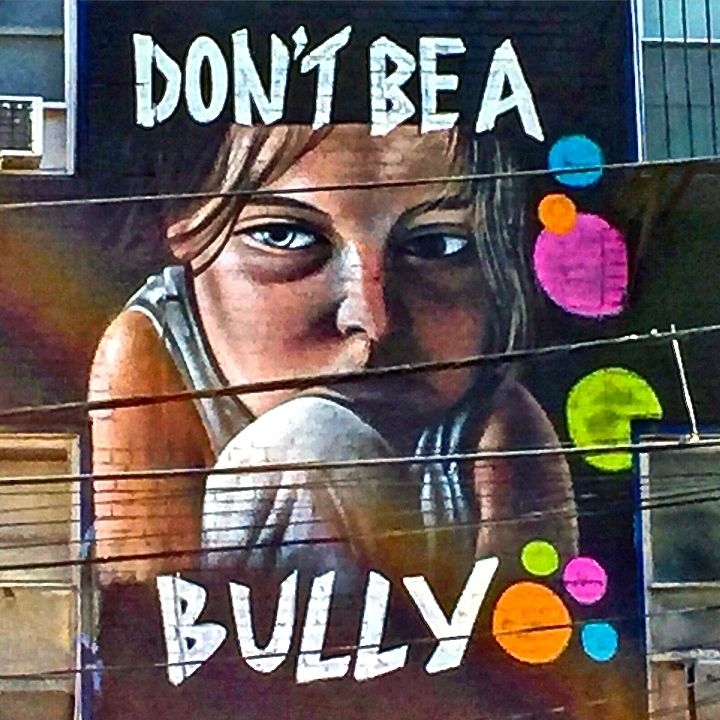 Does any particular highlight stand out?
In 2010, we were awarded "best documentary short" at the Staten Island Film Festival for our documentary, M.U.R.A.L
Can you tell us something about it?
Yes. It presents graffiti as an art form – rather than an act of vandalism. It features interviews with a range of people from the youth who are active in our programs to law enforcement officials to such accomplished artists as the members of Tats Cru and Meres of 5Pointz fame.
What are some of the challenges you encounter in overseeing such a multi-faceted space?
Working on sustaining it is the principal challenge, as we continue to expand and offer more programs and networking opportunities.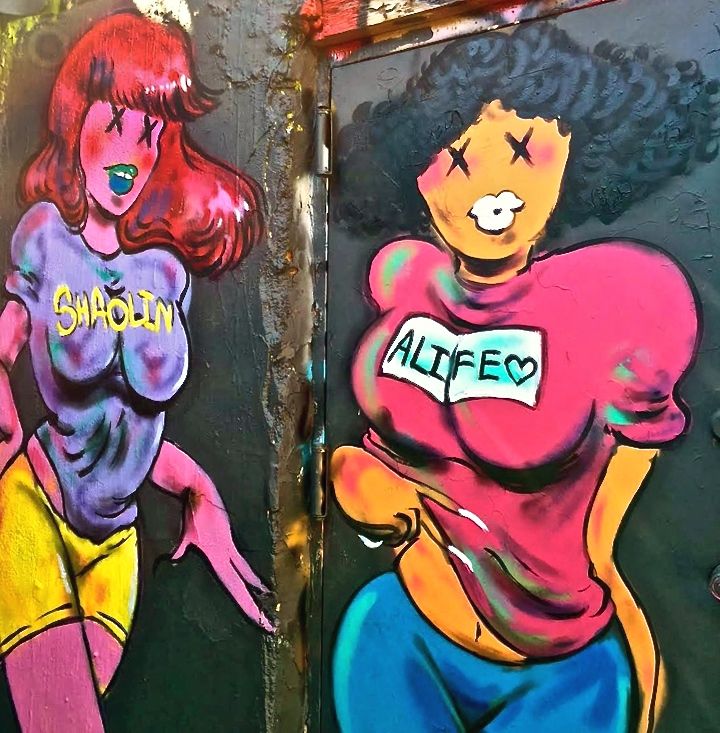 It seems like a monumental task! How do you do it?
We have support from sponsors like SIBOR, Wheel Concepts and Williams Eye Works. But nothing beats the heart of a volunteer — like Cynthia Valle and Tony Spinelli.
What's ahead for NYC Arts Cypher?
We are utilizing all our resources to beautify not only our block, but — also — neighboring blocks, as artists from across the globe are now painting alongside local artists. We will continue to engage schools in a range of programs promoting positive values –particularly the Don't Be a Bully initiative that combats bullying with creativity and Pillz Killz that tackles head on the epidemic of drug abuse plaguing our community. We will also be hosting  a pop-up shop and café. And next Sunday, September 10th we will be presenting Cypher Fest, our first Annual Art Festival.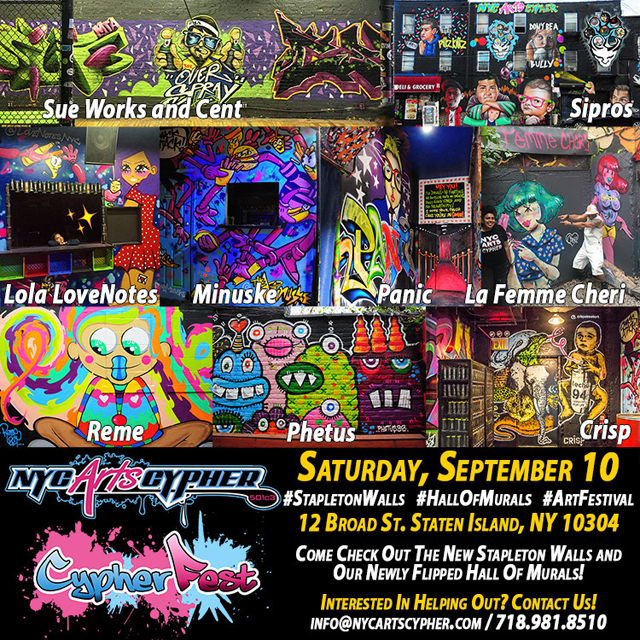 Images
1  Mr. Prvrt & A Visual Bliss with Jorit Agoch at work on the right
3 & 4 Sipros
Photo credits: 1, 2, 4 & 5 Lois Stavsky; 3 Tara Murray; interview with Charlie B conducted and edited by Lois Stavsky
Note: Hailed in a range of media from the Huffington Post to the New York Times, our Street Art NYC App is now available for Android devices here.

{ 0 comments }