A new series of painting and drawings by the wonderfully talented multi-media artist Michael Alan will be on view at the Klemens Gasser & Tanja Grunert Gallery for two days later this month.  The second day of the exhibit, February 25, will feature a Living Installation. Curious about it all, I posed a few questions to Michael.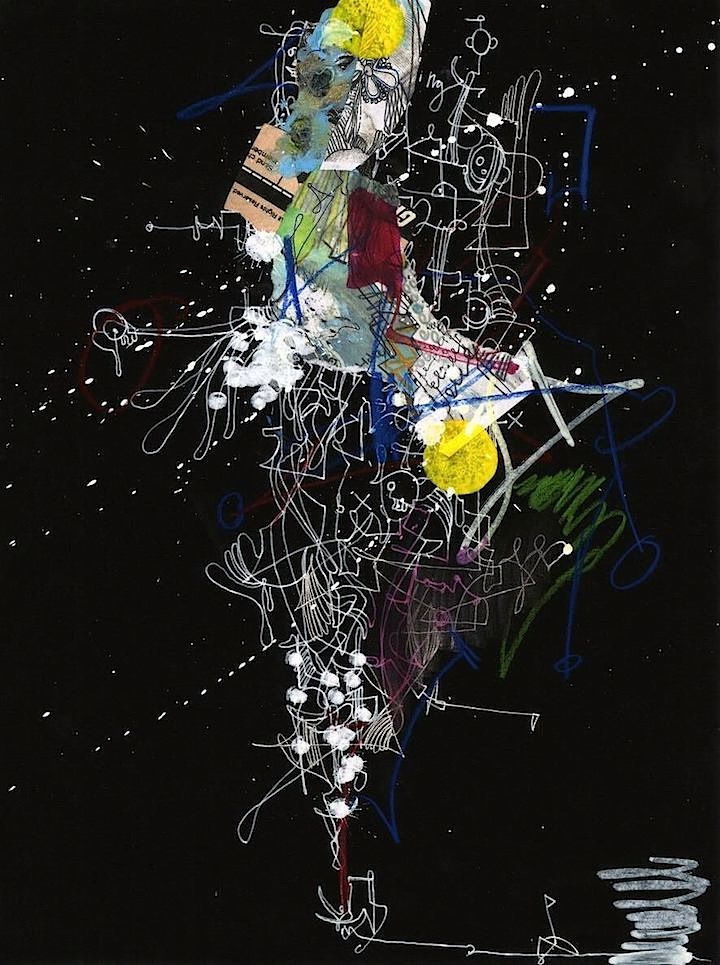 Can you tell us something about the title Immortal Equations? What does it mean?
For me, great artwork conveys a taste of planning mixed with spontaneity. The great masters made sure your eyes moved all around the picture plane. They sure didn't want their heads cut off. When I work, whether on a flat surface or on people, I think in terms of something that will live past NOW and, also, has an algorithmic pop to it – whether through color and line or just balance.
The Klemens Gasser & Tanja Grunert Gallery describes Immortal Equations as a Living Installation, a solo exhibition and a theatrical happening. What can attendees expect to happen? 
I've been going through myriads of health issues, so I just wanted to do a 2-day special show. On Feb 24th, day one, there will be an exhibit of some new works. I will be there. It's a basic opening, but my crowd varies from high-end collectors to my boys I grew up with. It's a real NY show! And I'm planning to return for a month-long exhibit somewhat later on.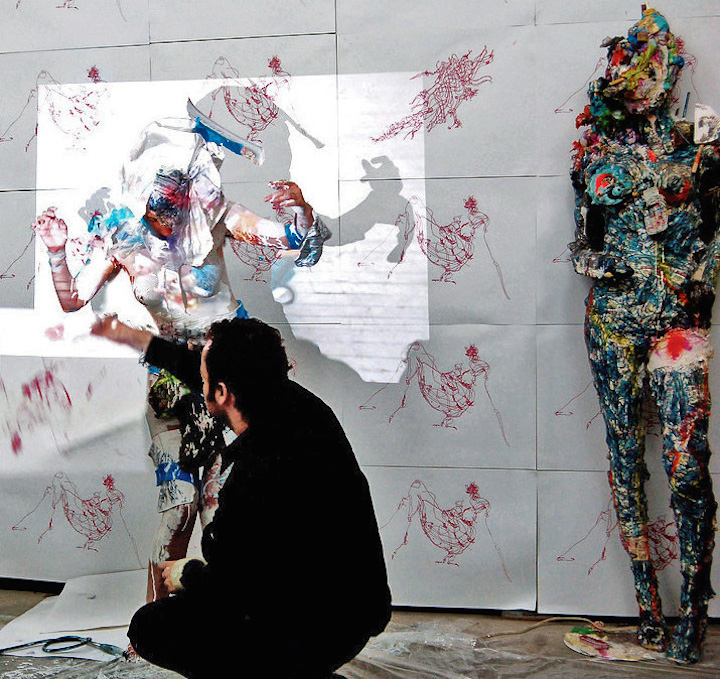 What about the second day?
On the 25th starting at 6pm, the drawings come to life. I will do my staple event, a Living Installation, with nine others, and six hours of live music by me and Tim "Love" Lee. There will also be six hours of non-stop live-action over-the-top recreation of the human body. 
What would you like your participants to walk away with? What is the mission of this event?
Creative inspiration, happiness, and many thoughts. We live to shut off, especially in a time of high technology. I try to slow time down and let people watch a Human Fish Tank. It's for the people. I do this for community and for people to come and participate: to make drawings, write and be turned into living paintings.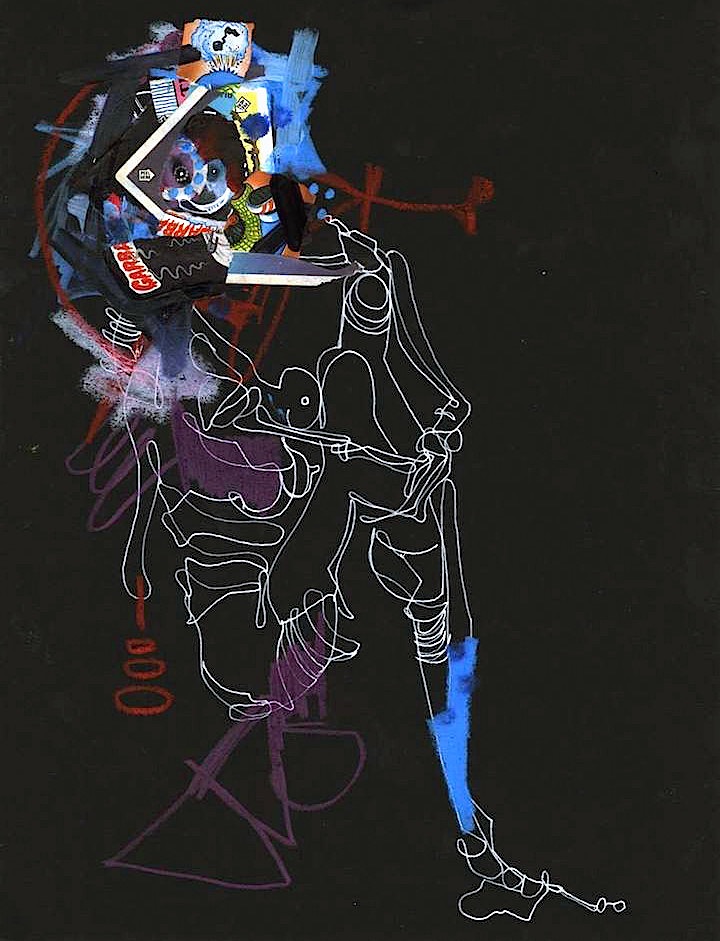 Can you tell us something about this specific venue? The curator?  Who else – besides – you will be featured?
The venue is Klemens Gasser & Tanja Grunert Gallery at 33 Orchard Street off Hester on Manhattan's Lower East Side. Mitra Khorasheh is curating the show. The performers and participants include: David Modelo, Stacey Dawn, Selina Lee, Genevieve Sophie Snow, Kimtacular, Wren, Laura Weyl, Alyssa D'Anna and photographer Kristen Collins, along with live music by me and Tim "Love" Lee.
How can folks gain admission?
The first night's exhibit is free and open to the public.  The second night – the Living Installation – is by admission only. For tickets, please visit www.michaelalanart.com under Installation.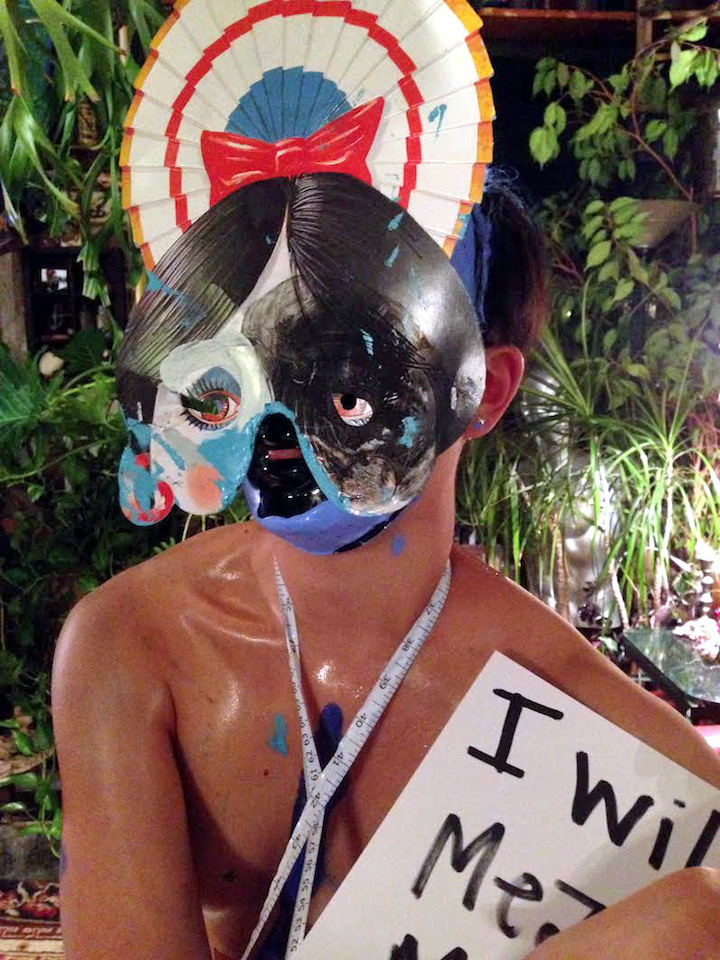 Interview by Lois Stavsky; photos 1-3 courtesy of the artist; final photo by Kristen Collins
{ 0 comments }