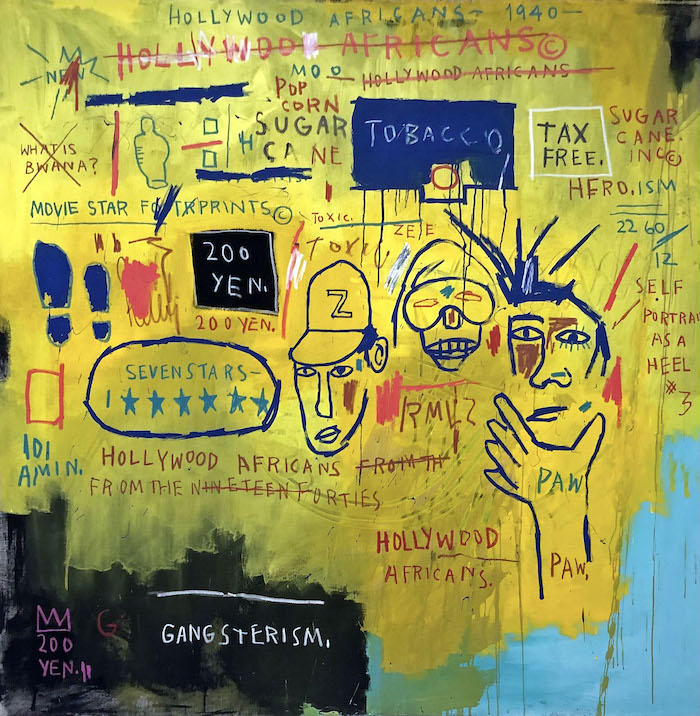 Featuring dozens of works in a range of media by the late legendary Jean-Michel Basquiat, along with artworks by several of his key contemporaries, "Writing the Future: Basquiat and the Hip-Hop Generation" continues at the Boston Museum of Fine Arts through July 25. The image featured above, "Hollywood Africans," fashioned in 1983 by Basquiat with acrylic and oilstick on canvas, portrays the artist, Rammellzee and Toxic, as it documents the time the three artists spent together in Los Angeles.  Several more of the exhibition's highlights — as seen on my recent visit –follow:
Jean-Michel Basquiat, Anthony Clarke (aka A-One), 1985, Acrylic, oil and collage on wood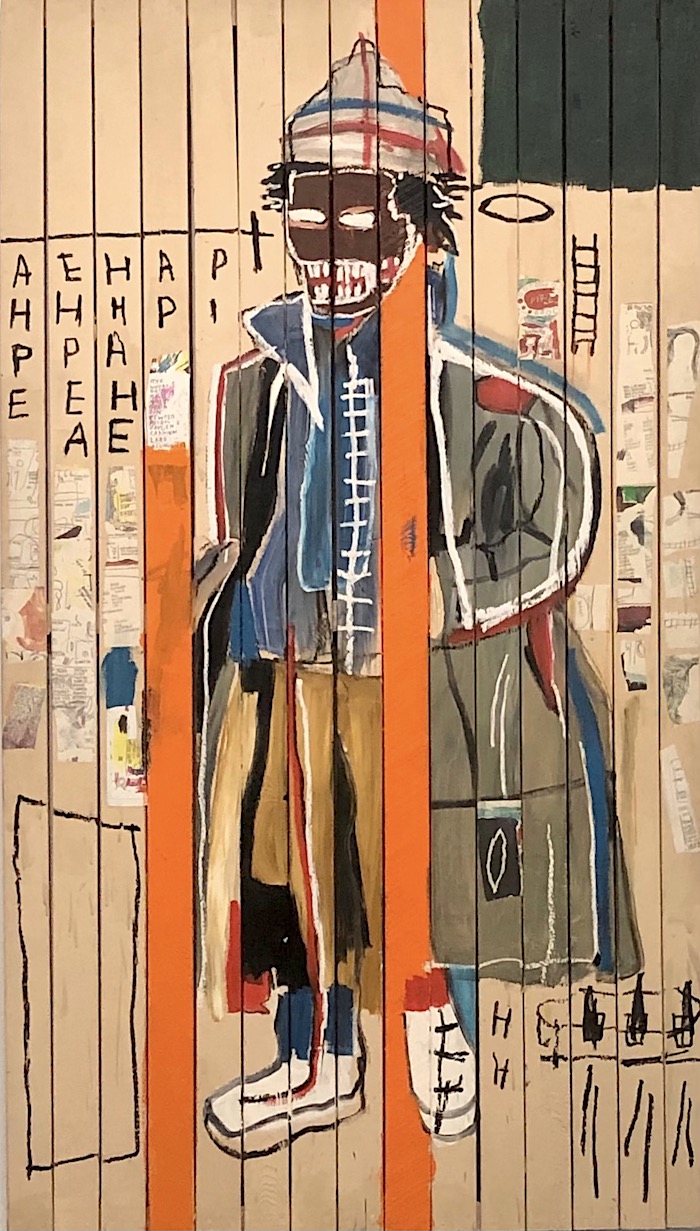 Jean-Michel Basquiat, Ero, 1984, Acrylic, oilstick and Xerox collage on paper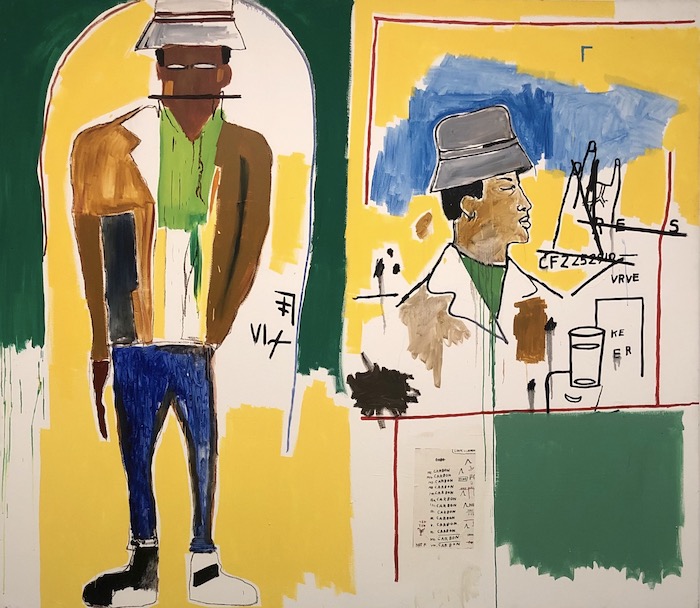 The late multi-media artist and hip-hop pioneer Rammellzee, Super Robber, 1985, Mixed media on canvas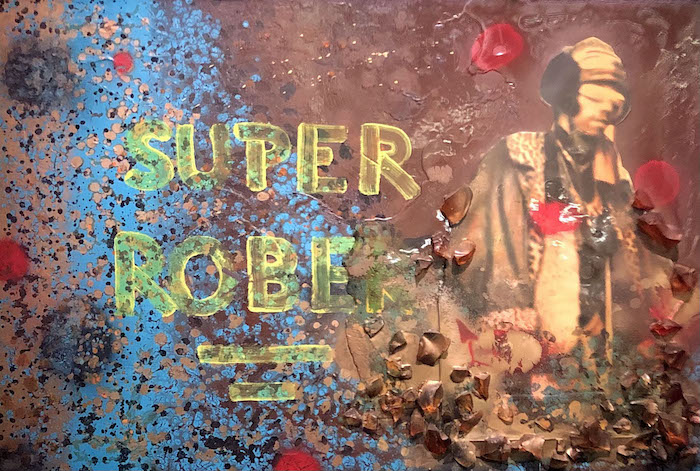 NYC graffiti pioneer and acclaimed fine artist Futura, Untitled, 1982, Spray paint and marker on paper

Keith Haring and LA2 collaboration, Suit for Madonna, 1984 Acrylic on leather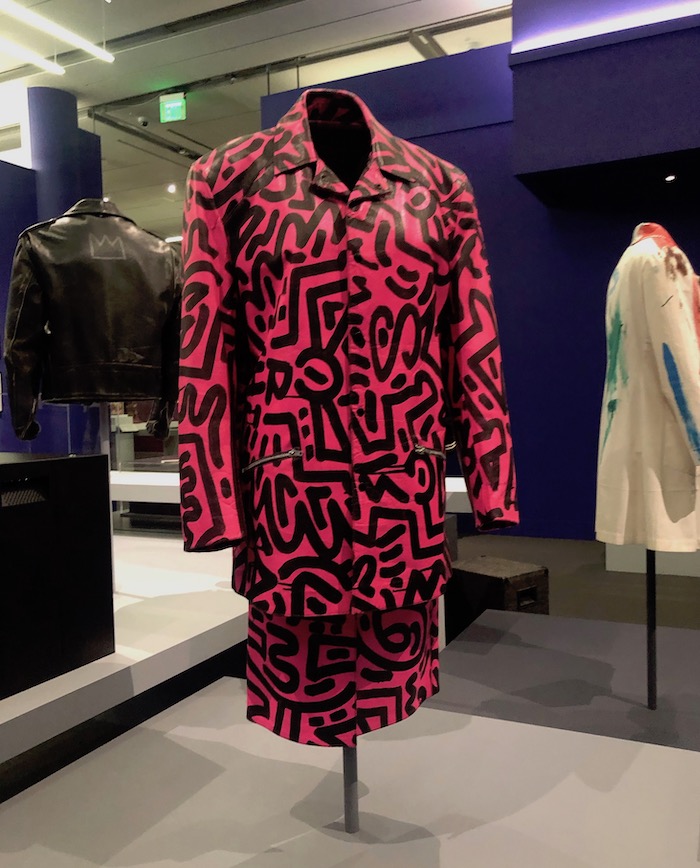 Legendary graffiti pioneer Lady Pink and neo-conceptual artist Jenny Holzer collaboration, Tear Ducts Seem to Be a Grief Provision, 1983-84, Spray paint on canvas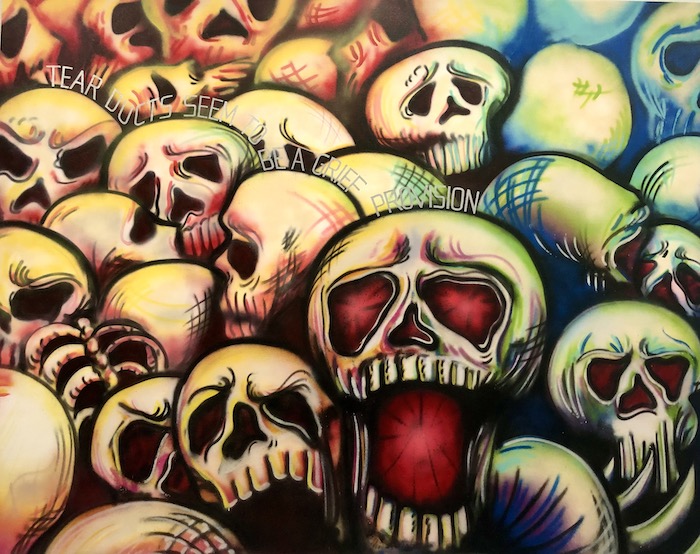 A tribute to those who "fueled new directions in fine art, design, and music, driving the now-global popularity of hip-hop culture,"  "Writing the Future: Basquiat and the Hip-Hop Generation"  is accompanied by an illustrated catalogue produced by MFA Publications and edited by co-curators Liz Munsell, the MFA's Lorraine and Alan Bressler Curator of Contemporary Art, and Greg Tate.
Photos of artworks: Lois Stavsky
{ 0 comments }