The following guest post is by Yoav Litvin, the author of the recently released Outdoor Gallery – New York City, a  book on contemporary NYC street art and graffiti. 
Today, May 29, 2014, marks the 33rd anniversary of the incarceration of Oscar López Rivera. Born in San Sebastián, Puerto Rico in 1943, Rivera moved to the United States at age 9. At 18, Oscar was drafted into the United States army, stationed in Vietnam and awarded the Bronze Star for his service. After the war, Oscar returned to the Puerto Rican community in Chicago and found it in a dire state: the community was plagued with drug addiction, vast unemployment, inadequate health care and poor education. Profoundly affected by the condition of his community, Oscar became a community organizer and activist, working towards equality.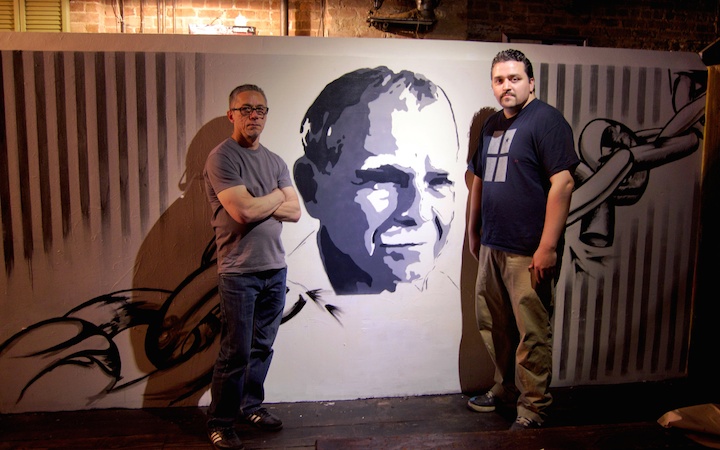 In a highly political and controversial trial, Rivera was sentenced to a total of 70 years in prison for numerous felonies, including seditious conspiracy for his actions resisting the forceful authority of the United States over Puerto Rico. Rivera was accused of being a member of FALN, the Fuerzas Armadas de Liberación Nacional (Armed Forces of National Liberation), which had been linked to dozens of bombings aimed at raising awareness of Puerto Rico's situation. Notably, the authorities were never able to tie Rivera or any of the other defendants in the case to any bombing. In 1999, President Bill Clinton offered clemency to Rivera and 15 additional Puerto Rican Nationalist members of FALN. However, Rivera rejected the offer because it was not extended towards fellow prisoner Carlos Alberto Torres, who was subsequently released in 2010.
To mark the 33rd anniversary of the incarceration of Oscar López Rivera, Puerto Rican NYC-based artists COCO144 and Fernando Ruíz Lorenzo  painted a collaborative mural in his honor at Camaradas El Barrio in Spanish Harlem, NYC. I recently interviewed both artists: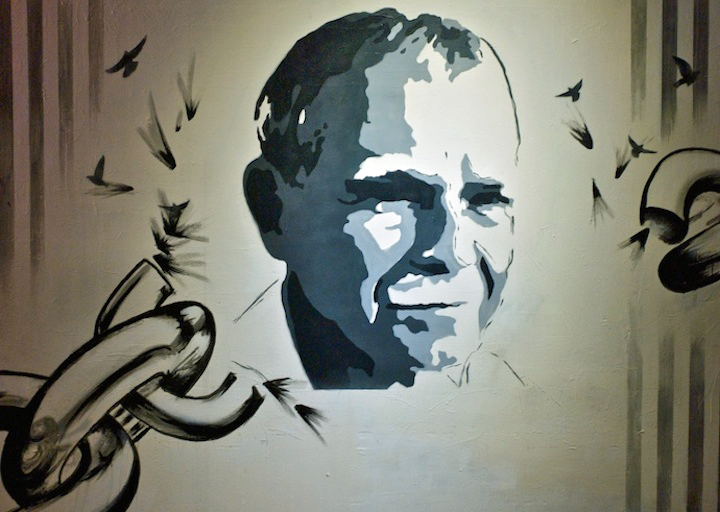 Why did you create this mural? What is its message, and whom do you aim to reach?
Fernando Ruíz Lorenzo: I was asked by Orlando Plaza, the owner of Camaradas El Barrio, to create a mural dedicated to Oscar López Rivera. I immediately thought of COCO144, a fellow Puerto Rican artist and friend I have worked with on multiple exhibitions since 2005. COCO's work has always had a political dimension, and he has been an advocate for writers of the aerosol movement since its beginnings in New York City in the late 60s and early 70s. When I asked him to paint the mural, he agreed on the condition that we work on it together.
The mural's message is ultimately for the viewer to determine. The piece we did obviously advocates for Mr. López Rivera's release, but to COCO and me it is more. It's an intergenerational dialogue representative of our artistic freedom; it is our inheritance as sons of the Puerto Rican diaspora in New York City and the world. My hope is to increase awareness about Oscar López Rivera's case and reach the younger Latino youth in the city. As Puerto Rican artists and writers in New York, we have been instrumental to the development of the city's progressive social-fabric since the industrial boom of the late 1800's. We continue that historic legacy, but instead of rolling cigars or sewing clothing, we're creating art.
COCO144: Eternal (Fernando Ruíz Lorenzo) approached me with the idea of painting a homage to Oscar López Rivera and, in turn, I asked him to collaborate. I feel that painting the mural at Camaradas El Barrio is another vehicle of reaching out to the public and, specifically, the establishment's patrons. Its message is that after 33 years of incarceration, Mr. López Rivera should be set free.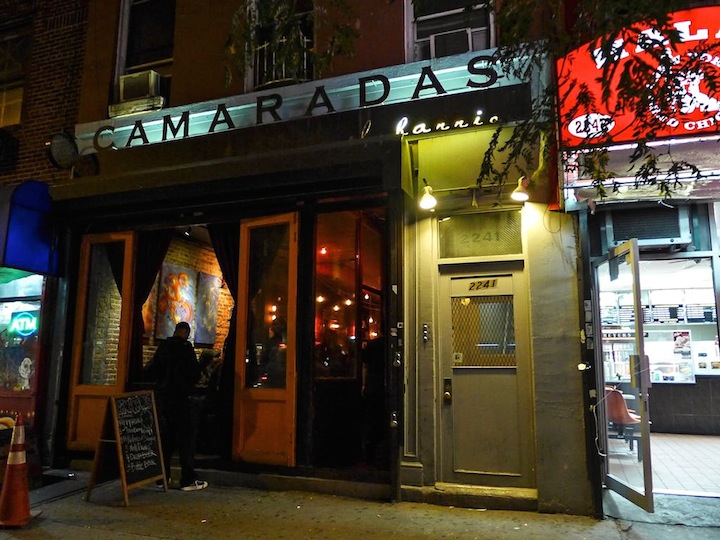 How does Oscar López Rivera's legacy affect your life — in general — and your artistic practice, in particular?
COCO144: I draw parallels with the legacy. First, there have been a number of Puerto Rican nationalists who have been treated in the same manner — or worse: Don Pedro Albizu Campos, Lolita Lebron, Oscar Collazo, and Alejandrina Torres, to name a few. As a Puerto Rican, their treatment carves into my soul. That they are restricted in expressing their national pride contradicts the US constitution and its foundations. Artistically? Everything in life affects me on that level!
Fernando Ruíz Lorenzo:  Since my early childhood, my father taught me the history of Puerto Rico and its colonial relationship with Spain and the United States. It's a lifelong dialogue. We would discuss it while I was sorting my baseball cards. It's part of our condition as human beings. Oscar López Rivera is another political prisoner in this long colonial relationship, but he is still alive! We have a chance to help free him and continue to fight for the freedom of all political prisoners who strive towards a just and democratic reality. Engaging my history is part of my artistic practice. Without it, my work would not exist in the same way and I would not be the same person.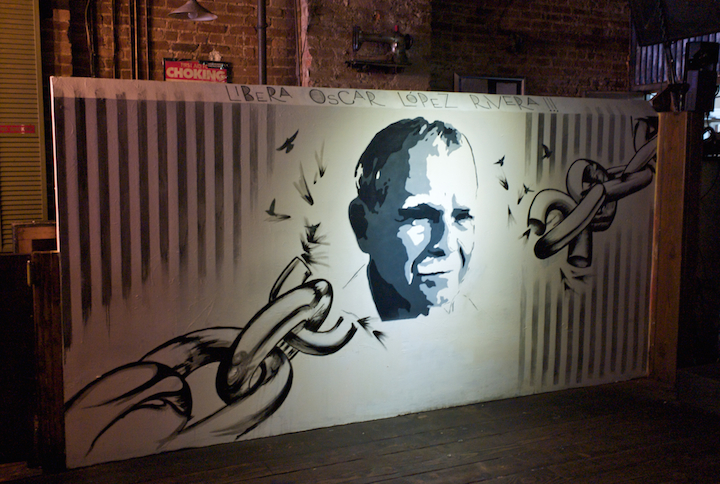 What do you perceive as the role of art and creativity within NYC's Puerto Rican community?
COCO144: There shouldn't be restrictions for art and creativity for Puerto Ricans — or for anyone — in NYC or anywhere. Puerto Rican artists have organized and created workshops/institutions for the arts in communities like El Barrio, Loisaida (the Lower East Side) and Williamsburg, Brooklyn.  We have, also, done so in other parts of New York, the United States and the world.
Fernando Ruíz Lorenzo: Art and creativity are at the very center of our culture. Art is our embassy. Arte es nuestra embajada. As Ana Lydia Vega, the Puerto Rican writer, once wrote, "Literature and art in Puerto Rico have to take the place of embassies and consulates…" Our artwork has been the embassy and consulate in New York and throughout the world. Art and creativity were at the center of the writing movement in New York City. Puerto Ricans contributed to the establishment of the writing tradition at its inception. We developed the art form and continue to propel it forward. One example is the artist Jean Michel Basquiat. Of Puerto Rican and Haitian heritage, he started as a writer in NYC and developed into one of the most influential artists in the world. Art and letters are our specialty, and they've travelled beyond the walls, trains, galleries and museums to become a global phenomenon — the foundation of a whole global industry and community. There's not one writer in the world who can't trace his/her roots back to New York City. It's in every line of a writer's signature, handstyle, tag, or piece. It's our legacy.
A LA LETRA, an exhibit featuring new works by COCO144 and Fernando Ruíz Lorenzo, will open on Sunday, June 8, 6-10 pm at Camaradas El Barrio's Emperial Gallery. The artists' new mural honoring Oscar López Rivera will be officially unveiled at the opening. 
You can check out Yoav Litvin's interview with COCO144 here.
Photo of the two artists in front of their mural by Yoav Litvin; mural close-up, completed mural and Camaradas at night by Vin Zarate.
{ 2 comments }