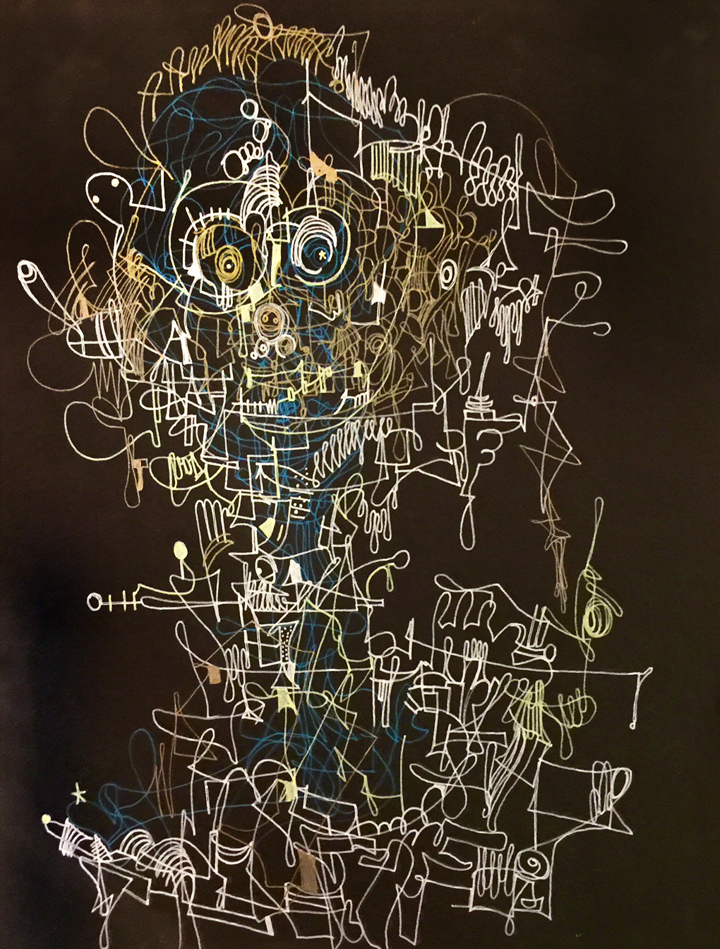 Ranging from the mischievous to the mystical, Michael Alan's ever-evolving body of artwork always entices.  We recently had the opportunity to visit the prodigious artist's studio and find out a bit about it and its role in his life.
What a great space in such an ideal building! How long have you been here?
I've been in this building for two years. I first began sharing a studio here with Nick Greenwald, an illustrator. That was soon after I had lost my previous space to a flood at my home in Staten Island. And when Ashley Azelinskie — who oversees this building — saw his much work I was doing, she provided me with this studio.
Your studio has such a warm vibe. It is so welcoming.
Yes! I have tried to duplicate the aesthetics of my home. I want to work in a place that is relaxed and motivating.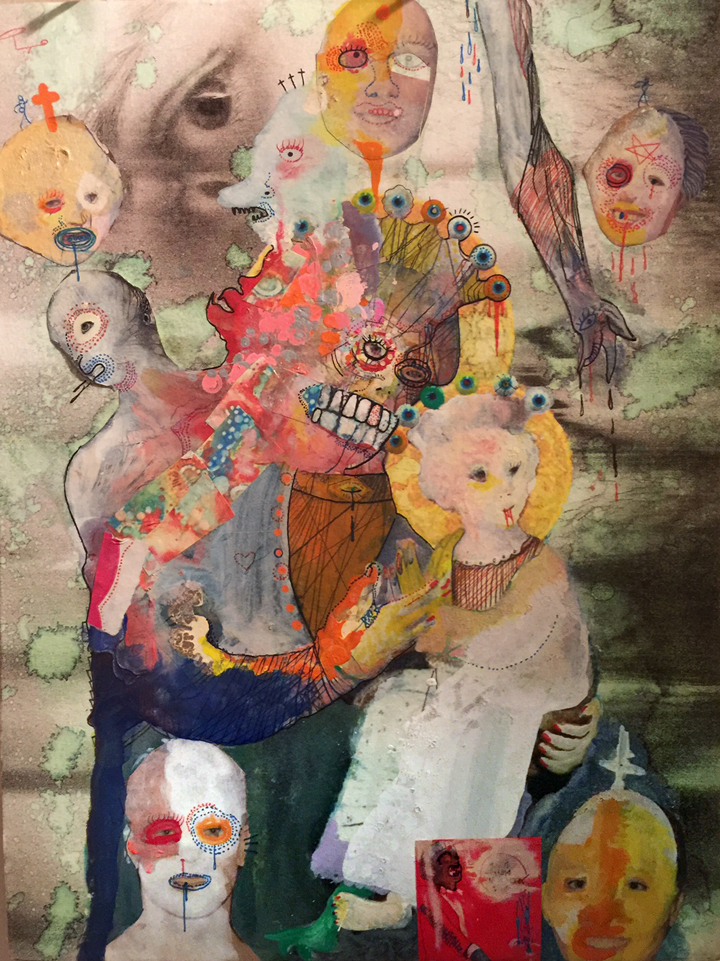 How did you decide what to transport here to keep you company?
I chose to bring over the artwork, books, magazines and toy sculptures that matter the most to me.
Yes! I've noticed baseball cards — that you've refashioned — that must have been with you since your childhood. And your black books date back years! What about the logistics of moving everything here and setting it up?
I had put an ad on my Instagram — "Help me move, and we can draw," — and 40 people showed up.  Then once I was here, Michael Kronenberg, a formerly homeless friend of mine — who'd been released from Bellevue after trying to harm himself — helped me curate the space. The studio is a place — for not just me — to create positivity. I wanted him to have a space he could work with me on, and not end up in a bad space again. He had landed in Bellevue after losing hope in art and ever attaining success. He is a talented artist, and I wanted to encourage him not to let others take him down. And my friend, Janna, helped me turn it into a home. It took about two to three weeks.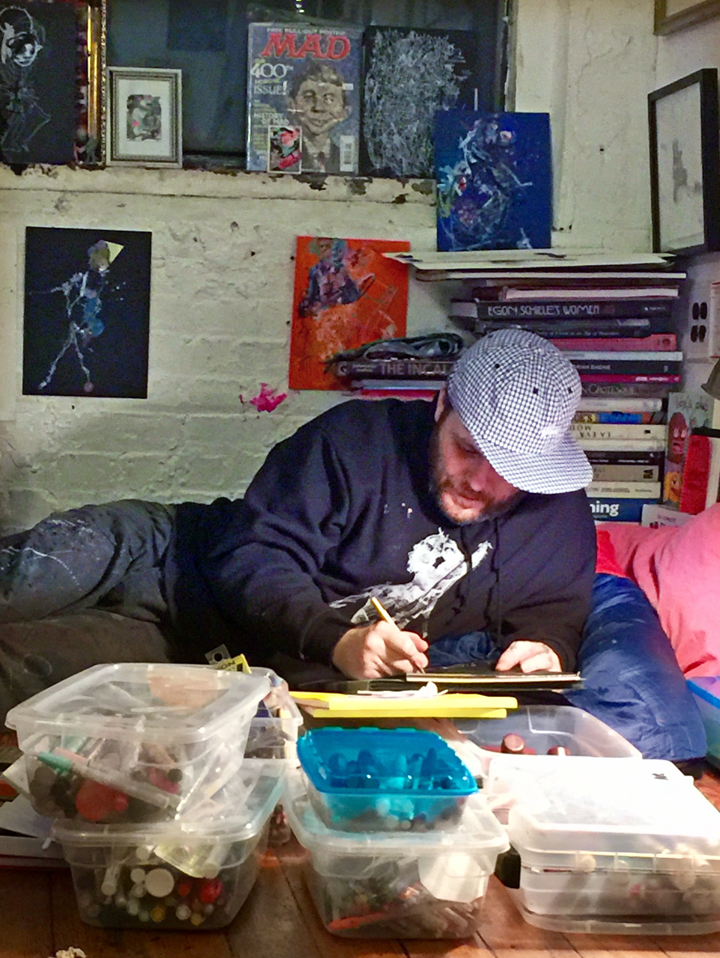 What role does this studio play in your life?
It is my life. My sanctuary. A constant show for myself. I'd always been hesitant to look at my stuff. But now I do. I even put a book together here.
Can you tell us something about what has gone down here — in addition to what you paint, draw and endlessly create?
We host weekly performances and drawing groups that have attracted folks ranging in age from 18 – 70. People of all styles and skill levels are welcome. The next one will be held this coming Saturday evening, March 25th beginning at 8pm. Tickets and more information are available here.   Musicians have performed here, including Ramsey Jones of the Wu Tang Clan. Alan Ket has been here filming a documentary in which I am one of the featured artists. And I give tours to college kids and collectors here.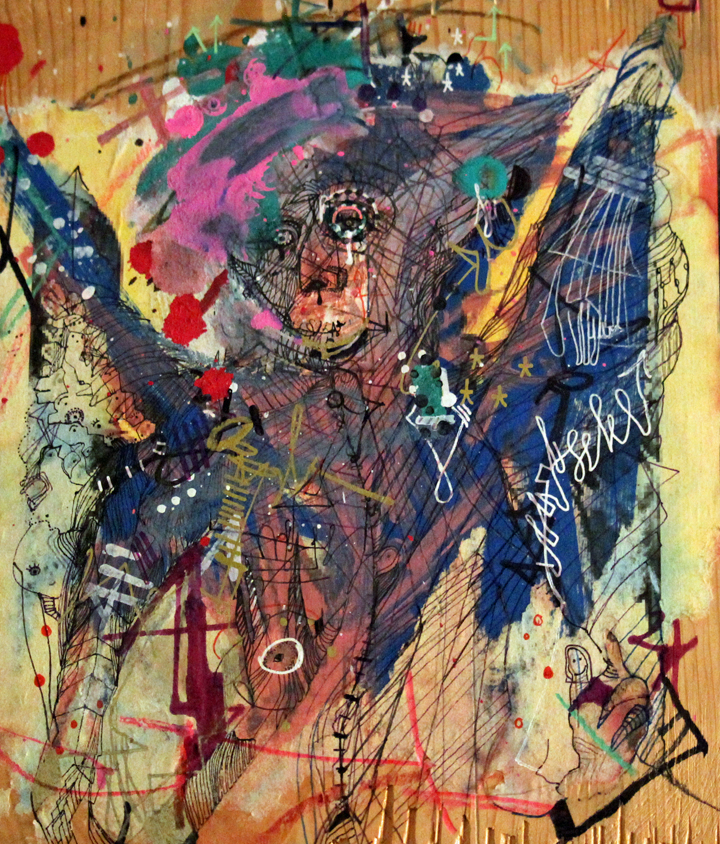 How do you feel about this neighborhood — Bushwick?
These days I spend most of my life here. I like this building, and I like the people in it. But Bushwick is not my neighborhood. I find the gentrification here distasteful. The friends I grew up with couldn't afford to live here. But I'm happy to have a studio here, as so many studios in NYC are infested with drugs, roaches and rats, along with people you don't want to be around. I've been in studios where things were stolen from me and where my mother got robbed.
It's great that you have this now. What's ahead for you — in addition to everything that is happening in this space? 
I'm preparing for a solo show in a new, huge gallery, Space 42, in Jacksonville, Florida. It will open on Friday, April 28th at 7pm.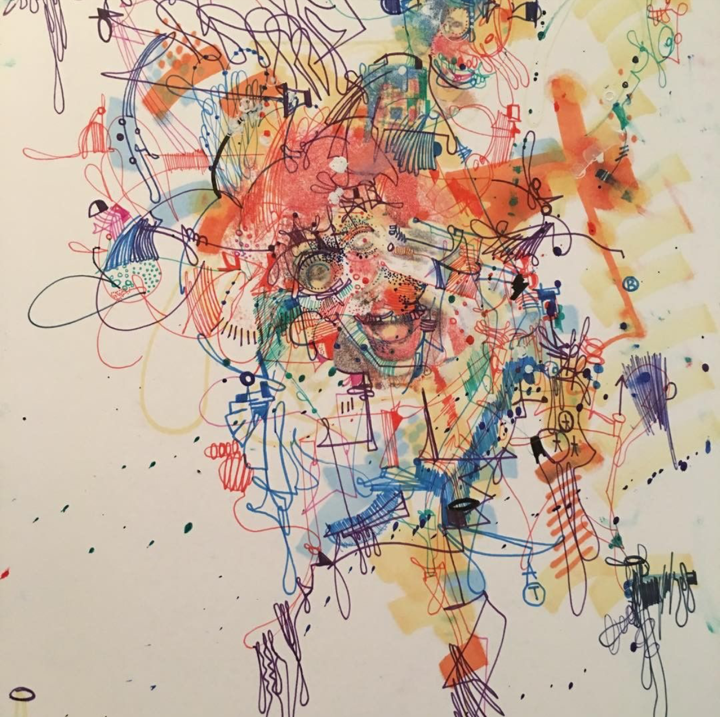 Good luck!  It all sounds great!
Photos of images: 1-3 Lois Stavsky; 4 Tara Murray & 5 Michael Alan
Hailed in a range of media from Wide Walls to the Huffington Post to the New York Times, our Street Art NYC App is now available for Android devices here.

{ 0 comments }